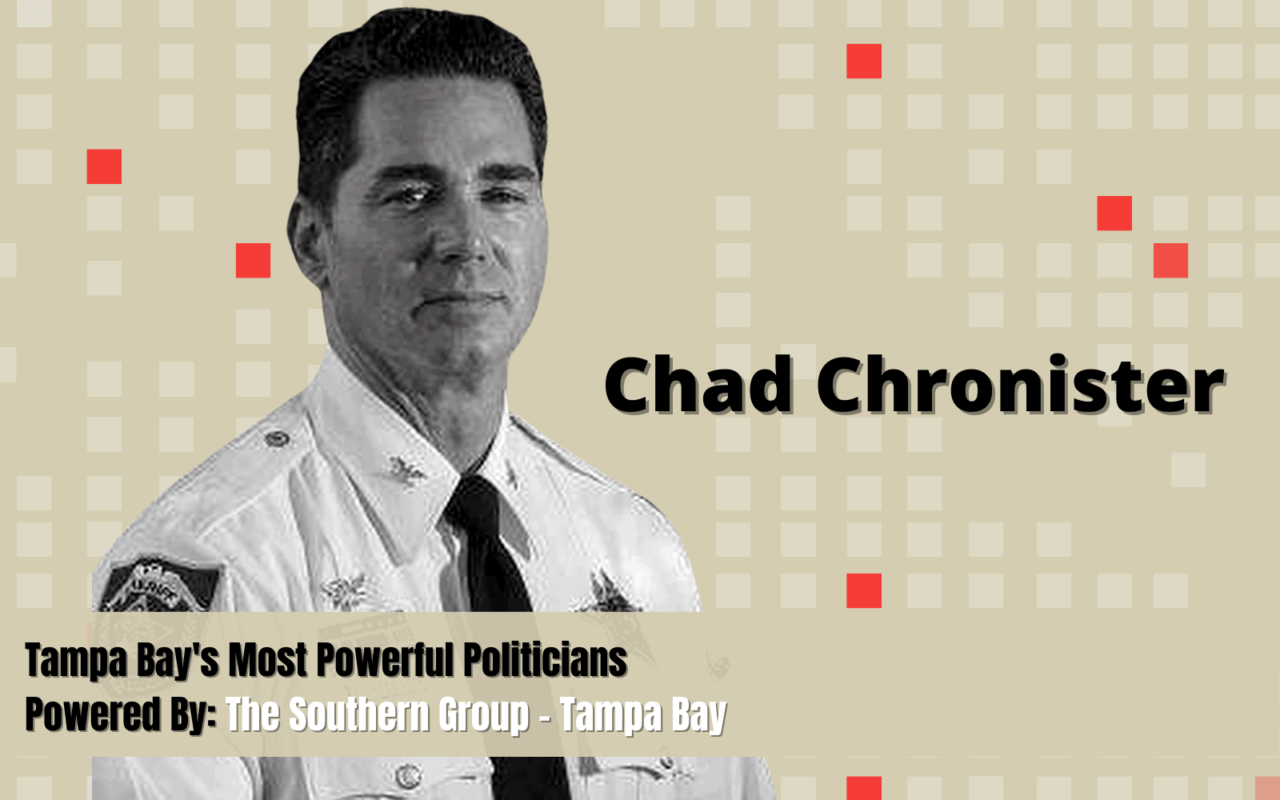 Chronister is one of the region's top fundraiser.
Hillsborough County Sheriff Chad Chronister continues to climb the list of Tampa Bay's most powerful politicians.
After barely making the list in 2018 at No. 23, Chronister climbed to No. 16 in 2019. This year he landed a Top 10 spot at No. 9.
If Chronister's power within the Tampa Bay area can be measured in anything, it's money.
Chronister earned easy reelection to his post as Hillsborough's top cop after collectively raising more than $1.2 million for the race, including more than $522,000 in his campaign and another $1 million-plus in his Friends of Chad Chronister committee.
Chronister, a moderate conservative, faced virtually no credible threat in the 2020 election, handily defeating Charles Boswell, a disgruntled former employee, with 67% of the vote in the GOP primary.
He again sailed to victory in November with 55% of the vote over two candidates, Democrat Gary Pruitt, who collected just 36% of the vote, and independent Ron McMullen, who failed even to crack double digits.
Chronister remains one of the increasingly blue county's only countywide elected Republicans. Of the county's five constitutional offices, which also includes the Clerk of Court, Property Appraiser, Tax Collector, and Supervisor of Elections, Chronister is the only elected Republican. He had been lonely on that list already with former Tax Collector Doug Belden, who retired last year and was replaced by a Democrat.
On the County Commission, only two of the board's seven members are Republicans after Democrats claimed the District 1 seat last year with former Tampa City Council member Harry Cohen's victory to replace Sandra Murman and Pat Kemp's successful campaign to defeat Murman, who was attempting to seat-swap because of term limits.
"Sheriff Chronister is the last Republican standing in Hillsborough County, and that's in large part to his commitment to fairness, justice and equality under the law. Chronister is a proactive Sheriff, spearheading operations to catch child predators, human traffickers, and all types of bad guys," said GOP consultant Anthony Pedicini. "He's led his agency to more closely resemble our community and has just recently begun to flex his clout and political muscles in areas of public policy that affect the justice system, gun rights and law and order. If he's successful in shaping policy he will certainly rocket up this list and enshrine himself as one of Tampa Bay's most beloved politicos."
The writing on the wall is clear for Hillsborough Republicans — the stronghold they once had on countywide races has evaporated. Democrats will argue it can't be reclaimed, while Republicans believe there is still hope. Either way, Chronister seems to be immune.
Part of his success stems from his likability on both sides of the aisle. Most Democrats don't feel like they have to hold their nose to cast a ballot for him and Republicans, even if they'd rather Chronister flex more of his Republican muscle, clearly think he's doing a good job.
"Consistently balancing urban and rural law enforcement needs, Hillsborough's top cop truly gets it. The Sheriff leads with empathy with strength to run a department that fosters community and keeps us all safe," said Seth McKeel, managing partner for the Southern Group in Tampa Bay.
While Chronister's top job is to protect and serve, he played a crucial role in the early days of the COVID-19 pandemic as a member of the now-defunct Emergency Policy Group, which was tasked with setting policy on the pandemic.
Chronister was one of the more reserved board members, weighing in typically only to offer law enforcement perspective on how to enforce various policy proposals. He was among six members who initially voted against implementing a stay-at-home order but later voted with the rest of the group to install one. Chronister was among three members, all Republicans, to vote against the county's mask mandate.
Last May, he made headlines when he had deputies arrest Brandon Pastor Rodney Howard-Browne for continuing to hold crowded in-person services at The River at Tampa Bay church in violation of the county's stay-at-home order. The charges were later dropped, but not before Chronister drew both praise and ire for his agency's decision. Those who approved appreciated Chronister's adherence to the county's established rules while others, most of whom disagreed with the order in the first place, complained the matter could have been settled without an arrest.
As with all of his decisions, Chronister said at the time he was doing his job, which is to enforce the law.
That tact also translated to a high-profile firing. Chronister, last July, not only fired a deputy for pointing a gun at a suspect's head, he had him arrested for aggravated assault with a deadly weapon. The deputy had been with the agency for 21 years. Chronister drew praise for the move, which came amid nationwide protests over police brutality, a beef not often shared quite so loudly among conservatives.