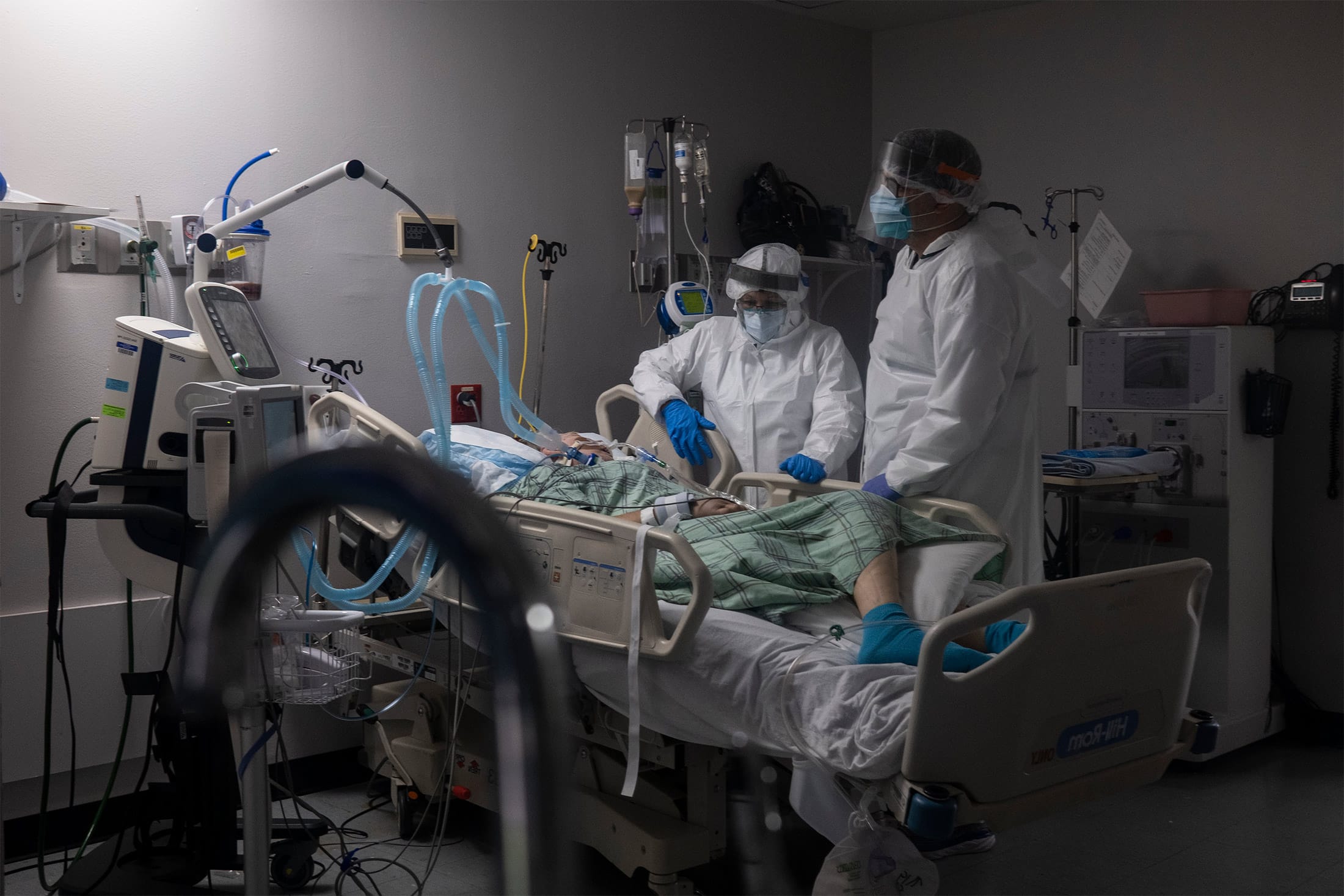 Regional data does show some encouraging signs though, particularly in Palm Beach County.
South Florida's tri-county area recorded another 51 COVID-19 deaths in Monday's Department of Health report, adding to a regional death toll that eclipsed 10,000 fatalities on Sunday.
The death toll across Miami-Dade, Broward and Palm Beach counties now sits at a massive 10,075 since the pandemic's start.
As of last Friday, South Florida had seen at least 30 newly-reported deaths for 27 out of the previous 29 days. The weekend hinted at a downward trend, with the tri-county area recording 24 deaths on Saturday and 26 deaths on Sunday.
But the daily death toll ballooned Monday, nearly doubling from the day prior. While case counts are dropping, the death toll has yet to show a similar sustained trend.
The weekend also saw a more encouraging milestone in Palm Beach County. As of Saturday, Palm Beach had fully vaccinated more individuals — that is, those who have received both doses in the two-dose regimen — than have tested positive for the virus in the county.
That holds true as of Monday, with more than 130,000 people fully vaccinated in Palm Beach and fewer than 118,000 positive tests recorded.
Broward and Miami-Dade still have a ways to go to make a similar claim. Broward has seen around 56,000 more positive cases than fully vaccinated individuals (190,000 cases to 134,000 completed vaccinations). In Miami-Dade, that gap is far larger, at more than 246,000 (403,000 cases compared to nearly 157,000 completed vaccinations).
But case counts remain on a downward trajectory. Raw case numbers and the case positivity rate are down week-to-week in all three major counties. That reverses a poor trend in Palm Beach, which saw the case positivity rate briefly spike last week.
Nearly 1.17 million shots have been administered in the tri-county area, and more than 421,000 individuals are fully vaccinated.
Here are some of the weekly numbers for the previous three weeks throughout the South Florida tri-county area:
Miami-Dade
— Feb. 1-7: 30 newly-reported hospitalizations per day, 19 newly-reported deaths per day, 1,587 new confirmed cases per day, 7.4% positivity rate, 10,084 vaccine doses administered per day, 6,337 vaccines completed per day
— Feb. 8-14: 28 newly-reported hospitalizations per day, 21 newly-reported deaths per day, 1,365 new confirmed cases per day, 6.5% positivity rate, 10,453 vaccine doses administered per day, 5,224 vaccines completed per day
— Feb. 15-21: 38 newly-reported hospitalizations per day, 18 newly-reported deaths per day, 1,275 new confirmed cases per day, 6.3% positivity rate, 5,531 vaccine doses administered per day, 2,717 vaccines completed per day
Broward
— Feb. 1-7: 28 newly-reported hospitalizations per day, 10 newly-reported deaths per day, 854 new confirmed cases per day, 7.3% positivity rate, 8,510 vaccine doses administered per day, 5,058 vaccines completed per day
— Feb. 8-14: 22 newly-reported hospitalizations per day, 12 newly-reported deaths per day, 791 new confirmed cases per day, 6.9% positivity rate, 8,524 vaccine doses administered per day, 4,876 vaccines completed per day
— Feb. 15-21: 27 newly-reported hospitalizations per day, 12 newly-reported deaths per day, 714 new confirmed cases per day, 6.7% positivity rate, 5,477 vaccine doses administered per day, 2,635 vaccines completed per day
Palm Beach
— Feb. 1-7: 22 newly-reported hospitalizations per day, 15 newly-reported deaths per day, 524 new confirmed cases per day, 7% positivity rate, 11,115 vaccine doses administered per day, 6,667 vaccines completed per day
— Feb. 8-14: 21 newly-reported hospitalizations per day, 11 newly-reported deaths per day, 474 new confirmed cases per day, 7.1% positivity rate, 7,655 vaccine doses administered per day, 4,083 vaccines completed per day
— Feb. 15-21: 15 newly-reported hospitalizations per day, 9 newly-reported deaths per day, 439 new confirmed cases per day, 6.3% positivity rate, 5,564 vaccine doses administered per day, 3,516 vaccines completed per day