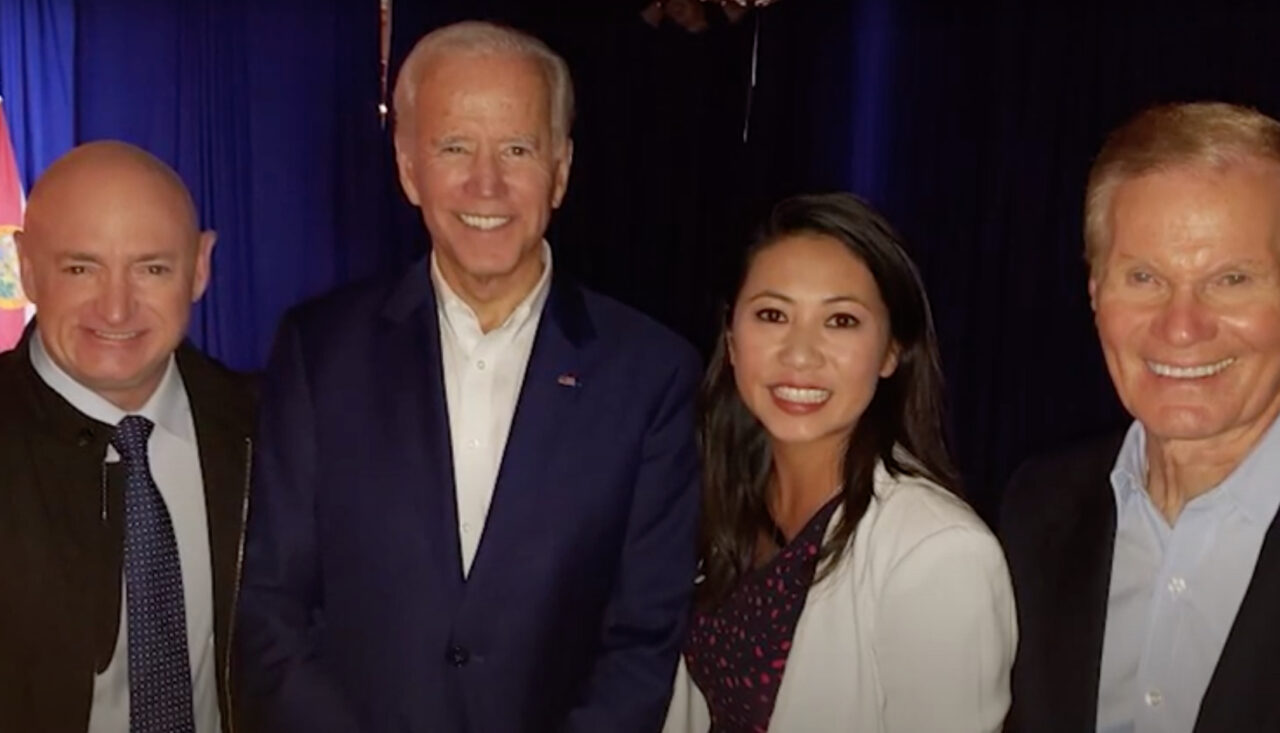 A new campaign-style video suggests Murphy may have statewide aspirations.
Rep. Stephanie Murphy sent up another alert signal Wednesday that the Winter Park Democrat is laying groundwork for something bigger than representing Florida's 7th Congressional District.
Murphy, whose name occasionally drops in conversations about Democrats who could potentially run statewide, announced an effort Wednesday she calls "Cast Forward 2022 with Stephanie Murphy" to help other Democrats throughout the state prepare for the future.
The announcement came through her reelection campaign, still branded Stephanie Murphy For Congress, but now run through the more generic website StephanieMurphyFl.com.
The "Cast Forward" program launches with a four-minute introduction video. The production is part Murphy autobiography, emphasizing her  past as a Vietnamese refugee and national security specialist at the Pentagon, and part moderate-Democrat manifesto, pressing her message of capitalism, freedom, and patriotism.
"I believe that our governance system and our economic system has made America powerful and the greatest country to live in in the world," she says in the video. "But we should still continue to make steps to make our capitalist system more fair for everyone in this democracy.
"And so I would say to my fellow Americans: this is our moment. This is our moment to fight for the freedom and democracy and opportunity that our country stands for, and to ensure that we have the ability to pass that on to the next generation," Murphy continues.
The purpose of Cast Forward, her campaign declares in a news release, is to organize a series of virtual conversations with Florida Democrats and key stakeholders, hosting listening events and one-on-one discussions throughout the state to gather input and ideas on how to build for the future.
To lead this effort, Murphy has hired Lauren Calmet, the former political director of the Florida Democratic Party, to be her campaign's political director.
"Florida is not a red state; it's a hard state. You need the right money, message, and machine to compete and we've clearly fallen short over the last few election cycles," Murphy said in the news release.
"Now is not the time to lament about the past or to give up, but to come together ahead of 2022," she added. "I look forward to many frank and fruitful conversations over the next few months that I know will ultimately lead to a stronger and more effective party."
In the news release, Murphy also takes a direct shot at a trio of Republicans, starting with Former President Donald Trump, but also including Sen. Marco Rubio and Gov. Ron DeSantis, who presumably will be seeking reelections next year against Democrats-to-be-named-later. Not mentioned by Murphy: Republican Sen. Rick Scott, who won't be needing to seek reelection until 2024.
"Too many hardworking families have been left behind by the inhumane and incompetent leadership of the Trump-Rubio-DeSantis party, and these struggling families are depending on us to take back our state, to get through this pandemic together, and to put families first again," Murphy said.
Since her surprise victory in 2016, when she ousted 12-term Republican U.S. Rep. John Mica, Murphy has won two reelections fairly easily, even though CD 7 remains a potential swing district. She touts that success in her video. In fact, last year the National Republican Congressional Committee took a pass on putting any resources into opposing her reelection. This year, however, the NRCC is targeting CD 7 again, perhaps out of the expectation that Murphy won't be running there in 2022.
Murphy had been pretty focused on CD 7 and Congress during her first three years in the House of Representatives, not often getting very involved in other Democratic politics around Florida. However, that began to change last summer when her campaign began providing some of its money to other Democrats' campaigns and to get-out-the-vote efforts in Central Florida and elsewhere.
The video released Wednesday is clearly a campaign video, which promotes Murphy's accomplishments and ideals. Released to support her Cast Forward program, the question becomes whether it is a campaign video aimed at voters in CD 7, or at Democrats statewide.
"I don't really care if you're a Democrat or a Republican. I care if we have shared values and shared goals and we understand that the mission is to make America a better place for everyone that lives in it," she said. "I'm really proud to be called one of the most effective members in Congress. I am bipartisan by nature. I care about getting actual results. I am a proud capitalist, and a proud Democrat."