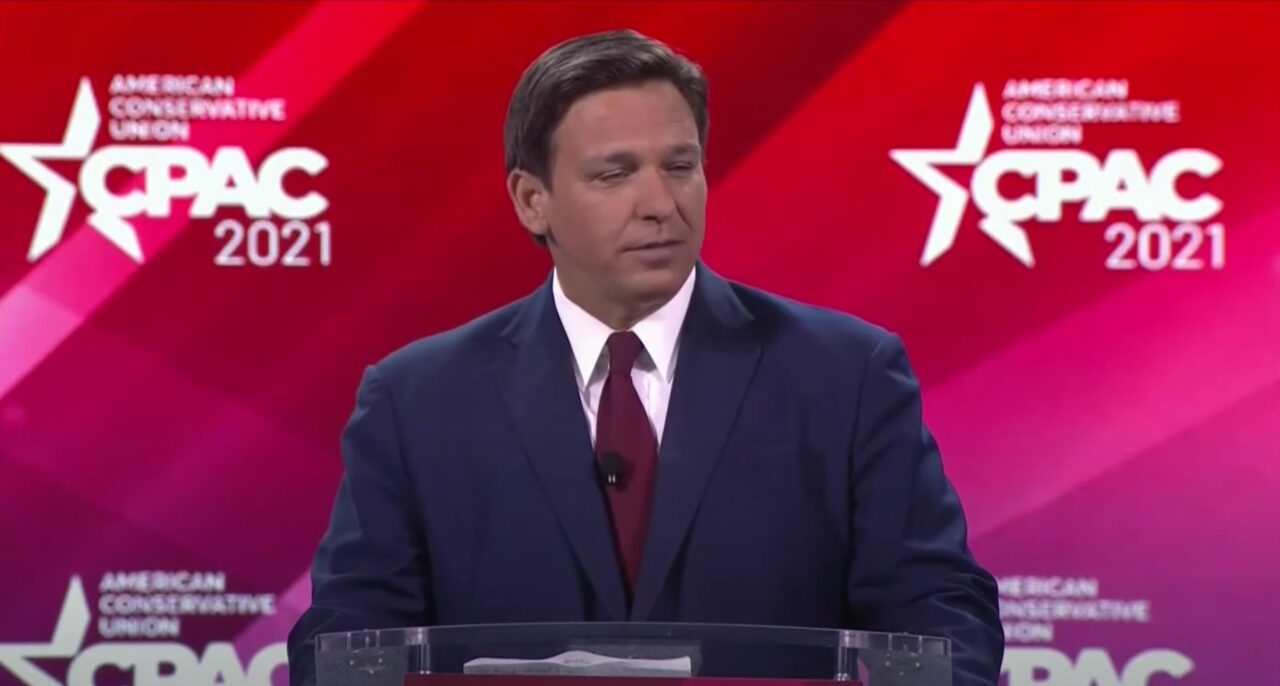 Ron DeSantis gets his second attempt at being the host Governor for a national political conference.
Highlighting the ways he believes Florida has become a model state for the nation, Gov. Ron DeSantis kicked off day one of the 2021 Conservative Political Action Conference in Orlando Friday.
In an ordinary year, CPAC would take place at National Harbor in Maryland, across from the nation's capital. But for the first time since its inaugural conference in 1974, CPAC's main event skipped town because of pandemic restrictions, landing in Orlando.
DeSantis, who has increasingly become a darling of conservative media, was there to kick off the conference's first day. He shared his vision for Florida before conservatives from across the country.
The Governor relived most of his greatest hits since the start of the pandemic, railing against lockdowns, touting the state's election laws and putting his foot down against Big Tech.
DeSantis and Republicans in the Legislature this month outlined two fronts in their battle against Big Tech. Tech businesses have breached users' privacy by collecting and selling personal data, they contend. Moreover, they say social media companies have abused their role as a public forum by censoring political speech, including by "deplatforming" former President Donald Trump.
"In Florida, we are not going to let the terms of the debate in our country be set by oligarchs in Silicon Valley," DeSantis said.
Florida also leads on election integrity, the Governor said, starting with the change in leadership he oversaw at the Palm Beach and Broward county supervisor of elections offices. The November election ran smoothly in Florida, which had counted 11 million votes by midnight.
Despite the successful election night, at least for the GOP, Republicans in Florida are pushing for legislation to crack down on "ballot harvesting," permitting election observers and more. Democrats say those proposals are a veiled effort to suppress voting.
"The bottom line is this," DeSantis said. "In Florida, your vote counts, and we will continue to have a process that is transparent and continues to inspire confidence."
The Governor has also resisted lockdowns since even before he briefly and reluctantly implemented one for most of April. Schools are open, people have the right to earn a living and businesses have the freedom to operate based on Phase Three of Florida's reopening plan.
Meanwhile, the state sits below the national average in per capita mortality from COVID-19 despite boasting one of the oldest populations in the nation.
"Florida got it right, and the lockdown states got it wrong," DeSantis said.
Tourism and the overall state economy are still down during the pandemic, and won't recover until even after vaccines become ubiquitous, according to state economists. Keeping the state open has helped keep unemployment rates lower than the national average.
"We have not touched one red cent from our rainy day fund throughout this whole time," DeSantis said.
However, the Governor did not distinguish between the Budget Stabilization Fund, the classic "rainy day fund" that was left untouched, and general fund reserves, of which the state used more than half during the last fiscal year.
The national conference moving to Orlando was reminiscent of plans last year for Jacksonville to host the Republican National Convention after North Carolina said no to a fully open conference. Trump was ultimately forced to cancel the Jacksonville leg of that convention after COVID-19 resurged in the state over the summer.
Orlando's opportunity to host CPAC comes after Maryland said no to the conference. Maryland Gov. Larry Hogan, an anti-Trump Republican with possible 2024 ambitions, was not invited to speak at the conference.
American Conservative Union Chairman Matt Schlapp, whose organization hosts CPAC annually, said he was determined to not be the first chairman not to hold CPAC. And DeSantis, who is being increasingly thought of as a potential 2024 presidential candidate, used that tee-up from Schlapp to take a dig at Maryland and other states.
"I'm just glad I could attend CPAC, because if you did do it in a lockdown state, I have a policy I only travel to free states," DeSantis said. "I don't have any problem being in Florida."
The Governor also outlined a vision whose scope extends beyond Florida's coastline. He hit on some of the themes that Trump helped bring to the Republican Party.
DeSantis denounced "military adventurism," China's trade policy and open borders.
"Building a movement on the foundation of amnesty and cheap foreign labor is like building a house on a field of quicksand," he said.
Other 2024 prospects will be speaking at CPAC this week, including Sen. Rick Scott Friday afternoon.