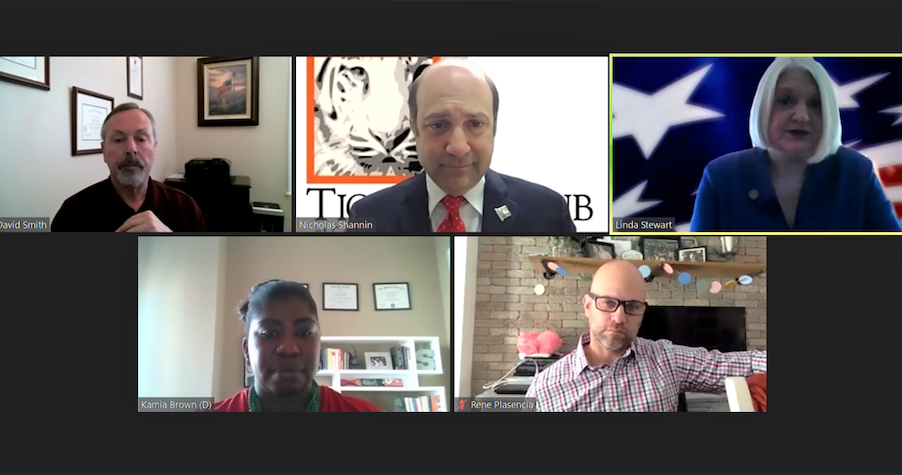 Republican-back legislation would require annual, not bi-annual, requests to vote by mail.
Democratic Sen. Linda Stewart launched a tirade Friday to defend Florida's elections system from rising calls among Republicans to dispute its integrity and reform it.
"I have no clue why we're doing that," Stewart declared during a Tiger Bay of Central Florida virtual roundtable discussion Friday previewing the 2021 Legislative Session.
"It just seems political to me to try to change something that's not broken," she said.
Stewart, of Orlando, was joined in praising Florida's elections system by Republican Rep. Rene Plasencia of Orlando and Democratic Rep. Kamia Brown of Orlando. A fourth panelist, Republican Rep, David Smith of Winter Springs, agreed that 2020 elections went well in Florida. But he suggested there may be room for improvements and the Legislature has an obligation to look.
Stewart's tirade followed Plasencia's vote of confidence for Florida elections and was later followed by Smith's rebuttal, and then by Brown's concerns that GOP-pushed reforms appear to be aimed at making it harder for people of color to vote.
The issue came at the end of a Tiger Bay panel discussion, including about the state's tough budget situation, COVID-19 responses, Bright Futures scholarship reforms, preemptions, the environment, and VISIT FLORIDA funding. On most of those issues there was general agreement among the four Central Florida lawmakers, with differences mostly on details.
The elections question came from growing calls within Republican leadership to raise concerns about how Florida's 2020 elections went and to make changes. The calls are consistent with broad national Republican contention that there were widespread problems across the country in the 2020 elections. That contention feeds into the myth that President Joe Biden somehow won his election through fraud. In Florida, however, there were no reported problems, and Republicans won, making such calls for election reform in the Sunshine State somewhat awkward.
At issue is legislation that would require voters to renew vote-by-mail applications every year, and which would limit the availability of drop boxes to receive hand-delivered mail ballots.
In Florida, calls now for election reform smack of outright political responses to non-existent problems, both Stewart and Brown charged Friday.
"Three months ago, in November, we were the best state ever. Everybody was saying about how wonderful we were. And we were. All of a sudden we've got issues with drop boxes and voting by mail? We don't have that problem. We have a perfect system the way it is. And there is no reason to change anything about our voting, or who gets to vote, or where people get to vote. It has worked. We had no fraud. We've had nothing that occurred in Florida at all," Stewart said.
Smith allowed that "We had safe and secure elections in 2020."
But he added, "I don't think our system is perfect. I think we have an obligation as the Legislature to look at it."
He then went on his own bent, raising doubts about election integrity in other states, particularly Georgia, and Pennsylvania. Those were key states that former President Donald Trump and his campaign charged were wrought with voter fraud. However, those charges were universally dismissed by judges. They also were universally disputed by elections officials in those states.
"I think we had secure and safe election in Florida. I cannot say that same thing about Georgia, Pennsylvania, and some other states," Smith said.
Smith sits on the House Public Integrity and Elections Committee.
"There certainly is some concern about some unmonitored drop boxes. Where you could have ballot harvesting, which is a crime in Florida. You know, issues with security," Smith said.
Smith also said that he trusts the county Supervisors of Elections to report to the Legislature. And if they report problems, the Legislature should respond, he said.