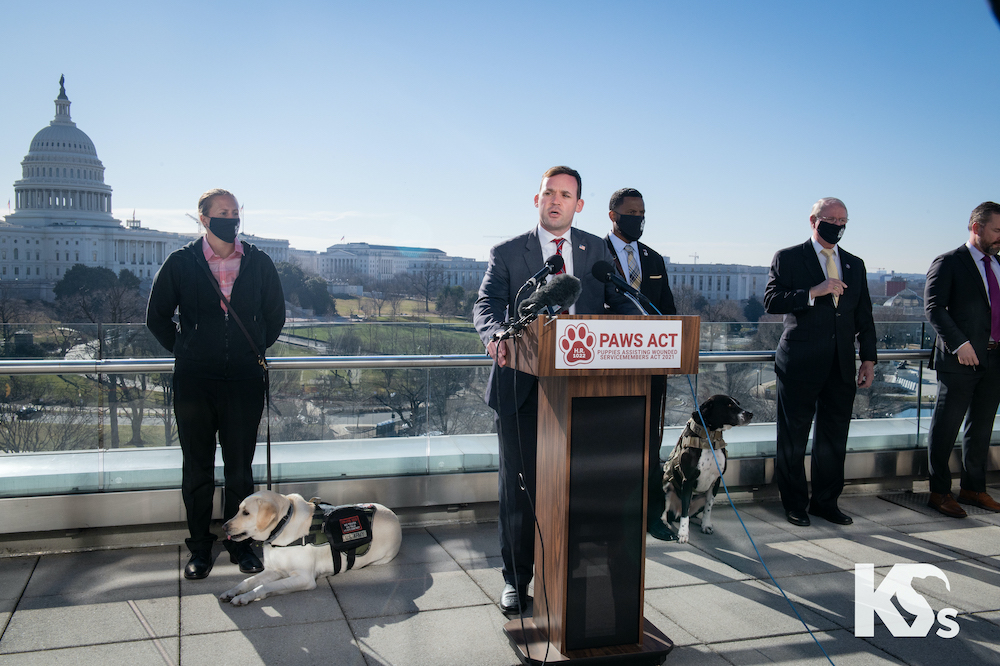 The bill is sponsored by U.S. Rep. John Rutherford.
K9s For Warriors on Wednesday announced its support for a federal bill to provide service dogs to veterans diagnosed with post-traumatic stress disorder or other mental health conditions.
The bill, known was the Puppies Assisting Wounded Servicemembers (PAWS) Act of 2021, is sponsored by Northeast Florida Republican U.S. Rep. John Rutherford.
"Research from the VA has concluded that Service Dogs are a proven therapy for those suffering from PTSD. With twenty veterans taking their own lives each day, we must do more to help those with PTSD and other service-connected forms of trauma," Rutherford said. "I am proud to reintroduce the PAWS Act to help our warfighters lead productive and successful lives once they return to civilian life."
If passed it would require the Department of Veterans Affairs (VA) to create a grant program that will pay for and provide service dogs to eligible veterans.
Service dogs are different from emotional support dogs, with the former showing more promise in treatment — a 2021 VA study found that veterans with post-traumatic stress who were paired with service dogs showed less suicidal ideation and more symptom improvement.
An average of 18 veterans die by suicide every day. K9s for Warriors said the statistic emphasizes the need to provide veterans with properly trained service dogs.
The nonprofit, based in Ponte Vedra, is the nation's largest service dog provider to veterans suffering from military-related trauma.
"Making service dogs more accessible to veterans will ultimately empower our nation's heroes to successfully reintegrate into civilian life," said K9s For Warriors CEO Rory Diamond. "The PAWS Act would commit considerable resources towards properly training and pairing service Dogs with veterans who would most benefit from them. We thank Congressman Rutherford for his continuing dedication to our nation's veterans with the introduction of this bill."
The proposal has also drawn support from U.S. Rep. Al Lawson and Michael Waltz.
"For many of our returning veterans, often we see that the battle on the frontlines has turned into an inner battle at home. Our service men and women sacrifice so much for our freedom, and we must do our part to assist those dealing with invisible illnesses," Lawson said. "Through the PAWS Act, these trained Service Dogs will help our nation's heroes with their mental wellness and make transitioning from active duty to civilian life an easier feat."
Waltz added, "Congress has an obligation to do all it can to help veterans returning from overseas deployments who suffer from PTSD. By partnering with organizations to pair Service Dogs with veterans, we will save veteran lives and canine lives. The partnership provides solutions that are scientifically proven to improve PTSD symptoms."
K9s for Warriors cited other studies published by Purdue University researchers that corroborate the VA findings and verify the benefits that service dogs can have on veterans.
"The research we have conducted at Purdue demonstrates that veterans suffering from PTSD paired with Service Dogs showed significantly lower symptoms related to PTSD," said Dr. Maggie O'Haire, an associate professor at Purdue University's Center for the Human-Animal Interaction. "This innovative study applied rigorous research methodology to an area that has historically been characterized by a reliance on anecdotal accounts and intuition rather than evidence-based science."
The VA does not currently fund Service Dog programs, which makes the PAWS Act a critical step forward in connecting veterans with nonprofit organizations equipped to train Service Dogs in performing specific tasks that mitigate symptoms of military-related trauma.
Additionally, the bill would support organizations, such as K9s For Warriors, that primarily receive their Service Dogs from high-kill shelters, a distinction that effectively saves two lives with every pairing between veteran and Service Dog.