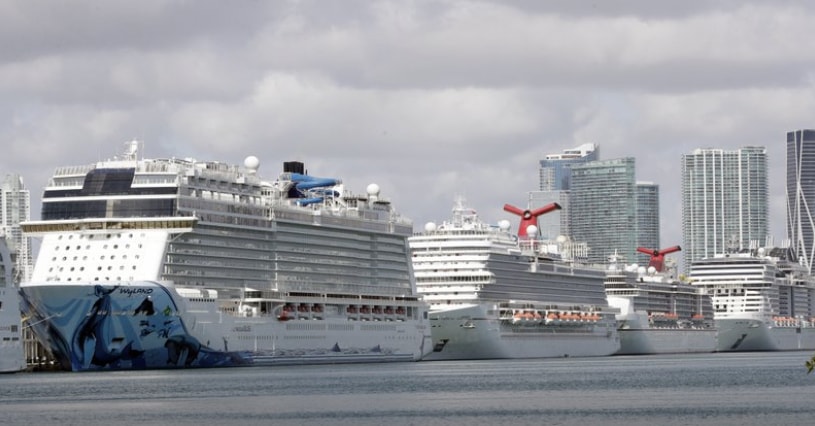 This marks the third time PortMiami's fiscal deadline has moved.
PortMiami, which had been facing the possibility of tapping into savings to maintain operations if cruise travel doesn't return to full capacity, appears to have escaped that fate. The harbor's top money man says several developments in the past few months — including a $67 million infusion from the federal government — have made that contingency unlikely.
The maritime tourism market is coming back. Pleasure cruises are again departing from PortMiami, signaling a new chapter in the pandemic for the port as several companies flout Gov. Ron DeSantis' executive order barring onboard vaccine requirements to protect passengers better.
"We see a pretty confident path that if cruises come back to a reasonable version of normal even by fiscal 2023, in part because of the state itself and certainly because of the county's support, we won't have to dip into reserves," PortMiami Chief Financial Officer Andy Hecker told Florida Politics.
That's good news for Florida's largest port, the county, and for companies like Carnival Cruise Line, MSC Cruises, Norwegian Cruise Line, and Virgin Voyages, all of which signed multidecade terminal agreements with PortMiami in 2019 that at the time were projected to have a $7.8 billion-per-year impact and create some 27,500 direct and indirect jobs.
Once COVID-19 struck, however, Miami-Dade and the cruise lines redrew those deals to downsize their scope, price, and, in the case of MSC's 62-year, multibillion-dollar covenant with the county, cohabitate with another cruise line to shave expenses.
The county also threw the companies a monumental lifeline — an up to $285.5 million bailout in which PortMiami agreed to waive roughly $7 million per month in otherwise guaranteed cruise revenues for up to two years or until full sailings recommence, beginning retroactively in March 2020.
The plan, which Miami-Dade Commissioners approved without comment in October, came with a note of caution from late former Deputy Mayor Jack Osterholt: If cruise ships remained anchored past April 18, 2021, PortMiami would have to start drawing from its $114 million reserve fund to cover operating costs and debt service on outstanding bonds.
U.S. Rep. Carlos Giménez, then Miami-Dade Mayor, and his successor, Daniella Levine Cava, both extended the waivers several times since, with Levine Cava's last announced extension going through Aug. 15.
But there were some fortuitous happenings in the interim. Among them: Cargo through the port stayed unexpectedly strong, sagging just 4.8% below levels from the year before — "a significant achievement considering the economic condition worldwide," Port Director Juan Kuryla said at the time.
Favorable freight, financing, and a passel of cost-saving efforts prompted Hecker in February to tell Miami Today that the port's new fiscal cliff was "between September and October 2021."
Now, despite passing on collecting an estimated $127 million in fees and sales shares, the deadline has again been extended. That's in no small part thanks to $66.9 million the "cruise capital of the world" received last month through the American Rescue Plan Act, the second-largest allocation among Florida's 14 seaports, behind Port Canaveral.
As the world continues to reopen and cruise travel resumes, albeit at lower per-ship volumes, the outlook for PortMiami among financial analysts continues to improve. In early August, Moody's Investor Service upgraded its outlook on the port from negative to stable, citing expected increased cruise operations over the next year and sufficient liquidity at PortMiami ahead of Miami-Dade's sale of $1.4 billion in PortMiami revenue-backed bonds.
"My understanding is it's the single largest transaction for a municipal bond in Miami-Dade County history," Hecker said, echoing a prior assessment by The Wall Street Journal, which also noted the sale beat a $1.1 billion bond issued by the Port Authority of New York and New Jersey in July 2020.
The bonds, sold through Wells Fargo as Series 2021A revenue refunding bonds and Series 2021B subordinate revenue refunding bonds, come due in 2050 and include 59 separate maturities underneath it. They are set to close on Sept. 15 at a 2.85% rate of interest.
Revenue from the bond sales will mostly go toward refinancing outstanding bonds, though some will cover capital programs tied to terminal construction projects, Hecker said.
"Having done a number of these transactions — and I've done them in other locations outside of Miami-Dade — the market's reaction, appetite and confidence in the port and the county's credit rating was excellent," he said. "Pricing came in better than we thought, and we were oversubscribed about three times, so we're very happy with the transaction."
Another project to install the equipment and infrastructure necessary for shore power at PortMiami, so harbored cruise vessels can use land-based electricity rather than idle their engines while anchored, gained a $2 million earmark from the U.S. Environmental Protection Agency. The first of several hookups planned through the $10.75 million shore power initiative, which Miami-Dade is undertaking in partnership with Florida Power and Light Company, Carnival, and Royal Caribbean, will occur by October 2023.
"This (EPA) grant will help us fund shore power infrastructure making PortMiami the first seaport in Florida and the southeastern United States to provide this connection, Levine Cava said in a statement. "We are committed not just to bringing back cruising in the months ahead but to building back a more resilient cruise industry and continuing to make the Port a leader in sustainability."
Hecker, Kuryla, and other port officials have said they anticipate cruise volumes to reach around 3.8 million passengers over the next fiscal year, or about 63% of what they were pre-pandemic. However, that was before the Commonwealth of the Bahamas declared on Aug. 19 that it would block dockage and debarking of all cruise ships without proof everyone onboard eligible for COVID-19 vaccinations had received their shots.
In light of the Bahamas decision, which applies even to "private" islands cruise companies own and operate in the country, Carnival, Royal Caribbean, MSC and Disney all announced by Aug. 20 plans to defy DeSantis' ban on so-called "vaccine passports" and would require passengers ages 12 and older to be vaccinated on trips headed to the Bahamas.
Norwegian took things one step further, suing Florida in federal court.
Shortly after U.S. District Judge Kathleen Williams granted the company a preliminary injunction last month, allowing the launch of fully vaccinated cruises from Miami, Norwegian CEO Frank Del Rio aimed some harsh words in DeSantis' direction.
"Can you imagine that (if) 700,000 people in this country died of anything other than COVID, to the outrage that there would be — what government would do to stop that?" he said on Yahoo Finance. "Here's a state that relies on tourism, (and) people are dying every day. Florida is now the epicenter of the epicenter. What's it take for common sense to rule?"