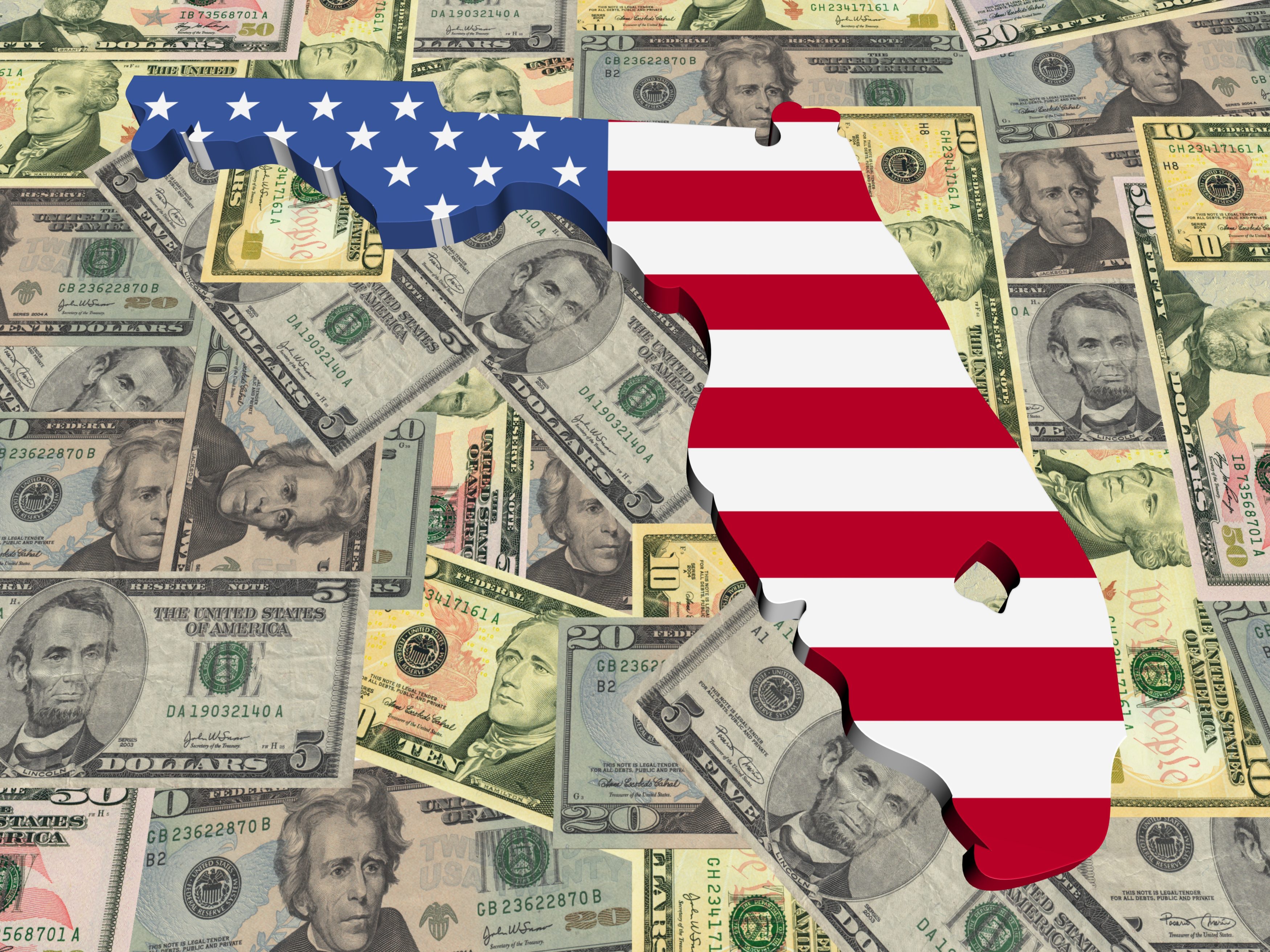 A recent natural disaster and declining hospitality revenues indicate residents' general economic positivity will likely change course in the short term.
Consumer sentiment among Floridians is slowly creeping higher, but probably not for much longer due to recent events.
Optimism among Sunshine State adults rose 0.8 points in August to reach 67.6 out of 150 possible points on the University of Florida-based Bureau of Economic and Business Research's (BEBR) Consumer Sentiment Index.
National sentiment, meanwhile, fell 2.1 points.
"These expectations are in line with the steady decline in inflation over the past 12 months, along with the overall prevailing conditions in the labor market. Although the economy is still adding jobs, it does so at a slower pace, which is gradually cooling an overheated labor market and, consequently, reducing the chances of a recession," said Hector Sandoval, an assistant professor and director of the BEBR's Economic Analysis Program.
A recent natural disaster and declining hospitality revenues indicate residents' general economic positivity will likely change course in the short term, Sandoval added, referring to Florida's declining tourism numbers and Hurricane Idalia, which caused significant property damage and financial losses in the state's Big Bend area last week.
"Given that Florida's economy is heavily reliant on tourism, fluctuations in visitor numbers could have a significant impact on the state's economic landscape," he said. "(And although) a comprehensive assessment of the storm's overall impact is pending, it appears unlikely that it will have enduring effects on the state's economic outlook. Nonetheless, a decline in consumer sentiment in the upcoming month is expected."
The index is based on a monthly survey of about 250 adult Florida residents. Respondents answer two questions about current financial conditions and three about future expectations.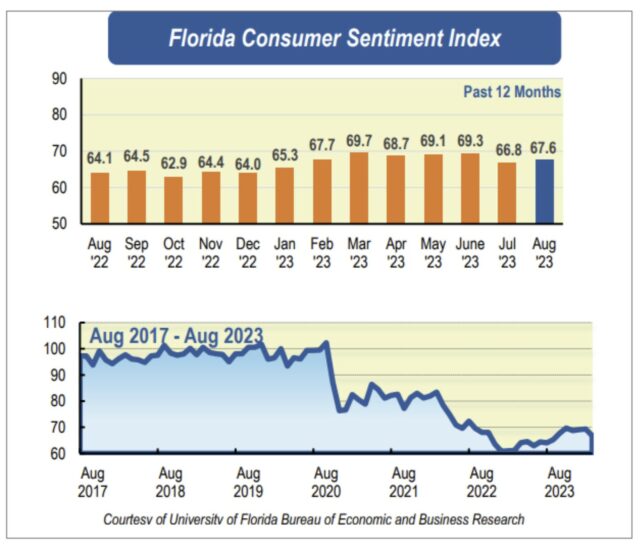 The survey is scored from 2 to 150 points using the year 1966 as a base, with data weighted by age, gender and county.
Scores of 100 equal consumer optimism that year, while scores exceeding that mean more optimism than in 1966. Since 1985, when the index began, the highest score was 111 in August 2000 while the lowest was 59 in August 2008.
Three of the five components that comprise the index increased in August, while two declined. On present economic conditions, Floridians were mixed.
Optimism among respondents about their personal financial situations now compared to a year ago grew 3.7 points to 63.5. This sentiment was shared by all Floridians.
However, opinions about whether now is a good time to purchase an expensive item like an appliance fell 2.7 points to 55.5. Nearly all respondents shared this view except for men, who reported more favorably.
Respondents were similarly mixed on how they felt about the future. Expectations of personal finances a year from now dipped 1.3 points to 80.1. Those views were divided among sociodemographic groups, with people under 60 earning incomes less than $50,000 reporting more favorable expectations than their older peers.
But optimism about the U.S. economy through August 2024 grew by 3.7 points to 67.2. The outlook over five years rose too, though only by 0.2 points, from 71.2 to 71.4.
Future outlooks over the next year were shared by all Floridians, while future outlooks through 2028 "were split by demographics with women, people younger than 60, and people with annual income above $50,000 reporting more pessimistic views," BEBR personnel wrote.
The BEBR Consumer Sentiment Index Its margin of error is 4.5 percentage points at a 95% confidence level.