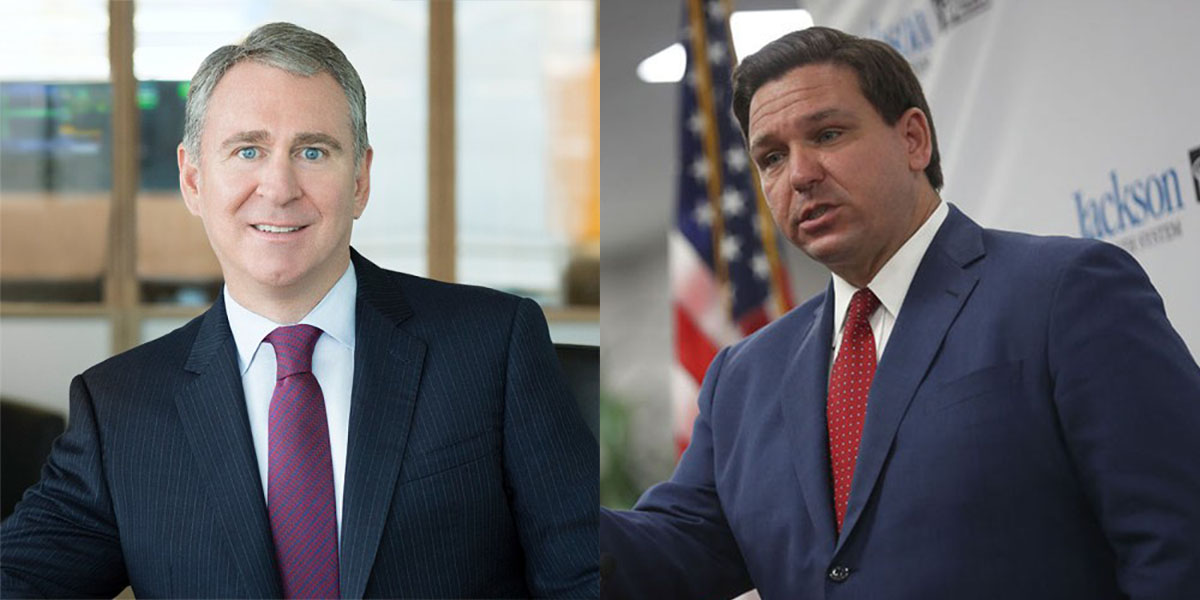 Ken Griffin has contributed more than $100 million to Republicans.
Chicago-based hedge fund billionaire Kenneth C. Griffin has long been a huge contributor to Republicans, and he stands this year as the biggest donor to Florida's 2022 gubernatorial election.
In April, Griffin contributed $5 million to the Friends of Ron DeSantis committee, fueling DeSantis' reelection effort thus far.
Griffin's gubernatorial race donation stands as Gov. Ron DeSantis' largest donation from an individual, political action committee, or business.
It also appears to stand tied as the largest check an individual has ever cut to support any statewide candidate in Florida, not counting candidates who wrote seven- or eight-figure checks from their own wealth to support their own campaigns.
Griffin also signed a $5 million check for Friends of Ron DeSantis in 2018. That same year, he wrote a $5 million check to a campaign supporting then-Gov. Rick Scott's U.S. Senate bid.
Griffin's single $5 million check to DeSantis' committee in April represents more campaign money than either of the Democrats, U.S. Rep. Charlie Crist or Agriculture Commission Nikki Fried, had been able to raise in total through the end of July. August reports will put Fried over that threshold with the combined funds for her campaign and her Florida Consumers First Committee.
Who is Kenneth Cordele Griffin?
— For starters, he's a Florida Man, born in Daytona Beach and now with a significant presence in Palm Beach. However, his career, business empire headquarters, and official residence are all in Chicago.
— Forbes Magazine says Griffin is a self-made billionaire, founder of the hedge fund Citadel. Forbes says he's worth $16 billion.
— The Chicago Tribune reported in 2019 that Griffin was the richest man in Illinois.
— Sometimes, he's one of the richest men in Florida.
Griffin has been consolidating beach-front properties in Palm Beach about a half-mile from Mar-a-Lago. He plans to develop a 50,000 square-foot home on 20 acres there, the Palm Beach Daily News reported. He paid $99 million for one parcel, $85 million for another, and $15 million for another. The Palm Beach Daily News said he had purchased at least $350 million of Palm Beach County real estate.
— Foundation Guide says his Kenneth C. Griffin Charitable Fund has donated hundreds of millions of dollars to arts and education causes, particularly around Chicago, but also including $150 million to his alma mater, Harvard University. His main companies, Citadel and Citadel Securities, also donated tens of millions of dollars.
— The philanthropy organization Foundation Guide also notes that Griffin is a big art collector, spending hundreds of millions of dollars to acquire works by such artists as Paul Cézanne, Jasper Johns, Willem de Kooning, and Jackson Pollack.
— He and Citadel got publicly implicated as being at least partly behind the bizarre GameStop stock activity last winter that briefly turned the struggling chain of video game stores into one of the hottest properties in the world for a few days. The U.S. House Committee on Financial Services grilled Griffin on that in February. He repeatedly flustered Democrats questioning him in that hearing, and they made nothing stick.
— He has been a generous political donor for at least 20 years, contributing overwhelmingly to Republican candidates and organizations, but occasionally to Democrats, including Sen. Bill Nelson in 2004 and Barack Obama in 2008.
The Federal Election Commission records show he made 884 federal campaign contributions totaling $109 million since 2000. That was led by $78 million total given over time to his favorite political groups, the Republicans' Senate Leadership Fund, Congressional Leadership Fund, and National Victory Action Fund, Scott's New Republican PAC, and U.S. Sen. Marco Rubio's Conservative Solutions PAC.
A search of FEC records found no direct donations from Griffin to former President Donald Trump's campaigns or major committees.
DeSantis is not his biggest single candidate benefactor. The Chicago Tribune reported that Griffin donated $36 million to the campaign efforts of Bruce Rauner, who was elected Illinois Governor in 2014 and served one term.
Griffin also has been generous to Scott and Rubio. He chaired Scott's New Republican PAC in 2018 and donated $10 million to it. He also donated $266,000 to Scott's Rick Scott Victory Fund and a maximum contribution of $5,800 to Scott's official U.S. Senate campaign that year. This year, Griffin sent $5,000 to Scott's Let's Get to Work PAC.
In 2015 and '16, Griffin sent a total of $2.6 million to Conservative Solutions PAC, which supported Rubio's 2016 presidential campaign. He also gave maximum donations toward Rubio's 2010 and '16 U.S. Senate campaigns.
He has contributed to the congressional campaigns of DeSantis and those of Republicans David Jolly, Brian Mast, Maria Elvira Salazar, and Michael Waltz.
— In Florida, he gave $500,000 to the Republican Party of Florida last year and the same amount in 2014; $500,000 to the Florida Republican Senatorial Campaign last year; $50,000 to Floridians for Integrity in Government in 2015; $35,000 to Restore Florida in 2012; and $1,000 to Floridians for Accountability in 2010, according to Florida Division of Elections records.