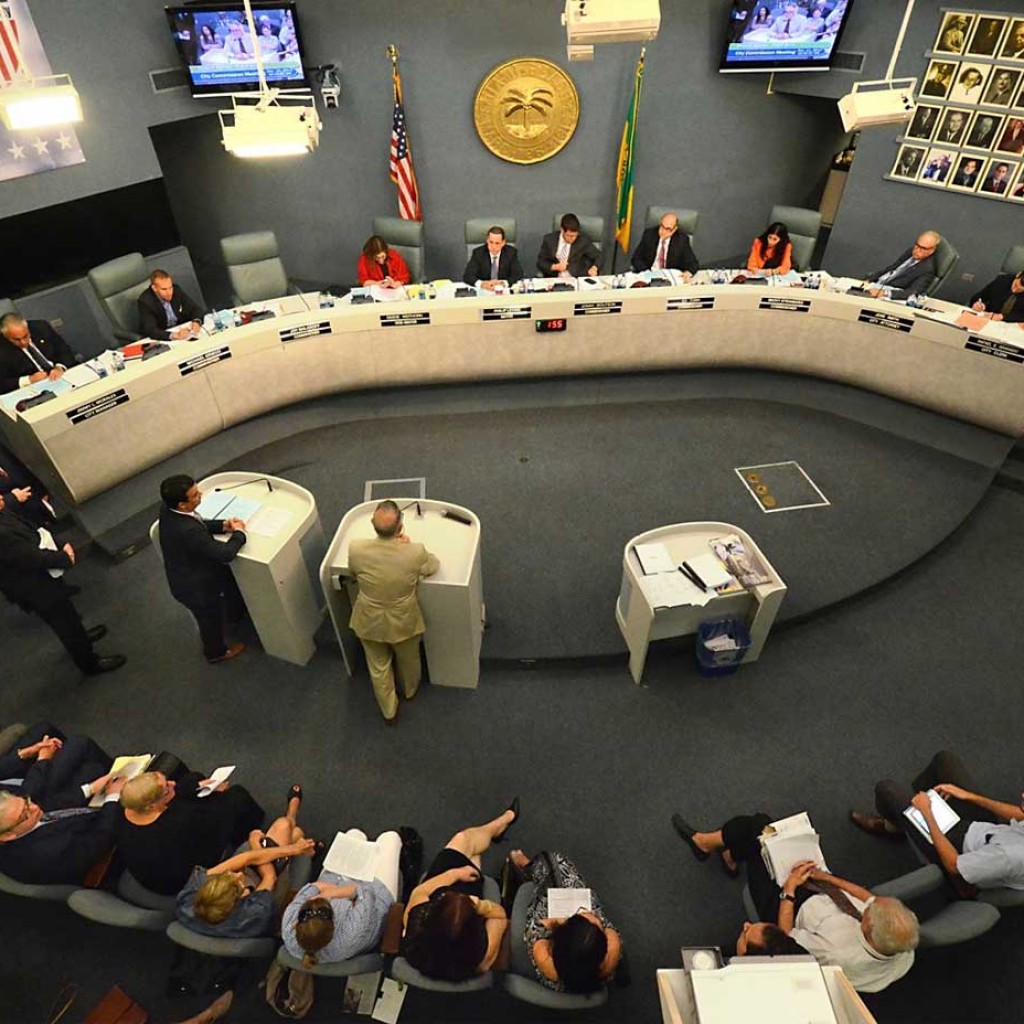 Kristen Rosen Gonzalez faces Raquel Pacheco for Group 1. Alex Fernandez battles Stephen Cohen for Group 3.
Miami Beach will have a runoff election to determine who will fill two seats on its Commission after no candidate secured enough votes Tuesday to capture office outright.
On Nov. 16, Realtor, college professor and former Commissioner Kristen Rosen Gonzalez will face off against local business owner Raquel Pacheco for the seat representing Miami Beach Commission Group 1. That same Tuesday, city Planning Board member Alex Fernandez and real estate investor Stephen Cohen will square off to see who will represent Group 3.
Holding 4,003 of 11,821 ballots cast in the Group 1 race, Rosen Gonzalez secured nearly 34% of the vote. Pacheco trailed her with about 30%. Restaurateur Adrian Gonzalez received about 20% of the vote, while industrial sales contractor Blake Young took about 16.5%.
Fernandez led the pack in the Group 3 race with 4,405 of 12,057 votes, a 36.5% share. Cohen had 26%, while Venetian Islands Homeowners Association President Melissa Beattie and real estate broker Michael Barrineau received 20% and 17%, respectively.
"I am honored by the trust placed in me by the community as we move toward the run-off," Fernandez said in a written statement. "Miami Beach residents want a cleaner and safer community. They deserve a City Commissioner with the judgement and experience to immediately and effectively address our community's most pressing issues by implementing measures to tackle crime, crack down on illegal short-term rentals, advance our flood mitigation strategies, and control overdevelopment. I am committed to winning this election and accomplishing each of these goals in City Hall."
To have secured a win on Election Day, a candidate must have received at least 50% of the vote. Because none did, the top two finalists from each race will compete in a runoff.
Group 1
All Group 1 candidates had vied for the City Commission before, with only Rosen Gonzalez winning in 2015. The 48-year-old Realtor and professor at Miami Dade College vacated her seat three years later for a failed congressional bid.
All also supported boosting police presence in the South Beach Entertainment District instead of rolling back the last call for alcohol from 5 a.m. to 2 a.m., a remedy Mayor Dan Gelber and former Mayor Philip Levine championed to vocal opposition.
Rosen Gonzalez brought a fair share of baggage with her into this year's race, including past feuds with fellow commissioners, interference with a Miami Beach investigation into a major donor to her congressional campaign and a gaffe in September, when she claimed to be "the most high-profile Hispanic Democrat in the City of Miami Beach" despite not actually being Hispanic. (Her ex-husband is.)
Pacheco first ran for public office in 2019, when she fell to Group 5 Commissioner Ricky Ariola. The 47-year-old former member of the Connecticut Army National Guard picked up several endorsements during her campaign from the likes of Ruth's List Florida, Save LGBT Action PAC, the Miami-Dade Democratic Party and the Florida chapter of the Service Employees International Union.
However, her questionable budgeting prowess was seen as a potential weak spot in her run-up to the Tuesday election. She has twice filed for Chapter 7 bankruptcy, most recently in 2017.
Gonzalez, 47, has been active locally, serving on the Miami Beach Visitor and Convention Authority, Marine and Waterfront Protection Authority and as president of his homeowners association.
But he also had recent money issues. His family restaurant, David's Café, closed its Alton Road location last year after its landlord filed to evict the business for rent nonpayment. He has since opened a pop-up shop at the Shelbourne South Beach hotel but faces a foreclosure lawsuit against his home and another suit by creditors for debt exceeding $36,000.
Young was the only candidate in the Group 1 race to run a donation-free campaign, his ledger with the city showing more than $15,000 in out-of-pocket expenses. The 50-year-old president of his local homeowners association and adult day care volunteer said the absence of outside money in his campaign is a strength, as he owes nothing to special interest or political groups.
Group 3
Of the four candidates who ran to succeed Góngora, only Cohen took no money from hotels or nightclubs. That's because, like Young, nearly all the money in his campaign coffer came from his own pockets.
A past candidate for the Commission, Cohen, 43, cited volunteer work providing meals to seniors in need during the COVID-19 pandemic, mass cleanup efforts in city parks and memberships and sponsorships of local temples as examples of his community activism.
His platform prioritized protecting Miami Beach's waterways, improving safety, fighting for taxpayers and middle-class families, ensuring government transparency and balancing the city budget.
Cohen said he was against the 2 a.m. last call rollback.
Beattie, 46, supported the change. She ran on a platform focusing on protecting the environment, improving infrastructure and resilience, and prioritizing residents' quality of life and safety.
Fernandez, a late entry in the race, proved himself an able fundraiser despite just starting in September. The 35-year-old boasted the most extensive government experience among his peers, including a current job as communications aide and legislative assistant to Miami-Dade Commissioner Rebeca Sosa. His past roles include work in the offices of former Miami Beach Mayor Matti Bower and former Miami Beach Commissioner Deede Weithorn.
Góngora, whom Fernandez ran against in 2009, this year endorsed Fernandez, who said he'd support whatever voters decided on the non-binding 2 a.m. last call referendum.
Barrineau, 63, spent the longest time campaigning, having launched his bid for the Commission in January. He also ran for the Commission two years ago but placed last in a three-way race.
Like Fernandez, he had served on the city Planning Board. He is also a former president of the Fifth Neighborhood Association and Miami Beach United community group.
Barrineau's campaign platform had three pillars: protect the environment, restore the city's pedestrian character and accommodations, fight over-development by builders, invest in "green" mobility, mitigate sea level rise and prevent crime.
He supported the 2 a.m. rollback.