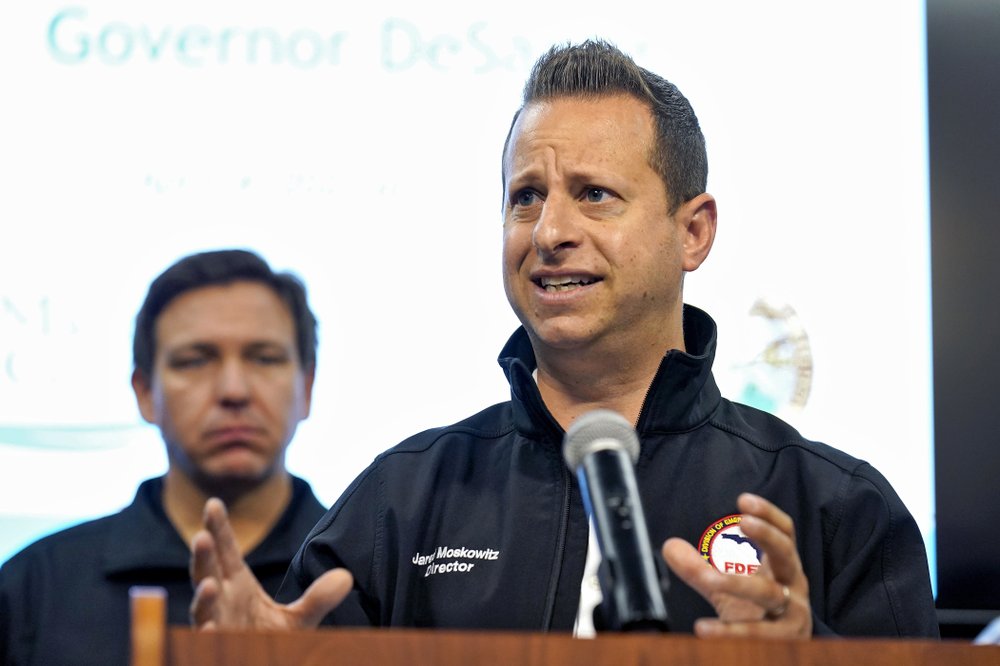 The Parkland resident will replace outgoing Commissioner Barbara Sharief.
Gov. Ron DeSantis proved Tuesday there are some Democrats he likes.
Jared Moskowitz, a former Democratic Representative from Parkland and the state's former director of the Division of Emergency Management, will replace Barbara Sharief, representing District 8 on the Broward County Commission, DeSantis announced Tuesday.
Torey Altson, current chief of staff for the Florida Department of Transportation, will replace Dale Holness in District 9, DeSantis also announced.
"They both have records of putting service above self," Desantis said, as the families of both men surrounded him at a news conference Tuesday.
Moskowitz will serve until November 2022, when voters head to the polls for the midterms. Alston, a Republican, will serve throughout the rest of Holness' term, through November 2024.
"Thank you for having confidence in me yet again," Moskowitz said, nodding at the Governor, and recalling his time in state government that included a string of hurricanes, a pandemic and then a hurricane during a pandemic. "Let's just hope this job is nowhere near as eventful as the last job you gave me."
Alston said his passion for public service started at a young age. In addition to his current role as the state DOT chief of staff, he has worked for Miami-Dade County public schools, the city of Gainesville and the Florida Department of Management Services.
"I am ready to roll up my sleeves and serve the people of Broward County and District 9," Alston said. "As the Governor said, 'There is no place like home.'"
Sharief and Holness, both County Commission members since 2010, resigned to run for the seat vacated when U.S. Rep. Alcee Hastings died in office April 6. Both were defeated in the Nov. 2 Democrat Special Primary Election by Sheila Cherfilus-McCormick.
Moskowitz said it's great to be back with Michael Udine, who was Parkland Mayor when Moskowitz served on the Parkland City Commission. Udine was recently chosen by his fellow Commissioners as Mayor of Broward County.
"The ability to serve my community and stay close to my family is a humbling opportunity and I look forward to serving the residents of District 8 and Broward County in the same manner and vigor I've been serving my fellow Broward and Florida residents since I was 25 years old," Moskowitz said.
As a state Representative, Moskowitz helped steer his community through the aftermath of the 2018 shooting at Marjory Stoneman Douglas High School. He resigned from House District 96 in 2019 to become DeSantis' appointee, running the state's Emergency Management Division. He became nationally known as the "master of disaster" and won plaudits for the state's smooth logistical response to catastrophes. He oversaw the rollout of state testing centers as the COVID-19 crisis ramped up.
Jared Rosenstein, a governmental affairs consultant with Capital City Consulting, said Broward County couldn't have a better representative than Moskowitz. He worked with Moskowitz as a legislative affairs director.
"His work ethic is unparalleled," Rosenstein said.
Tuesday's appointment drew praise from across the Twitter sphere from those based in Palm Beach, Broward and Miami-Dade counties.
"Congratulations to our newly appointed Broward County Commissioner," tweeted Rep. Dan Daley of Coral Springs.
Sen. Shevrin Jones, whose Senate District includes some of Moskowitz's new constituents and parts of Miami-Dade County, likewise celebrated celebrated the news, writing, "Congratulations to my brother and best friend … You will do well, my friend. Welcome to the district!"
Joseph Russo, co-founder and CEO of the West Palm Beach-based company Emergency Ventures called Moskowitz's appointment a "big win for the people of Broward County."
Moskowitz's resignation from the DeSantis administration was national news last February when he announced he was returning to Parkland so he could spend more time with his wife and young sons. Since then he has taken a job with Miami-Dade County government working on emergency management.
Appointees to the Broward County Commission don't have to live in the district, as elected members do. Moskowitz's district includes Miramar, Pembroke Pines, Hallandale Beach, Pembroke Park and West Park.
Alston will represent parts of Fort Lauderdale, Plantation, Sunrise, Lauderhill, Oakland Park, North Lauderdale, Lauderdale Lakes and the communities of Roosevelt Gardens, Washington Park, Boulevard Gardens and Franklin Park.
Alston was the chief of staff for two Broward County Commissioners, including Sharief, and had considered running for Broward County School Board.
DeSantis has appointed Republicans to some key South Florida positions when vacancies have arisen. He installed Pete Antonacci, a long-time Rick Scott ally, to replace Broward County Supervisor of Elections Brenda Snipes in 2018. He replaced Palm Beach's three-term Supervisor of Elections, Susan Bucher, in 2019 with a Republican, Wendy Sartory Link, who later bucked her party affiliation, according to the Sun Sentinel.
DeSantis riffed on the dangers of one-party, local rule at Tuesday's news conference.
"Local government stuff is very important," DeSantis said. "If you look around the country, when these local governments have really gone off the rails and a lot of it's when you have one-party rule. You look and see what's happened to San Francisco — it's a shell of its former self. You look at LA (Los Angeles) with all the homeless they have…"
Broward County Commissioners earn an annual salary of $106,176 this year, according to the state Office of Economic and Demographic Research.