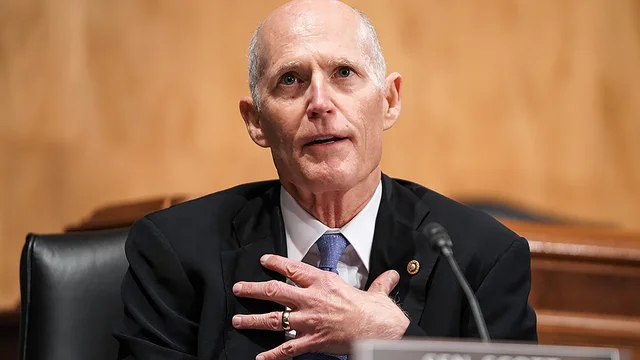 "Tallahassee's got to make sure that doesn't happen."
U.S. Sen. Rick Scott said Wednesday that any decoupling of Disney from its special tax district status shouldn't hurt taxpayers.
During an interview on Newsmax, Scott told host Sean Spicer that the sunset of the Reedy Creek Improvement District shouldn't result in Disney debt being passed to taxpayers in Orange and Osceola Counties and them being "hurt by this."
"Tallahassee's got to make sure that doesn't happen. That would not be fair," Scott said. "And I think it's very important that Tallahassee make sure that's not the case. That they're not putting additional burdens on the county taxpayers there."
The most recent Special Session included legislation (SB 4C) to repeal the now-controversial Reedy Creek Improvement District (RCID), which grants Walt Disney World functional autonomy to govern itself, in the wake of the company opposing the Parental Rights in Education bill.
Scott had already talked Disney's dilemma earlier Wednesday, and he suggested then that there were some questions about the path forward after the snap decision to sunset Reedy Creek.
He said on "The Clay Travis and Buck Sexton Show" that he was still trying to "understand" variables regarding the statutorily mandated sunset of the Reedy Creek Improvement District.
"I've been trying to understand exactly, because they have a significant amount of debt on that special taxing district, who's going to pay for that? Is there going to be an increase in taxes anywhere? And who's going to provide the services that Disney provides? I think it's something that we all really have to understand," Scott said.
"No one should get a special deal," Scott added. "And we all should be treated the same by government."
Still, he said legislators should be diligent in reviewing the effects going forward.
"We have to look at it," Scott said. "But let's don't hurt ourselves."
Scott also said during the interview that "Disney had put a target on itself," noting that he believed government should review special taxing districts.
"I think you should always be doing it," Scott said, to make sure they are "good for the state."
Scott has repeatedly dissed Disney in recent weeks. On Monday, he said he has no plans to go back to Disney World and that he's canceled his subscription to the Disney+ streaming service during a Fox Business Network interview. He repeated that vow Wednesday.
Earlier this month, he characterized Disney as a "responsible corporate citizen" when he was Governor through 2018, but his attitude has clearly changed since.
The new Parental Rights in Education law that Disney objects to will limit classroom instruction on certain topics. "Instruction on sexual orientation or gender identity" is banned for students in kindergarten through third grade, as is instruction for all students "in a manner that is not age-appropriate or developmentally appropriate for students in accordance with state standards."
Scott's confusion, meanwhile, is shared by stakeholders at many levels. The Disney government is in the dark about what happens next. Fitch Ratings has put Reedy Creek on notice, with a placement on a "negative watch" list. A potential downgrade looms.
___
Material from The Associated Press contributed to this report.