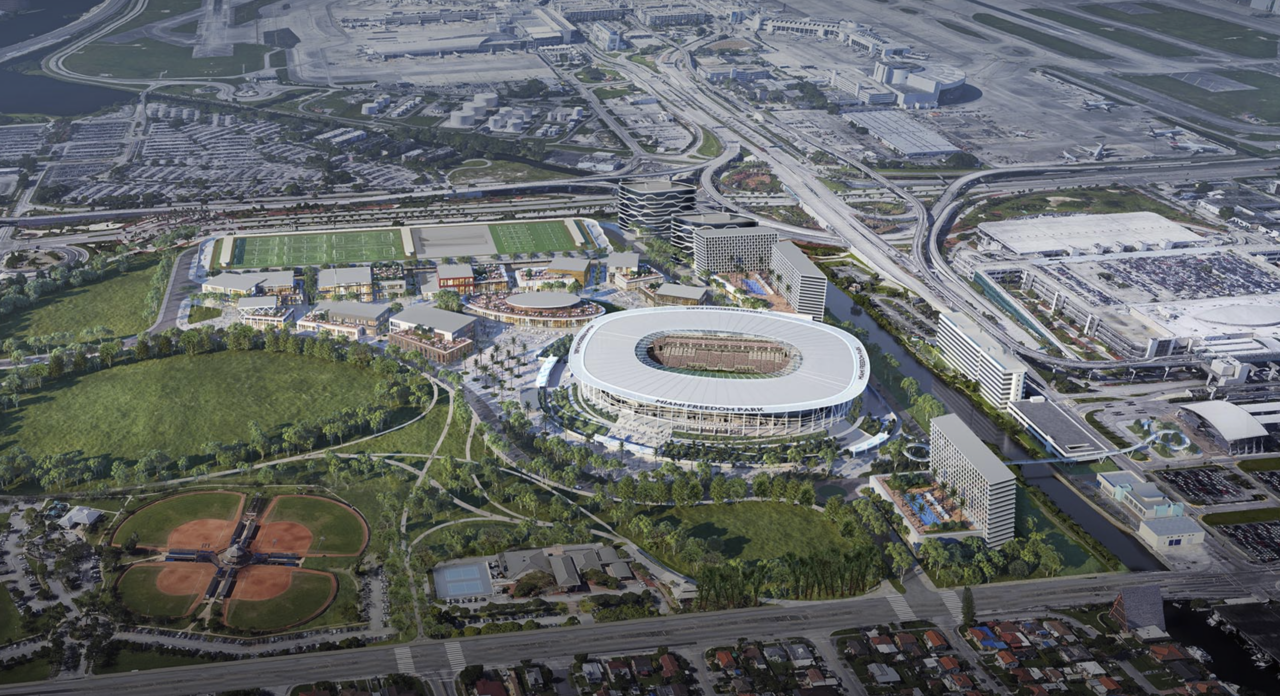 The privately funded, $1.3 billion project will rise on Miami's public Melreese golf course.
After years of anticipation and a final seven-hour stretch of debate and negotiations, Miami City Commissioners on Thursday approved the terms of a deal that will see the city's largest greenspace redeveloped into the Miami Freedom Park soccer stadium complex.
The no-bid agreement with billionaire Jorge Mas of MasTec and retired footballer David Beckham — the owners of Miami's Major League Soccer team, Inter Miami CF — includes a 99-year lease starting at $4.3 million in annual rent. That's a $300,000 increase to the rate agreed upon four years ago.
The Commission must still approve zoning changes before shovels go into the ground. That vote should take place later this year.
Mas unenthusiastically gave a preliminary OK to several other changes that will cost him and his partners millions more.
He conceded to raising the hourly wages of Freedom Park employees to $18, ensuring that construction workers on the stadium portion of the project will be paid a responsible wage and paying more rent during what is expected to be a lengthy soil remediation process done at Inter Miami's expense.
Commission Chair Christine King asked that Inter Miami prioritize local hires, work with a community organization to employ rehabilitated ex-convicts and guarantee that a percentage of business opportunities at Freedom Park go to minority-owned companies.
The organization will also confer with University of Miami personnel about bringing the Hurricanes football team to Freedom Park — a condition Joe Carollo floated and to which Mas, a UM alum, cheerfully acceded.
Mas has estimated the team will spend approximately $1.3 billion to turn a large portion of Miami's public Melreese golf course into a 73-acre, multi-faceted development. Beyond the 25,000-seat stadium, the project will include more than 1 million square feet of commercial and office space, 750 hotel rooms, a parking structure with rooftop recreation fields and 58 acres of park land.
The organization is also responsible for remediating 131 acres of contaminated soil in and around the project site.
Many other details of the long-pending deal changed on the fly Thursday, including how the city's five Commission districts will divvy up the money and the ways in which some of the funds will be used.
Several recommendations came from Manolo Reyes, who has been a vocal detractor of the deal for years. Among them: increasing the percentage by which Freedom Park's rent will go up annually.
Mas agreed to that change, but that concession and others weren't enough to sway Reyes, who cast the sole "no" vote.
Ken Russell, who demanded in 2018 that the deal require employees at Freedom Park to be paid at least $15 per hour, called for a $3 increase to that figure Thursday night.
Mas accepted that change as well.
In the weeks leading up to the vote, King, Carollo and Alex Diaz de la Portilla had indicated they would vote for the deal with a few additional amendments. Reyes remained resolutely against it.
The agreement required 4-1 approval. That gave Russell the pivotal vote.
But late into the discussion, Russell threatened to derail the agreement. He argued Mas and other Commissioners had given him little of what he asked for while seeing to many of their own demands.
An argument ensued between Russell and Diaz de la Portilla, whose district will contain the soccer stadium complex. Russell accused Diaz de la Portilla of not being true to his word. Diaz de la Portilla raised issue with Russell making a six-figure donation to his opponent during the 2019 election.
King cut off their mics and called for a 30-minute break, after which the Commission swiftly approved the deal, having seemingly reached terms while away from the dais.
Mayor Francis Suarez, who had championed the project since he won office in 2017, continued his Freedom Park endorsement Thursday.
"This is a phenomenal deal for the residents of the city of Miami," he said.
Some dispute that sentiment.
On Tuesday, Agriculture Commissioner and gubernatorial candidate Nikki Fried weighed in on the pending pact. Miami officials shouldn't sign off on anything, she said, until they receive more input from the public.
"Deals of this magnitude should always be executed in the sunshine," she said. "There should be an abundance of community engagement, a wealth of public input, and full stakeholder investment… If that takes years, then so be it."
Miami voters in 2018 approved the Freedom Park plan, including its non-stadium components, by a 60-point margin. The city never solicited other development offers for the golf course land.
The project has drawn criticism over that and other issues, including potential negative impacts on the nearby Miami International Airport and the leasing out of the city's largest remaining greenspace at a rate far below the average rent rates in the area.
One of its most vocal critics, documentary filmmaker Billy Corben, released a video last week bashing the deal, which he has likened to an agreement that Miami, Miami-Dade County and the then-owners of the Miami Marlins reached in 2009. That deal has since reached infamy as one of the worst public-private sport stadium deals in American history.
The video features former Marlins President David Samson, who helped broker the ballpark deal, calling the agreement with Inter Miami a "billion-dollar heist" that, among other things, does nothing to address Miami's skyrocketing housing costs.
Inter Miami quickly pushed back on those comments, arguing the privately funded project will reap myriad benefits for the community and make an area that is now a financial drain on the city profitable.
In its present state, Melreese loses Miami money and is pricy to use, costing South Florida residents between $65 and $100 daily and non-residents up to $195 per day. Club members play at discounted rates.