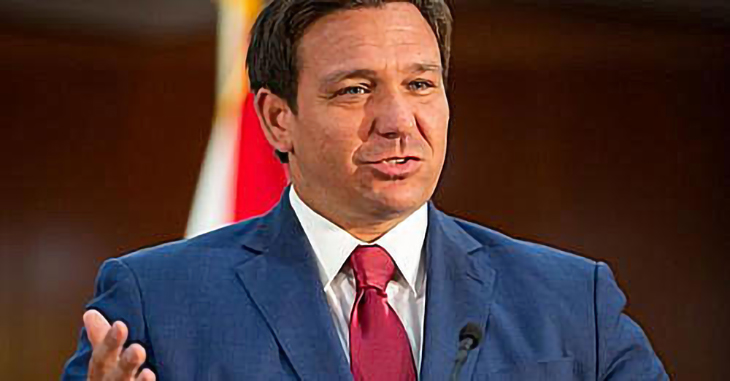 'He's probably at zero-risk anyways because he's in such good shape.'
Gov. Ron DeSantis is doubling down on his defense of a tennis player shut out of the U.S. Open due to a lack of a COVID-19 vaccination.
DeSantis, in Lakeland Wednesday to rap the Joe Biden administration over a failure to facilitate drug importation from Canada, used some of that speaking time to blast the exclusion of Novak Djokovic from the tennis tourney for the third time in roughly 24 hours.
"You're banning Djokovic from coming into the United States to play tennis? When he has already had COVID, and first of all, he's probably at zero-risk anyways because he's in such good shape. Why would you be excluding on the basis of that and they don't recognize a reason why someone would opt against it?"
Applause followed DeSantis' defense of vaccine abstention, the latest proof that the Djokovic defense is a crowd pleaser this news cycle, as it followed up a two-for-Tuesday on DeSantis tennis commentary.
"You think about some of these mandates that have been done in the last couple of years. You still see them now," DeSantis said at a press conference in Fort Pierce. "They're not letting Djokovic come to the United States to play in the U.S. Open because of the shot!"
"He's already had COVID," DeSantis litigated. "And the shot is not, it's not stopping you from getting this. It's so bizarre. It's so stupid that they're doing this, but you had a lot of these bizarre policies going on in these other states."
"You're letting people come across the border without shots, but you won't let him come in and compete," DeSantis complained in Live Oak just hours later.
DeSantis seems more bothered than the veteran Djokovic, a three-time champion of the tourney who was upbeat about the non-participation when he announced it on Twitter last week.
"Sadly, I will not be able to travel to NY this time for US Open. Thank you #NoleFam for your messages of love and support. Good luck to my fellow players! I'll keep in good shape and positive spirit and wait for an opportunity to compete again. See you soon tennis world!"
The tourney likewise looked forward to a future without travel bans on unvaccinated foreign nationals.
"Novak is a great champion and it is very unfortunate that he will be unable to compete at the 2022 U.S. Open, as he is unable to enter the country due to the federal government's vaccination policy for non-U.S. citizens," said Stacey Allaster, the U.S. Open tournament director, to the Associated Press. "We look forward to welcoming Novak back at the 2023 U.S. Open."