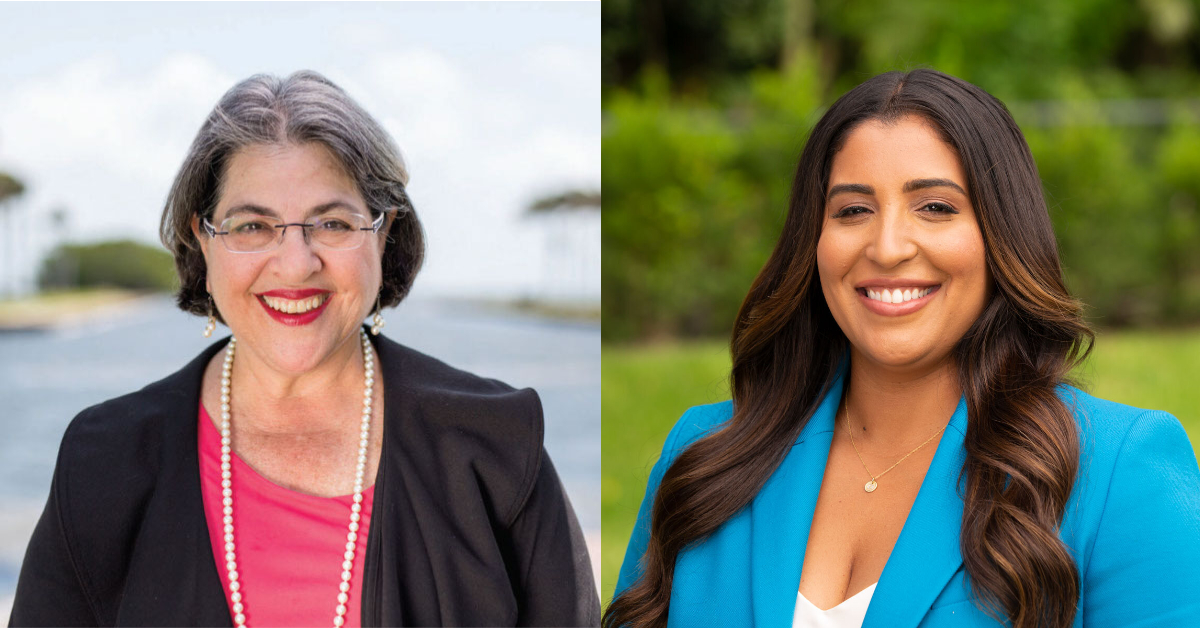 Senate District 38 covers much of the area Levine Cava represented while on the Miami-Dade County Commission.
Miami-Dade Mayor Daniella Levine Cava, the county's first woman Mayor, is throwing her emphatic support behind Democratic local business owner Janelle Perez's bid for Senate District 38.
Perez's campaign announced Levine Cava's endorsement Wednesday. In an accompanying statement, the Mayor called Perez "someone who truly loves Miami-Dade."
"She is a product of our community and has brought to life a vision of entrepreneurship to her family-owned health care business," Levine Cava said.
Perez, who launched her candidacy for public office in early August 2021, is a co-owner of her family's Coral Gables-based managed care company Doctors Healthcare Plans Inc. She's an active member of the LGBTQ community who served as the first chair of the Miami LGBTQ+ Advisory Board.
She also beat stage 4 follicular lymphoma, a slow-growing cancer that typically appears on the lymph nodes and in bone marrow.
"As a cancer survivor, Janelle is a fierce champion for expanding access to affordable and quality care, and as a mom and wife, she is ready to fight for a brighter future for Miami-Dade and the state of Florida," Levine Cava said. "I am proud to endorse Janelle Perez for state Senate."
Levine Cava's endorsement joins many others, including nods from Senate Democratic Leader Lauren Book, Miami Sen. Annette Taddeo, former U.S. Reps. Debbie Mucarsel-Powell and Donna Shalala, Giffords PAC, Emily's List, Equality Florida Action PAC, SEIU Florida, AFSCME, South Florida AFL-CIO, Victory Fund, Ruth's List Florida, The Next 50 and Run For Something, among others.
The Mayor's endorsement is particularly noteworthy considering that for six years prior to her election as Mayor, she served much of the South Miami-Dade area from the County Commission dais that Perez hopes to represent in Tallahassee.
SD 38 covers a large, coastal portion of Miami-Dade, including the municipalities of Cutler Bay, Palmetto Bay, Pinecrest, South Miami, parts of Homestead and Coral Gables, and the unincorporated neighborhoods of Goulds, Kendall, Sunset, Perrine, Redland and Westchester.
Perez said it is "an honor" to receive an endorsement from Levine Cava, whom she called a "lifelong public servant." Prior to her successful career in politics, Levine Cava worked for decades in the nonprofit sector as a lawyer, executive and founder of organizations like Catalyst Miami.
In addition to being the first woman to serve in Miami-Dade's highest office, Levine Cava is also the first person of Jewish descent to be elected Mayor.
"It's time to break more glass ceilings and elect champions of the people to represent our shared values in Tallahassee," Perez said.
In the Nov. 8 General Election, Perez faces Republican former GOP staffer Alexis Calatayud, who currently works as director of policy and programs at the Florida Department of Education.
Through mid-August, Perez raised $624,000 to take the open seat for SD 38. Of that, she had $521,000 left by Aug. 18.
Calatayud raised roughly half Perez's gains since filing for state office in March. As of Aug. 18, she had about $221,000 remaining.