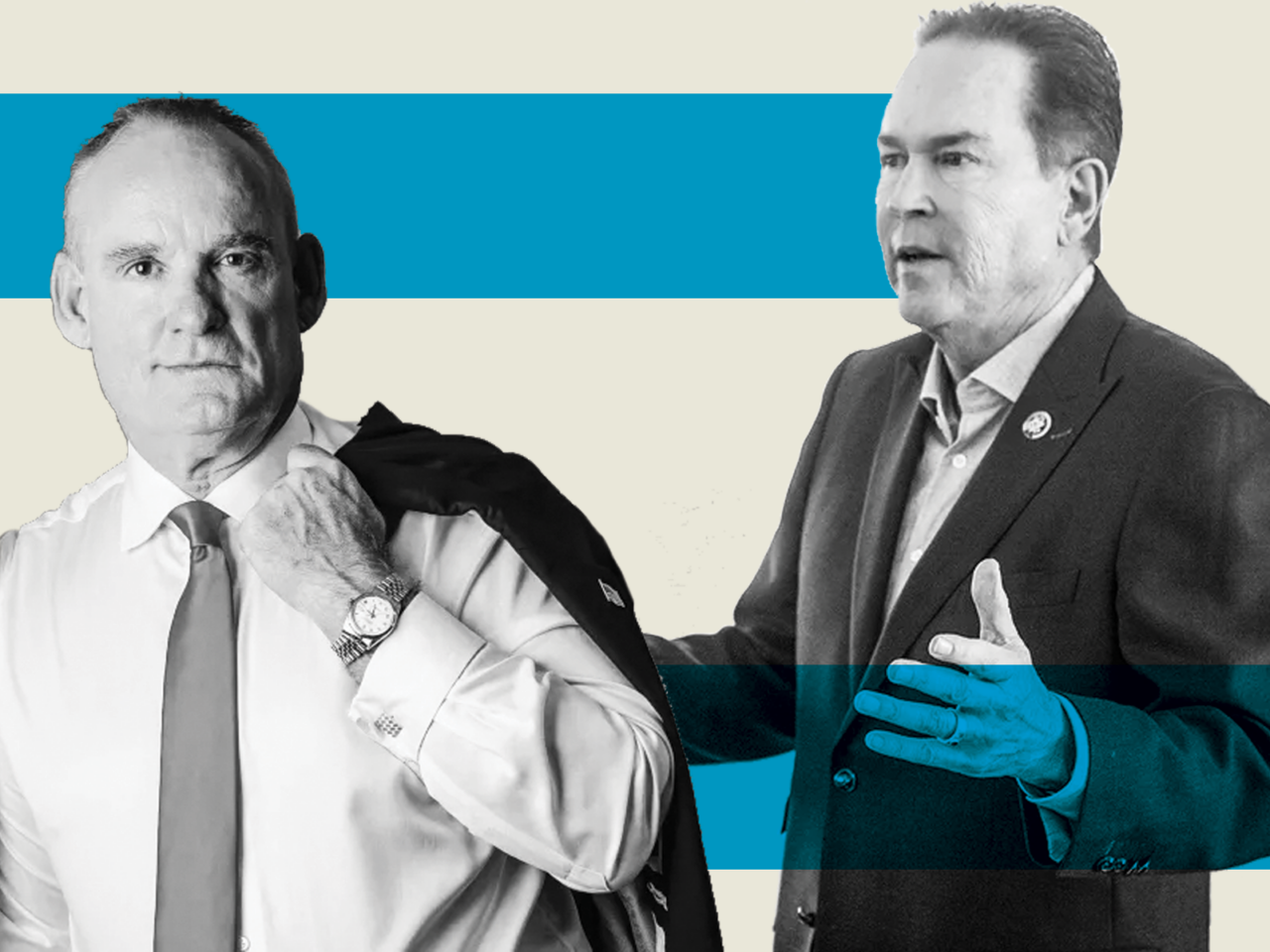 A video with his rags to riches story made a difference. And another bit of film may have helped too.
It wasn't long ago a Primary challenge from a conservative activist posed an existential threat to U.S. Rep. Vern Buchanan. The Longboat Key Republican had faced pressure from the right before, but this was the MAGA era, and Martin Hyde had a list of reasons to paint the incumbent as insufficiently pro-Donald Trump.
Yet a week ago, Buchanan emerged from a Republican Primary not just with another term in the House all but secure, but buoyed by the best margin of victory achieved by any Republican in Florida on Primary day.
How did he get from a target of the far-right to a favorite on the cusp of unprecedented power for a Florida Congressman? A series of positive events for Buchanan — and some unpredictable consequences for predictable behavior on the part of Hyde — produced a landslide.
Right swipe
Hyde arose as a potential challenger to Buchanan in March of 2021, and by that time already had developed a reputation in Sarasota for stirring controversy. He had run two Sarasota City Commission campaigns, making the runoff once in a citywide contest.
He'd also had a moment of anger go viral once, when he got into an argument with a group of teenagers at the Bath & Racquet Club and at one point told them to "cut some grass." But the brief furor that caused didn't seem to hinder an ability to build a local fan base in part thanks to memorable public comments offered at Sarasota City Commission and Sarasota County School Board meetings.
He also believed there to be a chance to unseat Buchanan in a GOP Primary. The incumbent Republican had been among a small group of GOP representatives supportive of the Paris climate accords. He also perturbed activists when he voted to override a veto of the federal budget by President Trump.
Perhaps most unholy among the MAGA faithful, Buchanan was among the only Florida Republicans in Congress to vote to certify Democrat Joe Biden's win in the Presidential Election.
But the last straw, Hyde said, was a vote for universal background checks on firearm purchases. "One of eight Republicans who voted for new gun controls. RINO Vern Buchanan," Hyde posted on Facebook. "You just voted yourself a primary challenge pal."
In Buchanan's world, officials quickly downplayed the challenge. Buchanan had survived Primary challenges during the Tea Party revolution and otherwise, including one from now-Manatee County Commissioner James Satcher.
But there seemed some potential behind a Hyde challenge, particularly when he nabbed the support of Trump associates Roger Stone and Michael Flynn. The latter had recently moved to south Sarasota County, outside Buchanan's district but actively building influence in local GOP politics.
And a vague threat seemed to hang on the horizon within the halls of Mar-a-Lago. Trump remained on a crusade to convince supporters he won the 2020 Presidential Election, and had publicly feuded with some Republicans, even Vice President Mike Pence, on the choice to certify the electoral college results that ousted him from the White House.
Buchanan maintained a fundraising edge, however, and a certain level of sway as Republican chair of the Florida Congressional Delegation.
Then came some major news in Washington. First, U.S. Rep. Kevin Brady of Texas, ranking Republican on the Ways and Means Committee, announced his retirement from Congress. Buchanan immediately made known his interest in taking over the top GOP spot.
"At the appropriate time, it would be an honor to be considered for the chairmanship of the Ways and Means Committee when we win back the House in 2022," Buchanan said.
At first, he seemed a long shot, still behind U.S. Rep. Devin Nunes of California in terms of seniority. But then, Trump recruited Nunes to run his new social media platform, Truth Social, ironically headquartered within Buchanan's home county. Buchanan was elevated to front-runner status immediately.
Suddenly, the Longboat Key Republican's focus turned to raising money for the National Republican Congressional Committee and to sending generous catering to Republican Steering Committee meetings. His campaign efforts turned to shoring up a Ways & Means position, one likely to turn to a Chairmanship for the most powerful committee in Congress should Republicans retake a majority in the House in November.
"Florida, even as the third largest state in America, has never had a chairman of the most powerful committee in all of Congress," said Max Goodman, a political consultant who has worked with Buchanan since his election to Congress in 2006.
It may be that the sudden growth in stature in Congress reached from Washington to Palm Beach County. Trump soon made an endorsement of the race — for Buchanan.
"Congressman Vern Buchanan is a terrific representative of the people of Florida," Trump said in a statement released by the Save America PAC. "He is working hard to lower our Taxes, grow our Economy, support our Military and Vets, protect our Seniors, and defend our Second Amendment. Vern has my Complete and Total Endorsement!"
Goodman said the Congressman never truly worried about landing the nod. Buchanan had served as congressional liaison to the White House during negotiations of the U.S.-Mexico-Canada Agreement, and as a mogul-turned-public servant had a profile similar to Trump's from the start.
But winning Trump's support effectively cut off the clearest path to a credible challenge from Hyde. And that wouldn't be the last hit to the activist's reputation.
Road blocks
But Hyde's greatest challenge came on Feb. 14, when a traffic stop turned into a viral moment that made the Ball & Racquet Club incident seem like a minor embarrassment.
A Sarasota Police officer pulled Hyde over for a tag issue, and Hyde called her supervisors and threatened her job. "I'll just call the Chief. You know who I am, right?" Hyde said as police body cameras captured all. The matter drew international attention and millions of views online for multiple media outlets, including Florida Politics.
Hyde pulled back from the trail, at one point writing a front-page op-ed for the Herald-Tribune listing him as a "former" congressional candidate. Yet, he still qualified to run for Buchanan, even as he stopped seeking outside contributions.
Meanwhile, a threat greater than Hyde loomed in Tallahassee.
Buchanan appeared a beneficiary of Florida's congressional redistricting process as led by the Legislature, but Gov. Ron DeSantis injected himself in an unprecedented way into the process of drawing new political boundaries. He vetoed the Legislature's maps and his own staff presented a different vision that significantly altered the make-up of Southwest Florida's political boundaries.
That included drawing Buchanan out of his own district and putting all of Sarasota County, where Buchanan lived for decades, into the district represented by U.S. Rep. Greg Steube.
Haggling went on between Buchanan and Steube about who should run for a Manatee County seat containing much of Buchanan's existing constituency and who would campaign in Sarasota County. Ultimately, Steube announced he would seek the southern seat and Buchanan announced he would run for the Manatee jurisdiction within an hour.
Goodman downplays the significance of the jockeying as a final map came together in Tallahassee. "Ultimately, the decision was an easy one," Goodman said. Buchanan had represented Manatee and a portion of Hillsborough County for years, and he would not need to face a fellow incumbent in a needless turf war.
Besides, there was a more important message Buchanan wanted to reach voters, a positive one that would blanket the region in coming months.
Rags to riches
Buchanan in June blasted texts to voters throughout Florida's 16th Congressional District that aimed to show a picture of the Congressman as a young man. Many knew Buchanan, the wealthy car salesman who became one of Congress' wealthiest members. Less known was his story growing up as one of six children in a 900-square-foot Michigan home.
Goodman and a camera crew flew to Inkster, Michigan to film "Self-Made," a two-minute documentary-style video ad. The campaign team spoke to people about Buchanan's days delivering newspapers and teaching karate classes to pay his way through college. The montage moves forward through time as Buchanan became a fixture in business journal stories and eventually into political headlines.
"The story had a major impact on people," Goodman said, showing metrics that indicated more than 150,000 people in the district watched the video for more than six seconds. "We were pulling the curtain back showing people the real Vern Buchanan."
Meanwhile, Hyde gradually re-introduced himself to voters after months of social quarantine, but ran a low-key campaign. He made headlines again after a dispute with an ex-girlfriend, who reported concerns to the police about Hyde voicing thoughts of suicide. After Florida Politics published a story on that episode, he threatened to sue the publication.
"You'll get my side in the court papers," he texted Florida Politics.
Regardless, Buchanan scored an indisputable win on Aug. 23. He won 86.24% of the vote in the Republican Primary, 64,028 votes to Hyde's 10,219. Goodman believes that to be the highest share of the vote for any Republican on the ballot that day for any race in the entire state of Florida.
Election season isn't done for Buchanan, however. He still faces a General Election opponent in Democrat Jan Schneider, who he has faced a few times in his eight prior elections. Even Schneider concedes she lacks the resources to defeat Buchanan, and suggested she ran this year in part just in case a Tea Party-like surge unexpectedly led to a Hyde victory for the GOP nomination.
Buchanan also enjoyed his greatest fundraising ever this cycle, seeing a major uptick once he became a front-runner for the Ways & Means post. Through Aug. 3, he pulled in more than $3.7 million. He also has paid down all the campaign debt accrued in 2018 and 2020 when he faced nationally backed Democratic challenges from David Shapiro and Margaret Good respectively.
He entered the final weeks of the Primary with $1.77 million in cash-on-hand. Hyde, by comparison, raised a little over $230,000, almost all of that out of pocket, and went into the Primary endgame with just over $6,700. Schneider through June had $41,178 in the bank, most of that raised in prior campaigns.
But the focus for the Congressman likely will turn now away from the vote in CD 16 and toward closing a gap with Democrats in House districts across the country. He could not become Ways & Means Chair without securing his own re-election, but with that all but settled, he also needs a GOP House. Democrats right now enjoy a nine-seat majority. Buchanan will join a national effort to erase that difference.