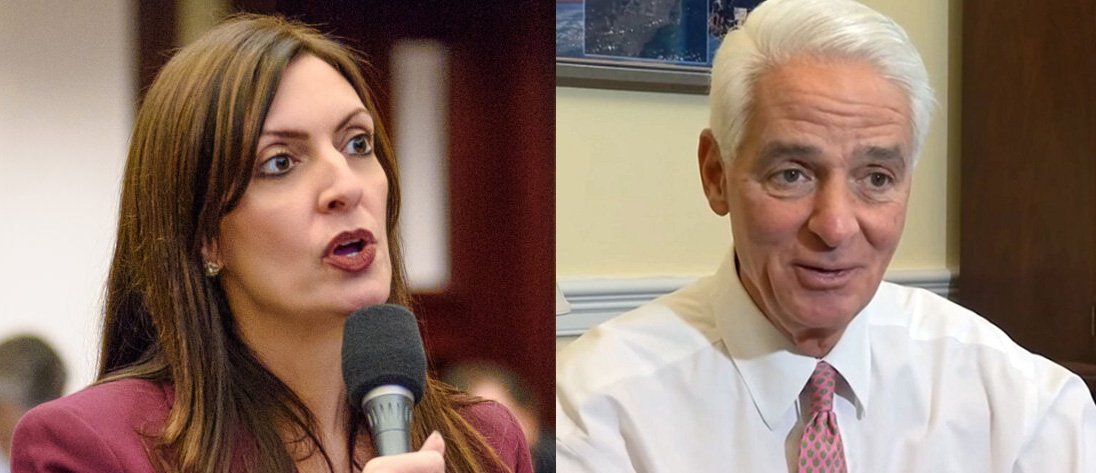 The 'six-figure' Spanish radio ad has Jeanette Nuñez talking about her boss' supposed plans for shipping an influx of Cubans in South Florida to Delaware.
Charlie Crist's gubernatorial campaign is sinking six figures into airing a Spanish radio ad with an audio clip of the Governor's No. 2 saying her boss plans to ship illegal Cuban migrants to Delaware, the home state of President Joe Biden.
It's going to air in the Miami market, undoubtedly aimed at shocking the area's Cuban community, many who arrived in this country when fleeing Cubans were given automatic special consideration ahead of other immigrants. The clip, from 1040 AM Actualidad Radio, is an interview with Lt. Gov. Jeanette Nuñez in which she's asked about the historic number of Cubans coming to South Florida in recent months and what the state plans to do.
"He's [Gov. Ron DeSantis is] going to send them, frankly speaking, to Delaware, the President's state," Nuñez's voice says in Spanish.
The ad surprised Michael J. Bustamente, a University of Miami history professor, who tweeted two minutes of the 20-minute interview.
"Cuban-American Lt. Gov. of Florida calls for sending historic number of Cuban migrants this year on buses out of S Florida to Delaware, Biden's state," he wrote. "Wow."
Crist's ad breaks it down. The ad's narrator introduces the clip, with tense, fast-paced music behind her, citing the recent turmoil in Cuba and how Nuñez should know better.
"Now, with the images of beatings and imprisonments and the desperate cry of "Patria y Vida" still echoing in our hearts, we learn from Lt. Gov. Jeanette Nuñez, a daughter of Cuban exiles, that Ron DeSantis wants to put Cubans who came here fleeing from communism and seeking freedom on a list so he can expel them from our state," the narrator says.
The Aug. 19 interview might have slipped into obscurity if it were not for Bustamente. On a Twitter thread, retweeted by Democratic Agriculture Commissioner and then-gubernatorial candidate Nikki Fried, he recalled how there has always been much cooperation between arrivals from Cuba and those already here. Although the DeSantis-Nuñez campaign contends listeners conflated which question Nuñez was answering, critics say the comments represent a new attitude.
"… Send Cubans on buses OUT OF MIAMI?," Bustamente wrote on Twitter. "To lump Cubans in as just another 'illegal'? Don't think I've seen such a clear expression of marriage between a strand of Cuban-American politics and Republican anti-immigrant priorities."
That same day as Bustamente highlighted the comments, Crist put out a statement condemning Nuñez's sentiments, calling them "a betrayal of our deepest values as Floridians and as Americans."
"These men and women are escaping a brutal and murderous regime and yearning to be free," Crist wrote. "They deserve better than to be treated as pawns in DeSantis' political games designed to curry favor with the extremist base of the Republican Party.
Nikki Whiting, Nuñez's spokeswoman, fired back and sought to draw a distinction in the dustup between Cubans and those other immigrants.
"Once again, entering the country illegally and fleeing a dictatorship while seeking asylum are two very, very different things," Whiting tweeted. "The only reason why the left is fixating on this is because Hispanics are flocking to the Republican Party."
Nuñez also issued a statement two days later that reiterated Whiting's point, calling the conflation of those fleeing a dictatorship to seek asylum and those entering the country illegally "offensive."
DeSantis championed and the Legislature approved a $12 million "unauthorized illegal immigrant removal fund." The Florida Department of Transportation has not yet detailed how this removal will work, and DeSantis says federal relocations have stopped since other states implemented similar busing plans.
Cubans who enter the country without papers are processed no differently than other migrants, immigration lawyer Maureen Porras told the Tampa Bay Times.
"The parole used to be automatic. Cubans that successfully made it to the U.S. were automatically paroled under the 'wet foot, dry foot' policy," Porras told the newspaper. "That parole is no longer automatic."
The DeSantis campaign and the Republican Party of Florida did not immediately return an inquiry from Florida Politics about Crist's new ad.
The ad asks for an apology for the Nuñez comments, according to an English translation of the ad's script.
"Charlie Crist has demanded that DeSantis immediately reject that idea and apologize to our community. Mr. DeSantis: YOU MUST NOT PLAY with the pain of a people and the future of children!" the script says.