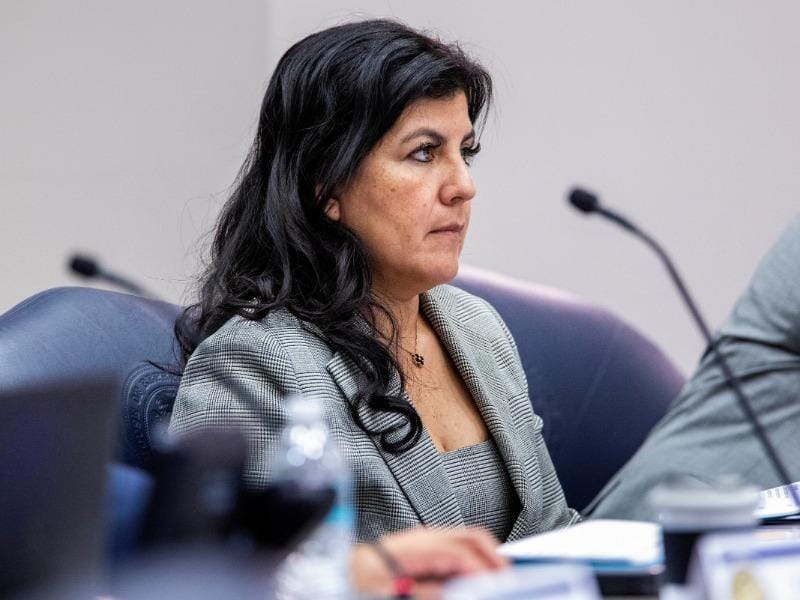 Piccolo said the allegations are 'ridiculous' and that he plans to file suit against Toledo.
Republican state Rep. Jackie Toledo is suing former staffer Fred Piccolo, claiming she suffered emotional stress as a result of sexual text messages.
Piccolo, who served as campaign manager for Toledo's failed congressional campaign, denied the allegations in an interview with Florida Politics, saying the messages attached as evidence lack context.
He said Toledo often steered conversations into sexual territory and would act suggestively in person. On one occasion Piccolo said he was visiting to discuss campaign matters and that Toledo answered the door in nothing but her underwear.
Piccolo said he and Toledo have "known each other for 10 years and often bantered back and forth as friends do." He also said that Toledo's lawsuit does not jibe with the power dynamic of their professional relationship.
Though he maintains he never acted inappropriately, Piccolo said that since Toledo was his boss and had authority over him, she could have raised objections at any point.
Piccolo said that one text message — a picture of him in the shower — was sent inadvertently. The text thread between him and Toledo and the one between him and his wife were next to each other in his phone because they were the two most recent people he had texted, he said.
In addition to lurid sexting allegations, the suit claims Piccolo abandoned his duties as campaign manager two weeks before the Republican Primary Election for Florida's 15th Congressional District, which Toledo lost by 30-points to former Secretary of State Laurel Lee.
Toledo's lawsuit accuses Piccolo of shirking his duty to her campaign after he accepted a communications consulting contract in Gov. Ron DeSantis' administration related to Hillsborough County State Attorney Andrew Warren's suspension. It suggests he did so in an attempt to get fired from the campaign, after which his contract stipulated he would receive a $100,000 early termination payment.
"That's ridiculous," he said, adding that he never stopped doing his job.
"Jackie started to run her own campaign in the last few weeks of the election. She didn't listen to me and she didn't listen to her other consultants," he said.
Anthony Pedicini, a prominent conservative political consultant who has worked with Piccolo, told POLITICO he doesn't agree with the allegations.
"I know Fred never quit the campaign or tried to get fired," Pedicini said. "This is out of left field. This would be the October surprise of my century."
Screenshots of text messages included in the lawsuit show trouble brewing between Toledo and Piccolo in early August. On Aug. 5, Piccolo texted Toledo informing her of his new commitment to the Governor.
"So the governor has asked me to help direct the communications efforts of the state attorneys office here in (Hillsborough) after he fired Andrew Warren," he wrote, noting that it didn't mean he was leaving the campaign and that he could "still do work for both."
"But when the governor calls you don't say no especially when I worked for him before," Piccolo added.
Toledo responded promptly, expressing both frustration and confusion.
"I don't even know what to say because I am 17 days out. And I can't think of anything but," she wrote.
It got worse the next day when Piccolo said the Governor's office was "occupying all my time today tomorrow and through Wednesday of this week."
"It won't be all day every day. But this weekend we have a lot to get done for the governor," Piccolo wrote. 
Toledo responded: "I just don't understand why you are not responding to me. You had assured me that you would be 💯 percent available to the campaign but I have not even seen you this week. What is going on. This is unacceptable."
According to the texts, Toledo reached out to the Governor's office inquiring about Piccolo's contract with them.
"Don't ever call one of my clients ever again," Piccolo wrote on August 11.
He later added, "You have no business calling one of my clients and asking about my contract. My contract with you is it is that I'm an independent contractor and I set my own hours … There is no conflict of interest. If you don't feel I'm doing a good job for you then fire me. You don't call my other clients and ask what my contract is."
Piccolo said he has been preparing to file a lawsuit against Toledo and that he believes this was a preemptive strike. He declined to provide details on the substance of his lawsuit before it is filed, but he said he believes Toledo "got wind that I intended to file a lawsuit against her through her attorney Dale Swope."
Toledo is asking the court to award her in excess of $30,000, which according to a footnote was provided to meet the jurisdictional minimum, "but with the understanding that the value of this case is increasing daily."
Indeed, Toledo intends on amending her complaint to seek punitive damages, alleging Piccolo was guilty of intentional misconduct. The suit argues that  Piccolo knew the behavior was wrong and would cause damage but that "he intentionally pursued his outrageous cause of conduct," an allowable trigger for punitive damages.
Florida law generally allows punitive damages to be set at the greater of three times the amount of compensatory award or $500,000. But if the judge finds at the time of injury that the defendant had a specific intent to harm the claimant and that the defendant's conduct did harm the claimant, there is no cap on punitive damages.
"As a direct and proximate result of Mr. Piccolo's outrageous intentional conduct, while in a position a trust akin to a fiduciary, Ms. Toledo has suffered severe and ongoing emotional distress, humiliation, lasting psychological damage, mental anguish, loss of capacity for enjoyment of life, and aggravation of previously existing conditions. These losses are either permanent or continuing and Ms. Toledo will continue to suffer losses in the future." The suit does disclose what previously existing conditions were exacerbated by Piccolo's  behavior.
Read Toledo's full complaint below: