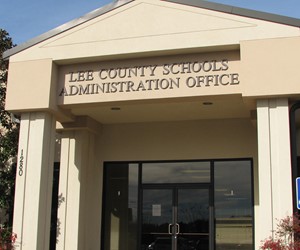 A referendum on the Nov. 8 ballot could put voters in charge.
Lee County voters on Tuesday will decide whether to have another school district official elected in the future. A referendum will decide if Lee County voters in the future will elect Superintendents or leave the hiring and firing to the School Board.
The Lee County legislative delegation voted unanimously more than a year ago for a local bill putting the issue to vote, and the Legislature later approved the measure.
Rep. Spencer Roach, a North Fort Myers Republican, said the push to do so came as much as anything from a decision last year to put a mask mandate in place despite an executive order announced by Gov. Ron DeSantis in Lee County forbidding such restrictions.
But he also said it's simply better to allow voters a direct say in who leads the schools, the same way they elect a Sheriff, Property Appraiser, Tax Collector and Supervisor of Elections.
"There are a variety of reasons this is a good thing in Lee County," Roach said. "Anytime you are taking away my right to vote for someone, that's an infringement."
Lee County voters at one point did elect Superintendents, but it's been awhile. Through a countywide referendum in 1974, voters moved from an elected Superintendent to an appointed one.
Critics of the current proposal say that was a move in the right direction then and makes as much sense now.
The Lee County School Board, which right now hires a Superintendent the way most counties hire a County Administrator, took a formal position earlier this year against the proposal.
Meanwhile, the Quality Schools for the Future campaign has worked to defeat the amendment. That organization noted Florida and Alabama are the only states in the U.S. that still even allow counties to elect Superintendents.
Madelon Stewart, a former teacher and co-founder of the political committee, does not think education in Lee County will be improved by the interjection of more politics. She stressed that an elected Superintendent, unlike School Board elected in nonpartisan races per Florida's Constitution, would be a partisan official.
"I don't think a partisan person — man, or woman, Democrat or Republican — will be able to provide the best education to students," she said.
She also said the way Superintendents are hired now, just as with major positions like City Managers and Police Chiefs, an exhaustive national search seeks out professionals for the role. Florida's open record laws lead to transparent processes including workshops inviting the public to help vet candidates.
Samuel Stewart, Madelon's husband and another voice with the campaign against the referendum, served 35 years as an appointed Superintendent and said it's important for a professional education administrator to run the day-to-day business of schools.
Both also pointed to newly hired Lee County Superintendent Christopher Bernier, who has won praise for management of the district as Lee County recovered from Hurricane Ian, which made landfall there on Sept. 24 destroying three schools and closing others for weeks.
Roach agrees Bernier has outperformed successors. But he also suspects a good Superintendent will do better without living under the thumb of a Board that can fire him with a majority vote at any time.
"An elected Superintendent will operate with their own voice and their own voter base," he said.
He also noted that Lee County has spent millions in severance pay to prior Superintendents, who have been fired with frequency by the School Board over the past decade. Right now, a Board can make a Superintendent a scapegoat for unpopular policies. Electing both a Board and a Superintendent, Roach said, will create a healthy leadership that's ultimately beneficial to the community as a whole.