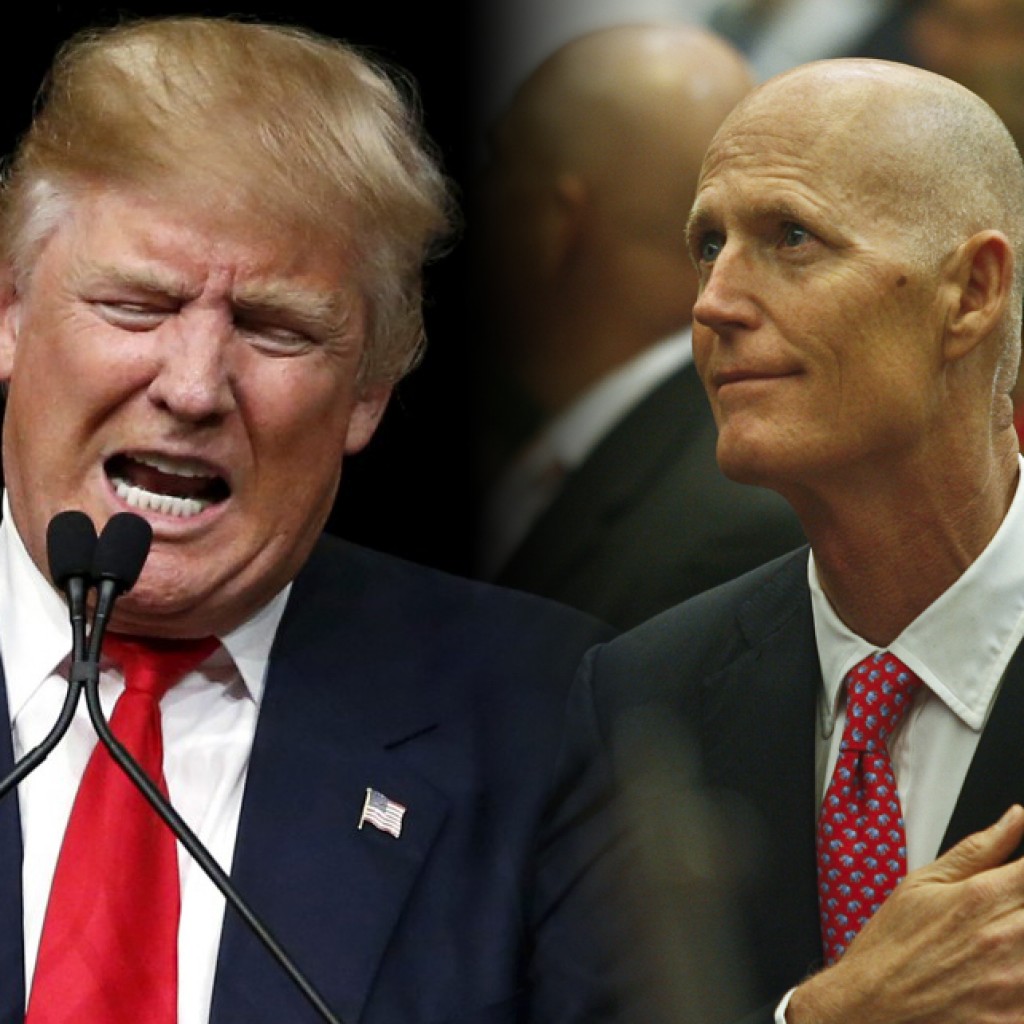 'Ultimately, you know, who's going to decide these issues is the voters.'
Rick Scott is struggling to formulate a direct answer when asked about the potential criminality of former President Donald Trump's actions on Jan. 6, 2021.
Scott, during an interview on Bloomberg Radio, attempted to redirect the question when asked point blank if he thought former President Donald Trump would be guilty of a "crime" if he in fact was guilty of any of the four counts the House Jan. 6 Special Committee alleged. Instead of weighing in either way on the question itself, he ultimately suggested voters could decide the matter in the 2024 election cycle.
"I think we ought to leave it to the Department of Justice to deal with these issues," said Scott, choosing his words carefully.
"Ultimately, you know, who's going to decide these issues is the voters. We know the former President is running again, and the voters are going to have a choice to make a decision," Scott elaborated.
The committee's criminal referral alleges Trump was guilty of "influencing or impeding an official proceeding of the U.S. government," "conspiring to defraud the U.S.," "unlawfully, knowingly or willingly making false statements to the federal government," and "assisting or engaging in insurrection against the United States."
Scott slammed the "anti-Trump" committee's deliberations as "political theater out of the House" that is "designed to influence the next election."
"Voters are going to decide who the next President is. We don't need somebody in the House trying to figure that out," Scott chided, before suggesting the committee was asking the wrong questions in its zeal to zing the former President.
"There's so much we need to know that they didn't care about," the Senator continued.
"We need to know what our other law enforcement agencies were doing. Why we didn't have more security that day. There's a lot. They didn't care about those issues."
When asked last year if Trump could have stopped what happened that fateful day, Scott was unwilling to assign blame. He said that while "the President could have responded faster," it was "irresponsible for people on the left to say the President told people to break into the Capitol, which he did not."
Scott, a strong Trump ally for years, voted against the certification of Pennsylvania's electoral slate on Jan. 6, 2021, even after mobs besieged the Capitol to compel that very result.
Scott has consistently defended that vote, which many observers see as fulfilling a central aim of the protesters.
"People don't follow the law, investigate afterwards, and nothing happens," Scott said last January on the Guy Benson Show. "In Pennsylvania, they did not follow their laws. That's wrong and I am very comfortable with what I did."
Scott ameliorated his language in Newsweek: "My vote objecting to Pennsylvania's process wasn't about the 2020 election. It would not have changed the outcome. My vote was about elections to come, in 2022, 2024 and beyond, and seeing that they are conducted fairly."