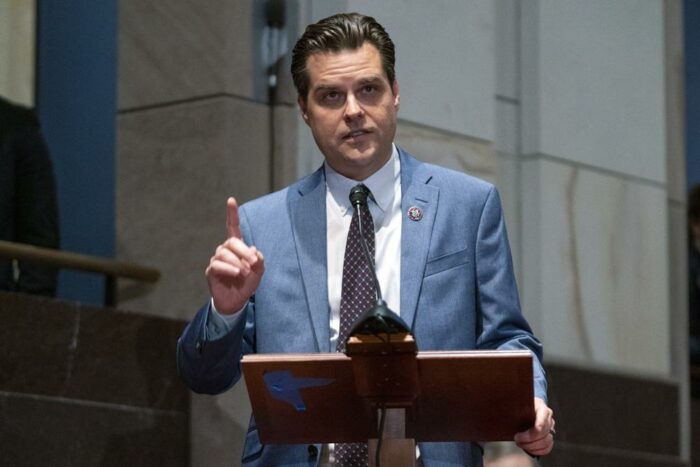 "I'm ready to vote all night, all week, all month and never for that person."
A seventh vote for the Speaker of the House won't happen until Thursday. But Rep.-elect Matt Gaetz said he would stay on the floor all night and suggested a delay won't change his vote.
(Note: All House members currently bear the title of "Rep.-elect" until a new Speaker is chosen and members are sworn in).
The Fort Walton Beach Republican had been among the most vocal critics of Rep.-elect Kevin McCarthy, the California Republican favored for Speaker by most House Republicans.
"He's a desperate guy whose vote share is dropping with every subsequent vote, and I'm ready to vote all night, all week, all month, and never for that person," Gaetz told reporters after a meeting in McCarthy's office.
Instead, the House adjourned Wednesday night on a narrow 216-214 vote. Gaetz was among just four Republicans who sided with Democrats in voting against calling it a night.
McCarthy hasn't been kind in the press to Gaetz, either.
On Tuesday, McCarthy accused Gaetz of publicly expressing philosophical concerns about House rules but privately demanding personal benefits like subcommittee chairmanships in exchange for his support.
"One, Matt Gaetz, said, 'I don't care if we go to plurality and we elect Hakeem Jeffries," McCarthy told reporters. Rep.-elect Jeffries is the Democratic nominee for Speaker.
Republicans won 222 seats to Democrats' 213 in the Midterm elections, flipping the House, albeit with a slim majority.
The 118th Congress gaveled in on Tuesday, Jan. 3, but until a Speaker is selected, no other business will take place. On Tuesday and Wednesday, there were six votes for Speaker. All Democrats supported Jeffries in each vote, but around 20 Republicans refused to support McCarthy, preventing any candidate from reaching a majority.
On Wednesday, Rep.-elect Byron Donalds, a Naples Republican, won 20 votes on three separate ballots. Gaetz was among those supporting Donalds. He said on the House floor; it was a historic vote potentially for the first Black Speaker of the House.
Meanwhile, he has remained immovable to date on McCarthy, even sending a letter to the Architect of the Capitol office questioning why the California Republican is allowed to work out of the Speaker's Office.
Gaetz referenced that with reporters on Wednesday, accusing McCarthy of "squatting."
"Why is he even allowed to be there?" Gaetz asked. "Like, is there some basis in law or statute or rule that someone who comes in second place in six consecutive Speaker races?"