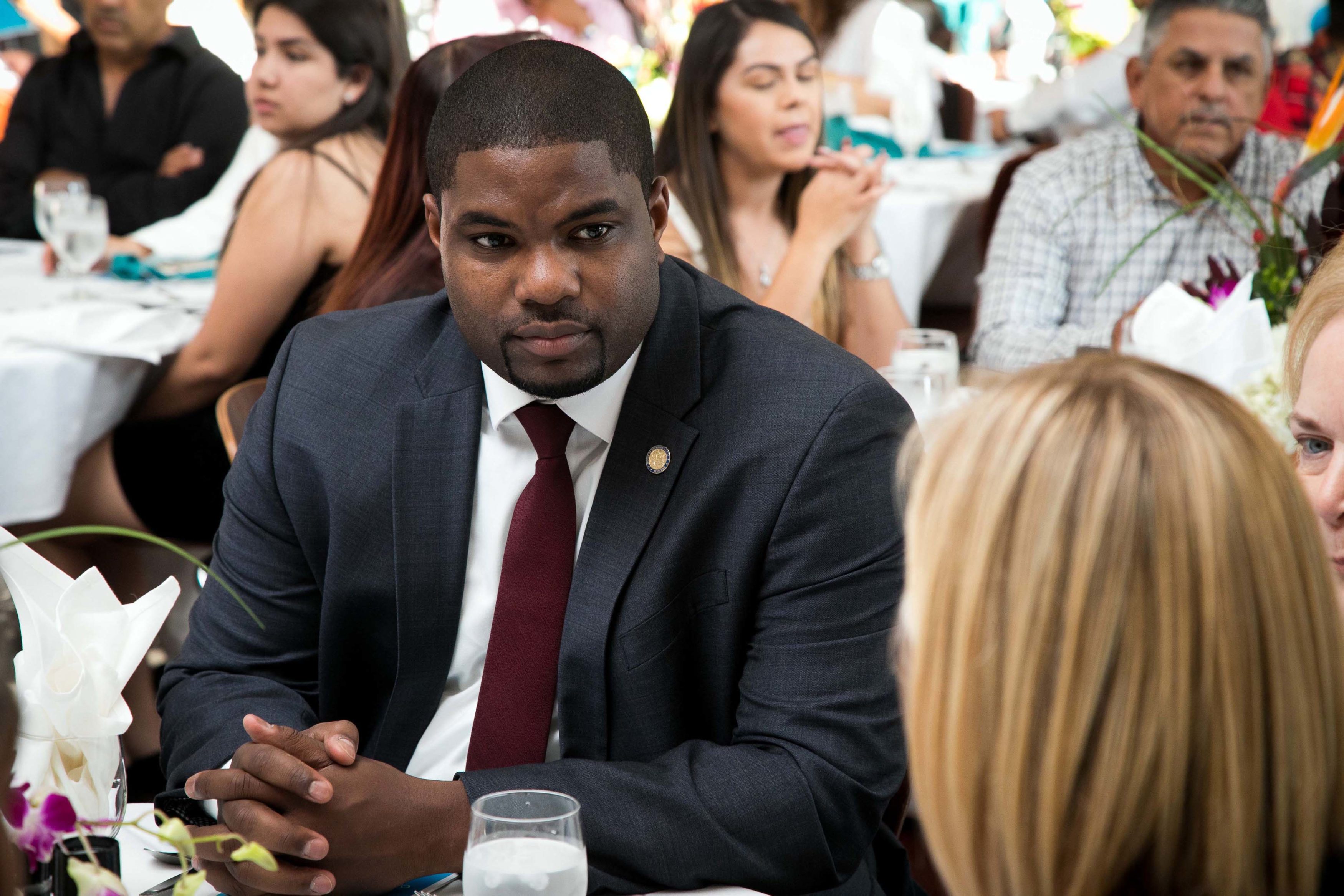 Long a politician with ambitions, the contested Speaker's race just substantially raised his national profile.
Much of America learned about Rep.-elect Byron Donalds when the Naples Republican emerged as an alternative for House Speaker. He received 20 votes on three separate ballots on Wednesday alone, enough to deny Rep.-elect Kevin McCarthy a majority for now.
But while the sophomore lawmaker may be a new name to many, some time ago, the pol emerged as a power player in Florida politics.
The ambitious figure has met recently with advisers and confidants about seeking statewide office.
While Sen. Rick Scott, a fellow Naples Republican, is up for election in 2026, the incumbent is expected to seek re-election, so a Donalds run still is unlikely. But the Governor's office and all three Cabinet positions will all be up in 2026. Sources close to Donalds say he's keeping a close eye on Gov. Ron DeSantis, who many expect to run for President in 2024 and who cannot seek a third term for Governor thanks to the state's term limits.
Yet, those around Donalds say he did not anticipate receiving a vote for Speaker on the first ballot on Tuesday, from Rep.-elect Chip Roy of Texas. Nor did he know until Wednesday morning that members of the House Freedom Caucus would nominate him for Speaker on the floor. He learned only a brief time before the House convened at noon but went along and cast votes for himself at every opportunity during roll call votes throughout the day.
He did not comment for this story. He did post a series of tweets on Tuesday explaining his decision on the third ballot for Speaker to shift his vote away from McCarthy and join with Republicans seeking an alternative.
"The reality is Rep. Kevin McCarthy doesn't have the votes," Donalds later tweeted. "I committed my support to him publicly and for two votes on the House Floor. 218 is the number, and currently, no one is there."
Despite standing as a nominee, sources around Donalds say he never had ambitions to become Speaker of the House.
But he has expressed interest in legislative leadership before. He ran for Speaker during his first term in the Florida House, where because of term limits, Republican House members traditionally name a Speaker within the first-term class and line them up years in advance. He lost that race to Florida Rep. Paul Renner, who formally took over as Speaker of the statehouse in November.
Also of note, Donalds has long been viewed as an ally of DeSantis. Indeed, after the Governor's election in 2018, Donalds was reportedly DeSantis' first choice to take over as chair of the Republican Party of Florida, but Donalds ultimately could not run after losing a race to chair the Collier County Republican Party, making him ineligible.
Loyalty to DeSantis became an issue after the Midterms when Donalds made a run for GOP Conference Chair, aiming to unseat Rep.-elect Elise Stefanik of New York. He lost that race in a caucus-wide vote of 144-74. He also had to publicly push back at the time on rumors he favored DeSantis over Donald Trump in the 2024 Presidential Election.
Consequences remain unclear as far as Donalds' nomination for Speaker. He was the only Republican over the course of six ballots who switched his vote from McCarthy to another candidate, and McCarthy may yet win the gavel.
Beyond that, Donalds' relationship with locals hasn't necessarily improved. While he easily won re-election in November after fending off both a Primary challenge and a General Election against a Democrat, he has a frayed relationship with newly elected Collier County Republican Party Chair Nick Lichter. Donalds' family was recently engaged in a lawsuit with Kelly Lichter, wife to the county GOP leader.
Kelly Lichter has also filed ethics complaints in Florida against Donalds, saying he lied on documents in the past about past criminal problems including bribery and theft arrests in New York. Those complaints were later dismissed.
Yet his background, as a Brooklyn teen who got into trouble at an early age, was also a central piece of his personal story when he launched his successful bid for Congress in 2020.
In the Florida Legislature, he also worked on criminal justice issues at the state level and supported then-President Trump's similar efforts at the federal level.
He also has been a vocal supporter of school choice. His wife Erika is an executive in private charter schools, serving as CEO of OptimaEd.
Donalds remains one of just a handful of Black Republicans ever elected to Congress. Rep.-elect Scott Perry, chair of the House Freedom Caucus, stresses as much while nominating Donalds in the most recent vote for Speaker.
"Now as my colleagues probably know, the first Black members of Congress to serve in this body were Republicans," Perry said. "As a matter of fact, you probably also know that Frederick Douglass, who went and worked with Abraham Lincoln to emancipate the people of color in this country, said he would never be anything but a Republican."
Rep.-elect Matt Gaetz, a Fort Walton Beach Republican, stressed the "historic" aspect when he cast his vote for Donalds for Speaker.
Some Democrats dismissed that.
"FWIW, Byron Donalds is not a historic candidate for Speaker. He is a prop. Despite being Black, he supports a policy agenda intent on upholding and perpetuating White supremacy," tweeted Rep.-elect Cori Bush, a Missouri Democrat. "His name being in the mix is not progress — it's pathetic."
Donalds responded to that in-kind: "FWIW, nobody asked Cori Bush her opinion on the matter. Before you judge my agenda, let's have a debate over the policies and the outcomes. Until then, don't be a crab in a barrel!"
The House convenes again Thursday at noon, where another vote for the Speaker is anticipated. It's unclear if Donalds will again be offered up as a nominee. But already, his role in the closely watched Speaker race has elevated his national profile at a time when he was already considering higher ambitions.