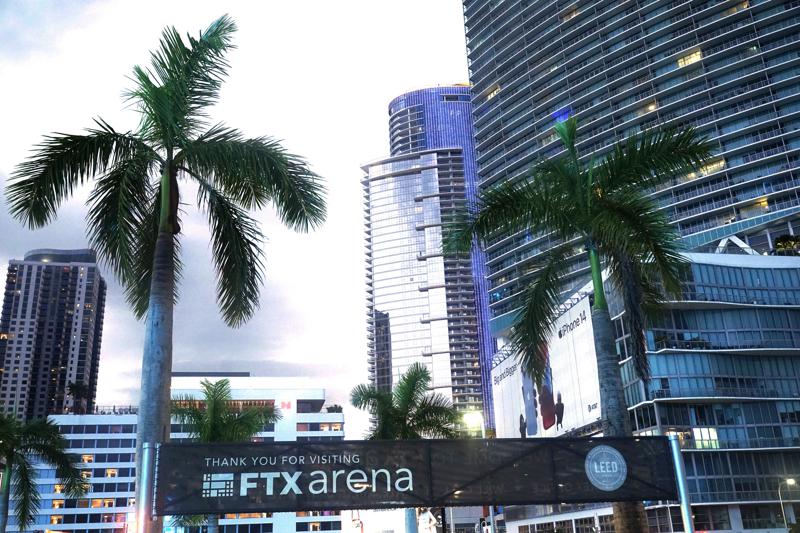 Removing all the FTX signage from the huge structure will be no small undertaking.
A short-lived deal between Miami-Dade and failed cryptocurrency exchange FTX for the naming rights of the NBA's Miami Heat arena is officially kaput.
On Wednesday, a federal bankruptcy judge terminated the arrangement, ruling the county can yank down all FTX-related signage and advertising and again seek a new sponsor.
Judge John Dorsey ended the deal "effective immediately" and retroactive to Dec. 30, following through on a request Miami-Dade made in November shortly after news broke that FTX's 30-year-old founder and CEO, Sam Bankman-Fried, had misappropriated and lost billions of investor dollars, sending the company crashing into insolvency.
The termination ends all licenses and other rights Miami-Dade granted FTX through what was to be a 19-year agreement between the county, company, sports franchise and city of Miami.
There's no shortage of FTX branding on the downtown Miami arena. Its roof is emblazoned with the exchange's logo. Other signage appears above entrances, on employee apparel, electronic cards used throughout the facility and on the basketball court itself.
Natalie Jaramillo, deputy communications director for Miami-Dade Mayor Daniella Levine Cava, told the Miami Herald the building will, for the time being, be referred to as "'the Arena' … with a capital A."
That designation is almost assuredly a temporary solution, as the county will likely commence a search for a new name sponsor for the second time in just over three years. In September 2019, the county's Chief Financial Officer, Ed Marquez, told Miami Today the arena's previous, longtime name sponsor, American Airlines, had no plans to keep its name and logo on the structure.
What commenced afterward was more than a yearlong offering led by naming rights agent The Superlative Group. Several other offers came in, including one for $10 million from Bang Bros, a Miami-based pornography company. The company made the same bid again last month.
Miami-Dade Commissioners in June 2021 approved a $135 million naming rights deal with FTX. The Heat were to receive a $2 million yearly cut, while the county and city of Miami would divide up the remainder.
FTX paid out $20 million from the original agreement. Another $5.5 million rent payment was due on New Year's Day.
Prior to its collapse, FTX was the third-largest cryptocurrency exchange in the world, worth $32 billion in 2022. But on Nov. 10, Bankman-Fried revealed the company was in deep trouble.
He told investors during a conference call the company had an estimated $10 billion shortfall and said FTX needed about $4 billion in the short term to remain operational, offering, "I f***ed up."
The exchange crashed within days. As for where the money went, FTX lent billions of dollars worth of customer assets to fund risky bets by its affiliated trading firm, Alameda Research.
Authorities arrested Bankman-Fried last month in the Bahamas and extradited him stateside to face criminal charges. In his first statement after Bankman-Fried's arrest, U.S. Attorney Damian Williams called FTX's downfall "one of the biggest financial frauds in American history."
He also accused Bankman-Fried of funneling "illegal" campaign contributions to both major political parties.
The U.S. Department of Justice indicted Bankman-Fried on eight counts of criminal misconduct, including securities fraud, wire fraud, money laundering and several conspiracy counts.
Prosecutors said Bankman-Fried also conspired with others to violate federal campaign finance reporting laws by fraudulently making donations in other people's names.
___
The Associated Press contributed to this report.