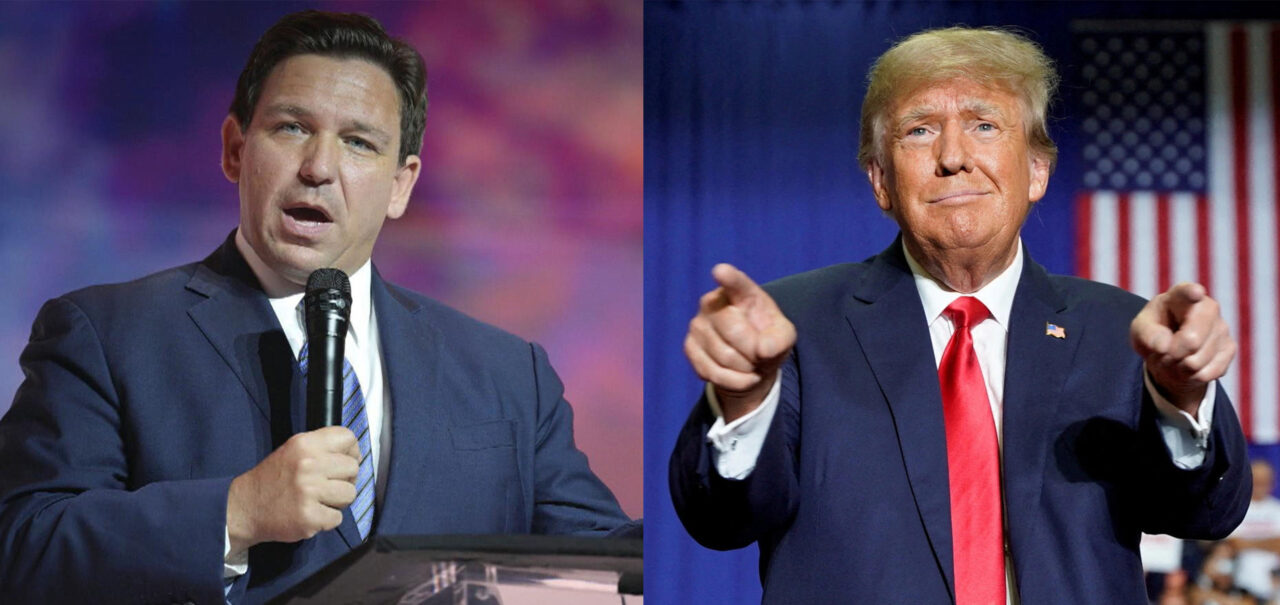 "He was at 3. He was ready to drop out of the race. It was all done."
Former President Donald Trump spilled some more tea Monday as he continues to gear up for a possible Primary battle with Ron DeSantis, should the Florida Governor run for President as some expect next year.
Trump told the Real America's Voice News "Water Cooler" program he would "handle" DeSantis if he ran against him, contending that if he hadn't endorsed DeSantis in 2018, DeSantis would have withdrawn from the race against Adam Putnam.
"Ron called me and he wanted support. He was at 3%. As you probably know, the Agricultural Commissioner, his name was Adam Putnam. Adam Putnam was close to 40%. Adam Putnam had $25 million, Ron had nothing. And Ron was going to drop out of the race. He asked me if I'd endorse him. And I did endorse him," Trump said.
"Ron, instead of dropping out of the race, he went to the head of the race," Trump added. "But I think he went up to 71 … from 3 to 71. In one night."
Trump went on to claim he got DeSantis over Democrat Andrew Gillum, whom Trump called a "crackhead."
"Gillum was going to beat Ron," Trump said, noting he had three "packed" rallies for DeSantis.
"I got him elected, pure and simple. And there was no reason to go wild about endorsing him," Trump told interviewer David Brody. "So, now I hear he might want to run against me. So, we'll handle that the way I handle things."
Florida Politics has reached out to the Executive Office of the Governor for its version of events.
Trump's comments continue a theme established last November, as the former President panned the Governor as "Ron DeSanctimonious" and an "average Republican Governor" propped up by Fox News and related properties.
"NewsCorp, which is Fox, the Wall Street Journal, and the no longer great New York Post (bring back Col!), is all in for Governor Ron DeSanctimonious, an average REPUBLICAN Governor with great Public Relations," Trump said.
Trump told a version of the Putnam story then too, calling DeSantis "in desperate shape" and "politically dead, losing in a landslide."
That continued a series of Trumpian blasts at the Governor, such as on Truth Social.
"Now that the Election in Florida is over, and everything went quite well, shouldn't it be said that in 2020, I got 1.1 Million more votes in Florida than Ron D got this year, 5.7 Million to 4.6 Million? Just asking?"
Trump derided DeSantis on NewsNation and Fox News in reports that ran Election Day. He recycled his claim that he carried DeSantis to the Governor's Mansion in 2018 and threatened to spill secrets about the Governor should DeSantis run in 2024.
"He was not going to be able to even be a factor in the race. And as soon as I endorsed him, within moments, the race was over," Trump said. "I got him the nomination. He didn't get it. I got it, because the minute I made that endorsement, he got it."
"Then he ran, and he wasn't supposed to be able to win," Trump said. "I did two rallies, we had 52,000 people (at) each one and he won. I thought that he could have been more gracious. But that's up to him."
"I would tell you things about him that won't be very flattering — I know more about him than anybody — other than, perhaps, his wife," Trump added, per Fox News.