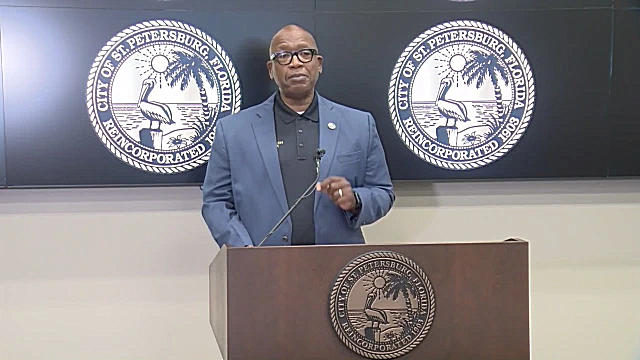 Sexual harassment. Public records lawsuits. Unsanctioned lobbying. It's too much for St. Pete.
As St. Petersburg Mayor Ken Welch enters the final days of deciding who should be chosen to redevelop the 86-acre Historic Gas Plant site where Tropicana Field sits, he should carefully weigh not just the details of submitted developer plans, but the character of those fronting them.
Specifically, Welch should determine whether someone like former Sacramento Mayor Kevin Johnson would make a good bedfellow.
On Friday, the Tampa Bay Times published an extensive profile of Johnson's background, outlining the good, the bad and the ugly of Johnson's past.
Johnson is a principal with Sugar Hill Community Partners, one of four development teams vying for Welch's nod for the historic redevelopment project. Sugar Hill was one of two finalists under former Mayor Rick Kriseman's request for proposals process for the site, but failed to make the cut, falling to Midtown Development. 
Now they appear to again be front-runners under Welch's restart.
But while the proposal checks one major box for Welch — it has the most affordable housing planned among the four proposals — it would bring with it a string of negatives that threaten to undermine what could be Welch's legacy as Mayor. 
In 2008, when Johnson was running for Sacramento Mayor, allegations from 1995 resurfaced, claims that Johnson engaged in inappropriate physical contact with a 16-year-old girl and, perhaps more damning, that he paid her $230,000 to keep quiet.
While no charges were filed against Johnson, and he adamantly denied the allegations, a recorded phone conversation broadcast on Real Sports with Bryant Gumbel suggested Johnson acknowledged at least some intimate contact had taken place.
If that's not enough, Johnson also faced a 2007 investigation by the Sacramento Bee looking at dozens of code violations at properties Johnson owned, neglect that earned Johnson the title of "slumlord" among some and caused him to face a federal lawsuit alleging he misused more than $800,000 in AmeriCorps funding that was supposed to pay for a volunteer program. 
Investigations then uncovered two more sexual misconduct claims, one involving a 17-year-old girl. Again, no charges were brought, but Johnson settled the AmeriCorps suit for more than $400,000.
In a controversy that is far less shocking, but perhaps more relevant to Johnson's potential dealings with the city of St. Pete, the Times report also documents Johnson's frequent use of private email accounts and cell phones for official city business, of which he has faced court battles with media outlets over public records disputes. 
More recently, in 2015, Johnson faced a sexual harassment complaint from a city employee. A city investigation dismissed the claims as unsubstantiated, but it advised him to "refrain from hugging or touching anyone," suggesting at least some level of questionable conduct. 
Taken even individually, the allegations and controversies should be enough to think twice about Sugar Hill as a serious development team. But collectively, they should be disqualifying. 
And even if people choose to look the other way — it wouldn't be the first time considering that even as Johnson faced scandal after scandal, voters still overwhelmingly re-elected him in Sacramento in 2012 — Welch should consider his own recent controversies.
He all but looked the other way when his own Deputy Mayor, within the first nine months of his administration, faced allegations of bullying and creating a hostile work environment. 
Welch dropped an investigation into the matter after Stephanie Owens resigned her post as his No. 2. That despite a letter that surfaced from Welch's campaign from staff who leveled similar allegations against Owens, which sources said were delivered to Welch. 
If he taps Sugar Hill, it would send a resounding message to the St. Pete community that Welch is not only unfazed by credible allegations against his own ally, but also by undeniable scandal presented by a development team frontman.
If Sugar Hill is his choice, which many insiders say is a distinct possibility, Welch will likely dismiss past allegations as they have been dismissed in the past, as unsubstantiated claims Johnson denies. 
What can't be ignored though are that the hits just keep coming. Just last month, the Honolulu Civil Beat reported that Johnson has for years pressured state officials to move forward with a controversial biomass plant, but never registered as a lobbyist. 
In case that seems too far from St. Pete to matter, there's a St. Pete angle. The power plant's biggest financial backer, according to the Times, is Jennifer Johnson, a friend of Johnson's and the CEO of Franklin Templeton, which has large campuses in both Sacramento and St. Pete.
That seems like far too much baggage, even if it's circumstantial, for a city, and even moreso for a first-term Mayor.