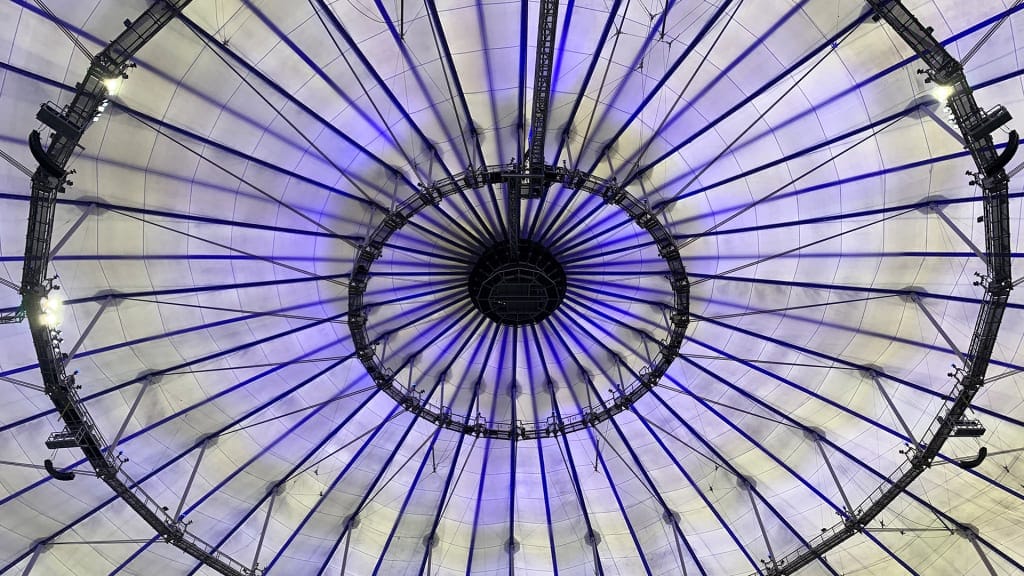 One of the plans seems doomed to fail, another lacks specificity. Two others appear frontrunners for the Mayor's nod.
St. Petersburg Mayor Ken Welch has a big decision before him this month — selecting a development team for the Historic Gas Plant District, current home to Tropicana Field.
Welch has said he expects to announce his decision at his State of the City address on Jan. 30.
Four teams submitted proposals for the 86-acre site. All, as requested in the new RFP, include a baseball stadium. One of the plans seems doomed to fail, another lacks specificity. Two others appear front-runners for Welch's nod.
We'll start with those.
Rays/Hines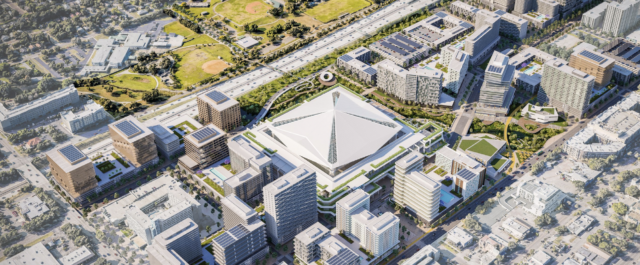 When Welch canceled the previous request for proposals (RFP) process initiated under his predecessor, Rick Kriseman, his new approach included something comparatively novel — plans that included a ballpark. Under Kriseman's RFP, plans contemplated redevelopment with or without a stadium. Welch said at the time that he believed inclusion of a ballpark in submitted plans would provide certainty on the question of Rays baseball beyond 2027 when the team's lease on Tropicana Field expires.
As such, the Rays have submitted a proposal, along with Hines, a worldwide developer, as well as Dantes Partners as the affordable housing partner, Gensler as the master plan architect, Populous for stadium architecture, Storyn Studio for general architecture, EDSA and Hood Design Studio for landscape design and Kimley-Horn for civil and transportation engineering.
The proposal earned praise from staff who evaluated the proposals and created lists of pros and cons, notably its comprehensive team, its adherence to the Welch administration's principles and strong buy-in from community leaders and businesses.
The plan claims an overall development of 8 million square feet, a $1.4 billion economic impact and $656 million in annual wage generation. Additionally, it estimates 5,500 full-time equivalent permanent jobs and 1,050 full-time equivalent construction jobs.
On affordable housing, a major priority for Welch, the plan calls for 1,459 residences. Of those, 859 would be on-site within the district. The remaining 600 located off-site would utilize housing grants. The affordable and workforce units would be available for those earning between 50% and 120% of the area median income. The plan calls for delivering 90% of those units within 10 years.
The proposal, careful to borrow from Welch's own administrative language, also offers a community benefits program, including $50 million from the development team to the South St. Pete community. That includes $17.5 million for education, $15 million for residential, $13 million for employment, $3.75 million for talent pipeline and $750,000 for community outreach.
The plan relies heavily on tax-increment financing, with a $150 million estimated ask.
Functionally, it puts baseball at the center of the plan, with a stadium shown in renderings as the centerpiece of the district flanked by a Booker Music Hall, towers, park space and Booker Creek. In all, it includes 14 acres of green space as well as a Booker Creek Greenway, a new Woodson African American History Museum and a Campbell Park Youth Center.
Given the questions surrounding the future of baseball, the plan may be the city's best bet to lure the Rays into a St. Pete future.
Sugar Hill

Sugar Hill was one of two finalists under the Kriseman RFP, though was not ultimately selected. Insiders speculated when Welch canceled that RFP that it was an attempt to reset the clock to choose them and their heavy-on affordable housing proposal.
Its latest proposal offers the quickest turnaround time, with construction to begin this year and conclude by 2034.
While St. Pete staff gave kudos for the team's local representation and thoughtful responses, they questioned the cohesiveness of such a large team, which includes 60 firms and individuals.
The plan calls for half of the total residential units to be affordable or workforce housing, or 2,616. Tampa-based Blue Sky Communities, which led the SkyWay Lofts project in South St. Pete, is partnering with the team on affordable housing. That development currently has a waiting list of 2,764, according to the Sugar Hill proposal, which emphasizes the need for new units.
Sugar Hill's plan also offers the most in-depth solution to honoring displaced cemeteries on or near the Tropicana Field site, with a 5.5-acre park and memorial over the former Oaklawn Cemetery.
The plan also calls for a $60 million Community Equity Endowment to be funded by a "project profit interest," according to the group's presentation. That funding would be used in partnership with Habitat for Humanity to deliver more than 300 new single-family homes to the market, which the group estimates would generate more than $250 million in home equity in the city.
While the plan checks a lot of boxes based on the city's listed priorities, it does not include a financing structure and, like the Hines/Rays proposal, relies on tax-increment financing and housing credits. It also calls for a $39 million public subsidy for an included conference center.
Sugar Hill, which had been expected to partner with the Rays, has said they hope Welch will allow the Rays to develop the ballpark on its site while they focus on the rest.
50 Plus 1 Sports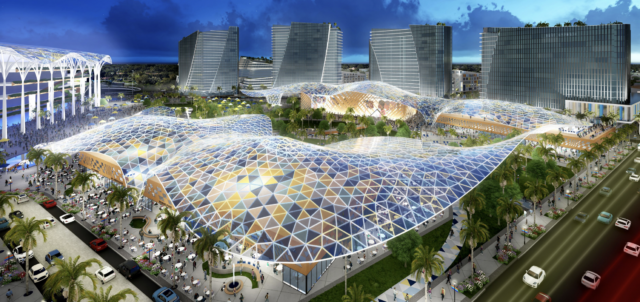 This proposal has a lot of positives, as noted in the staff review, but it lacks detail in several areas, doesn't include an affordable housing partner and doesn't explain how it will accommodate its pie-in-the-sky pledge not to require city funding.
The team as a whole also lacks experience with completed projects. While its proposal lists several, most included just some of the development team, but not with 50 Plus 1 as the lead developer.
Still, the team isn't worth counting out. 50 Plus 1 is 100% minority-owned, and it prides itself on emphasis on minority, women and veteran participation, at least 50%.
The development team includes AECOM, known locally for work on the downtown waterfront master plan, Garcia Architecture, JLL Project Development, Contract Construction, Johnson Consulting and Foley & Lardner.
The plan says the city would retain ownership of the site and pledges $800 million toward a new stadium, another big offer with little explanation of how to achieve it. They also propose an $8.9 billion revenue share with the city over 60 years. They also offer a $10 million career fund for job training and career development as well as on-site child care for residents and construction workers, free onsite transportation and an onsite health clinic.
On affordable housing, the plan promises half of the total units for affordable on-site apartments.
Other proposed features include Booker Creek Commons, to be the signature central gathering space within the district; a cultural venue; an education/tech campus; an intermodal transit hub; integration of the Pinellas Trail; a Booker Creek trail; park space; restaurants; a shopping district; and an entertainment district.
Restoration Associates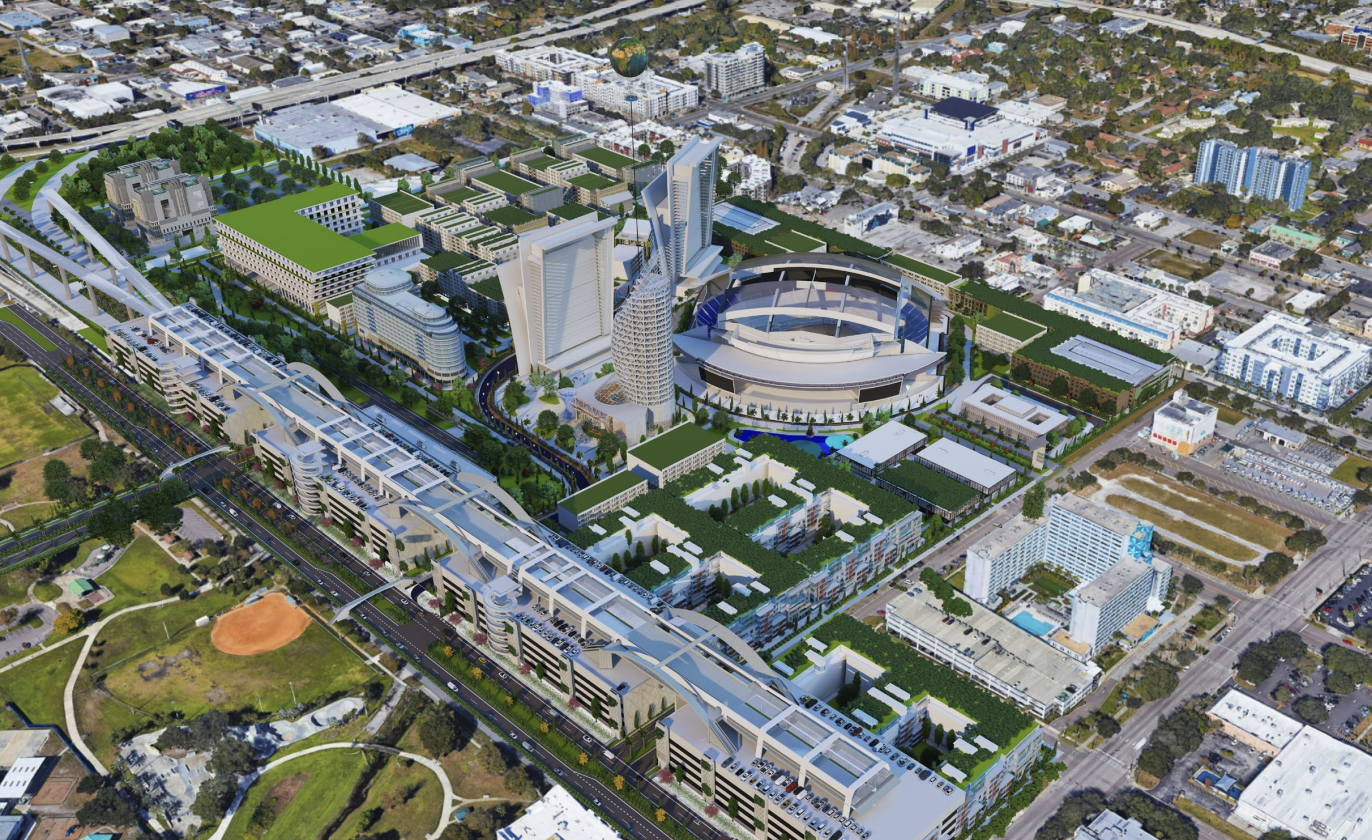 While this is the only local development group of the bunch, it is also the most flawed, with cons in the city's proposal assessment far outweighing the pros.
Staff noted overall team inexperience on a project of this magnitude and pointed out the group had only responded to five of the city's 32 guiding principles within the RFP.
Among criticisms, city staff lamented that the proposal was hard to read and that it "missed the intent."
The plan calls for eight components — an intramural center with attainable housing; stacked mixed-use; a high-tech park; a new stadium; affordable and attainable housing; hotels and hospitality; and an African American cultural museum.
One aspect that sticks out like a sore thumb though is the project's inclusion of self-storage space, a common development tactic that allows for a quick ROI, but seems out of place in a design of this scale.
The plan also appears to call for renovation of the existing Tropicana Field rather than a new ballpark, a plan not likely to garner support from the Tampa Bay Rays.
Another historic non-starter, though one that is gaining at least some momentum in some sects of the region, the plan calls for razing Interstate 175 to make room for parking for 6,800 cars.