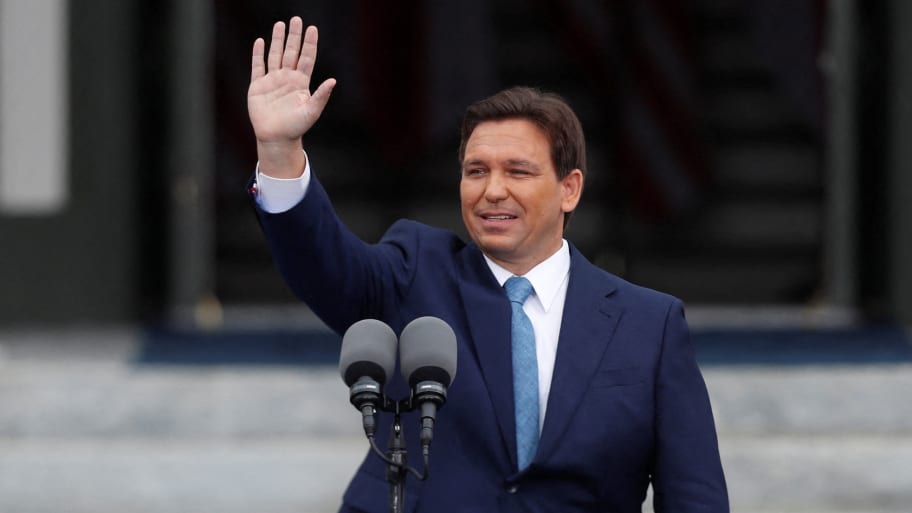 'A lot of this is with school unions playing games with this stuff.'
Gov. Ron DeSantis unveiled a series of proposals aimed at increasing teacher "empowerment," including plans to hike their pay, give them more authority to impose discipline among students and end automatic deduction of union dues from their paychecks.
The pay increase would add $200 million to the $800 million already inserted into the budget to fund teacher pay hikes, bringing the annual total to $1 billion. DeSantis first pushed for the pay increases in 2020, with a $500 million bump, before putting in another $300 million this budget year.
If the Legislature approves the latest funding increase, DeSantis said the average teacher starting salary would reach $48,000 per year.
Not every K-12 school district, however, has seen teachers receive those pay increases. DeSantis blamed local school districts and unions, which must reach agreements for the pay hikes to take effect, for the delays. DeSantis said the $1 billion for teacher pay could come with a deadline for unions and school districts to reach an agreement before it reverts back to the state treasury.
"Even to this day not every school district has raised the salaries," DeSantis said during an event in Jacksonville on Monday. "A lot of this is with school unions playing games with this stuff."
DeSantis is also taking aim at teacher unions by backing a measure to eliminate the automatic deduction from teacher paychecks to pay union dues. A similar bill has failed to make it through the Republican-led Legislature in the past. Democrats have argued Republican lawmakers wouldn't end automatic dues for police or firefighter unions, which, unlike teachers unions, often support the GOP.
The proposal would also prevent union officials from being paid more than the highest paid teacher at a given school.
Term limits for school board members would be set at 8 years, down from the current 12, under the plan.
Another plank of DeSantis' plan would install a "teachers' Bill of Rights" that give them more authority to discipline students to maintain order in the classroom and to protect teachers from punishment if they act in accordance with state law when there is a conflict with a local school or district policy.
"Teachers really need to have rights in terms of them managing classrooms," DeSantis said. "We want to make sure teachers are protected."
DeSantis didn't mention the universal voucher bill (HB 1) released by House Speaker Paul Renner, a Palm Coast Republican, last week. Renner said he believes DeSantis, a school choice proponent, will back the measure.
Democrats in the Legislature immediately pushed back on the plan, with House Democratic Leader Fentrice Driskell calling it a "political move from a man who wants to run for President."