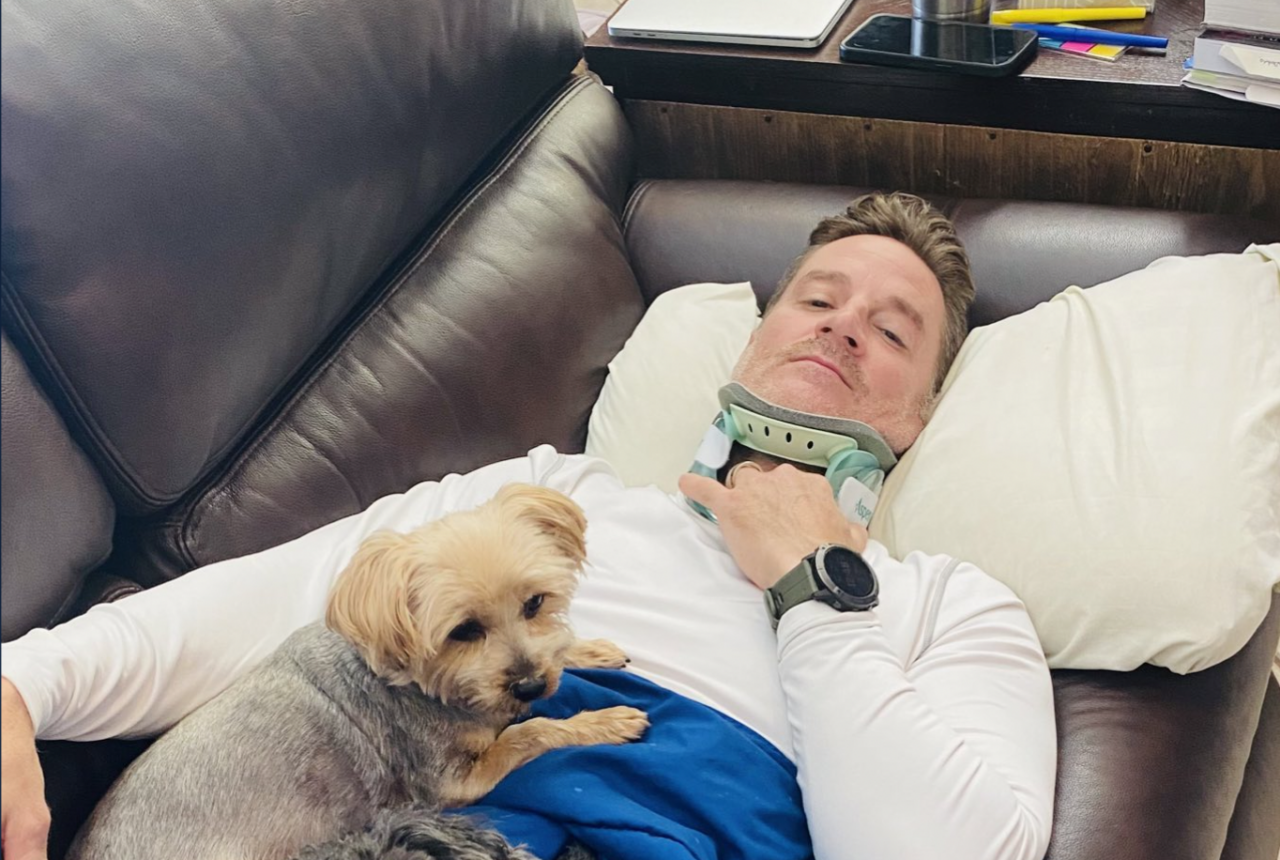 A broken pelvis and punctured lung left the Congressman hospitalized for a short period.
U.S. Rep. Greg Steube will need several weeks to recover from a fall on his property. The Sarasota Republican on Monday provided a detailed update on his injuries and condition.
When he fell 25 feet from a ladder while trimming tree branches, Steube suffered a broken pelvis and punctured lung. He also tore several ligaments in his neck.
"I am blessed to have a great support team in my wife Jennifer as well as numerous friends and family, including the Steube pups!" he tweeted.
He shared a photo of himself after being discharged back home from Sarasota Memorial Hospital. The Congressman can be seen wearing a neck brace while lying prone on his sofa, with two house dogs sitting on top of his blue comforter.
The update drew support from the highest echelons of Congress.
"We're all pulling for you, Greg," tweeted House Speaker Kevin McCarthy.
A new set of rules in the House eliminates proxy voting, a practice put in place during the COVID-19 pandemic allowing votes to be cast by members from their home districts.
That means while Steube is physically impaired and unable to travel, he cannot vote from Sarasota. But he stressed all other matters within his office will continue to be handled by his staff in communication with him.
"While I will be sidelined in Sarasota for several weeks, I will be carrying out as many of my congressional duties as possible, and our D.C. and district staff continue to be readily available to assist Floridians in FL-17," Steube posted.
"I'm eager to rejoin my colleagues in Washington as soon as possible!"
Steube this year received a significant new committee appointment, landing a spot on the House Ways and Means Committee. He also sits on the House Judiciary Foreign Affairs committees.
The 44-year-old Congressman first won election to the U.S. House in 2018. He was sworn into his third term earlier this month, for the first time in Congress as part of a Republican majority in the House.
He previously served in the Florida Legislature. He's also a military veteran who served in the Army as an Airborne Infantry Officer and later as a JAG Corps Officer. He served as the Chief of Detainee Operations for Multinational Division North in Iraq with the 25th Infantry Division.
I am blessed to have a great support team in my wife Jennifer as well as numerous friends and family, including the Steube pups!

Grateful for everyone's prayers and well-wishes as I recover from a fractured pelvis, a punctured lung, and several torn ligaments in my neck. pic.twitter.com/zQBtsWZPo0

— Congressman Greg Steube (@RepGregSteube) January 24, 2023