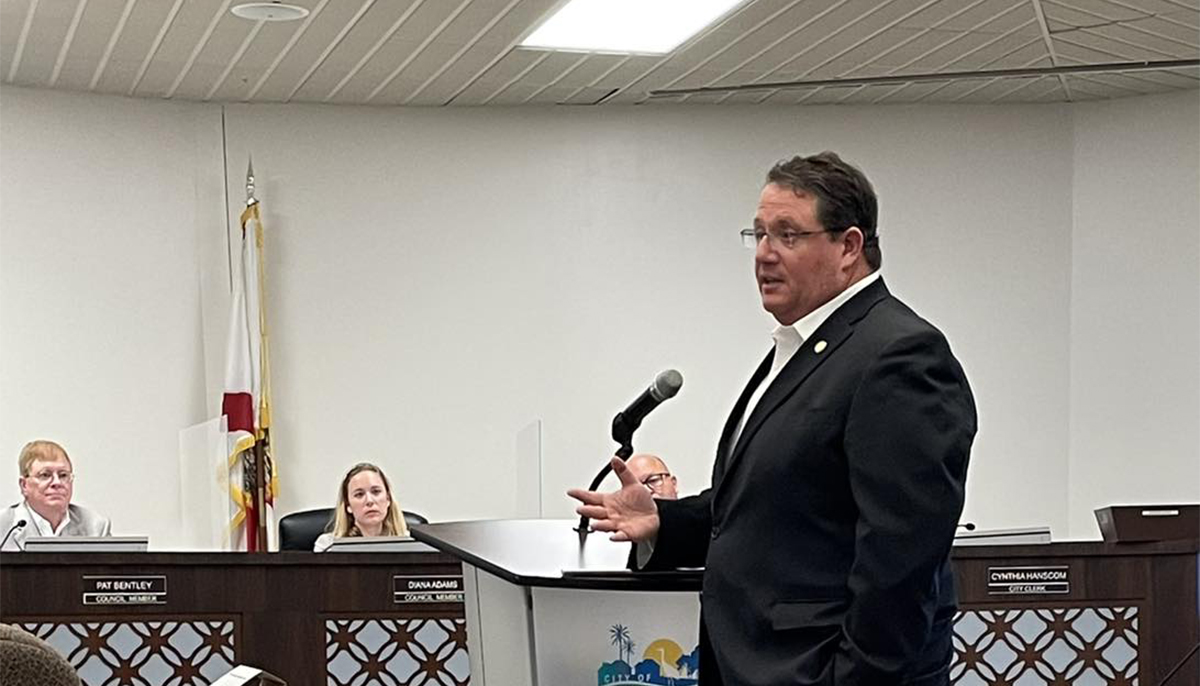 'This is like the first first day of class,' Fine said of the 90-minute meeting on PBMs.
Health care and health insurance lobbyists were out in force as the House Health and Human Services Committee held a meeting on pharmacy benefits managers (PBMs) and the role they play in Florida's health care delivery system.
Committee members heard from a panel that included an independent pharmacist, a CVS Caremark representative, a representative from the Pharmaceutical Research and Manufacturers of America (PhRMA), a pharmacist with Publix, a pharmacist representing Prime Therapeutics, and the medical director for the Florida Association of Health Plans (FAHP).
House Health and Human Services Committee Chairman Randy Fine likened the 90-minute meeting to the first day of class.
"What we tried to accomplish today is to say, 'Hey, we are going to work on this this Session. This is like the first day of class. There's a lot more classes to come; there's a lot more learning to do. But I think this gets everyone thinking about it and fired up about working on it," Fine said.
"Sometimes I have committee meetings and I am trying to lay the predicate for a specific bill; like I know the bill that is coming and I have the committee meeting and so I am trying to lay the narrative for when the bill comes. But that was not the purpose of today."
Fine stressed that a bill hasn't been drafted and that he "plans on spending the next 60-90 days learning. My door is open. If people want to come and talk to me about health care, that's how I learn."
PBMs represent health insurers and health plan sponsors — which include self-insured employers, union health plans and government purchasers — in the selection, purchase and distribution of pharmaceuticals. They also organize and service pharmacy networks.
According to a 2021 legislative staff analysis, PBMs are responsible for managing the pharmacy benefits of about 270 million Americans. Express Scripts, CVS Caremark and OptumRx are the three largest PBMs, accounting for more than 75% of the PBM market share.
The conversation in the House comes after Gov. Ron DeSantis earlier this month announced his plan to pass what he called "the most comprehensive transparency legislation" for prescription drugs in the nation.
The DeSantis administration wants to prohibit PBMs from mandating that consumers use mail-in pharmacies and ban PBMs from using a "narrow network" of pharmacies that only includes pharmacies affiliated with PBMs.
"We are going to protect consumers," DeSantis said at the press event, held at The Villages on National Pharmacists Day.
The state uses PBMs in its Medicaid managed care and long-term care programs and state group health insurance plan. It's not clear how any potential changes to PBMs will impact those state paid health care plans.
The state in July 2022 published an invitation to negotiate for a PBM to administer the pharmaceutical benefits for the $3.2 billion state group health insurance program. The PBM would be responsible for prescription drug coverage for all people covered by the state group health insurance plan, regardless of whether they were enrolled in a standard and high deductible preferred provider organization (PPO) plan or a standard and high-deductible HMO plan.
The ITN allows for the use of narrow networks and also authorizes other practices the DeSantis administration says it wants banned.
The ITN for the Medicaid managed care and long-term care programs is expected to be published next month.
Fine, though, said he wasn't worried that any potential changes the Legislature may make to PBMs this session would impact either procurement.
"They are in the process. Until they are done, they're not done," he said of the procurements.
This is not the first time the Legislature has delved into the PBMs, or organizations that represent health insurers and negotiate with drug manufacturers.
Five years ago, the Legislature passed a bill that prohibited PBMs from using "gag clauses," which prevented pharmacies from telling insured patients they would pay less if they could pay out of pocket instead of using their policies. The bill also required PBMs to register with the Office of Insurance Regulation (OIR).
But the bill did not give the OIR the authority to oversee PBM operations, such as audits, which PBMs conduct to ensure pharmacies comply with contracts. Instead, that authority was with the Department of Health Board of Pharmacy, which had no regulation over PBMs.
An effort in 2021 to fix the glitch and allow the OIR to regulate the PBMs — and to ban spread pricing — failed.
The Legislature last year passed a pared back version of the 2021 bill, transferring enforcement authority of PBMs to OIR and established penalties for PBMs that failed to register with the state.
Two PBM bills have been filed in the Legislature so far.
Tampa Republican Rep. Karen Gonazlez Pittman has filed HB 203. Among other things, the bill would require PBMs that include "affiliates" in their networks to open their networks up to all willing pharmacists. PBM affiliates are defined as pharmacies in which a PBM, indirectly or directly, has an investment ownership interest or shares common ownership. At press time, 13 people had registered to lobby on HB 203.
Sen. Tom Wright has filed SB 46, which requires PBMs to apply any amount paid by an insured or by another person on behalf of the insured toward the insured's total contribution to any cost-sharing requirement.