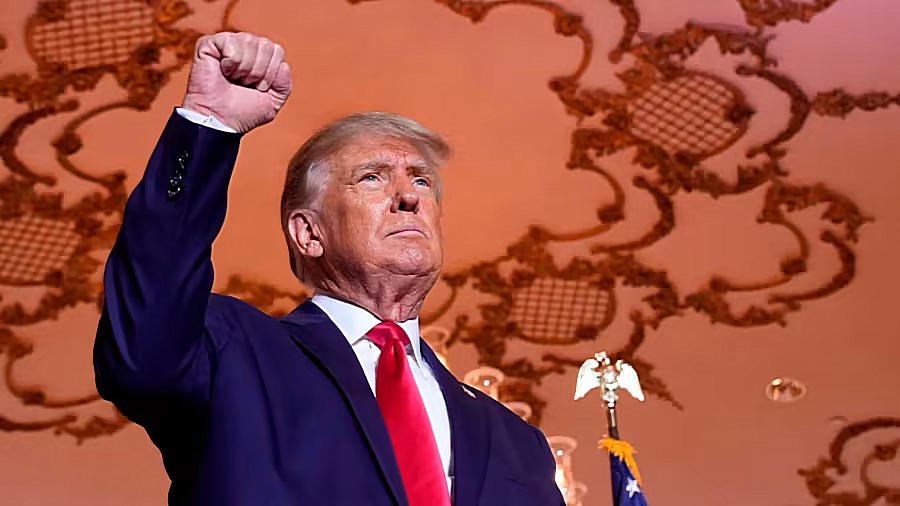 The former President makes his play in New Hampshire, South Carolina.
Former President Donald Trump is set to kick off his 2024 White House bid on Saturday with visits to a pair of early voting states, his first campaign events since launching his bid more than two months ago.
Trump will be the keynote speaker at the New Hampshire GOP's annual meeting before traveling to Columbia, South Carolina, where he is set to unveil his leadership team at the Statehouse. The states hold two of the party's first three nominating contests, giving them enormous power in selecting its nominee.
Trump and his allies hope the events will offer a show of force behind the former president after a sluggish start to his campaign that left many questioning his commitment to running again. In recent weeks, his backers have been reaching out to political operatives and elected officials to secure support for Trump's reelection at a critical juncture when other Republicans are preparing their own expected challenges.
While Trump remains the only declared 2024 presidential candidate, a host of potential challengers, including Florida Gov. Ron DeSantis, are widely expected to launch campaigns in the coming months.
In South Carolina, Gov. Henry McMaster, U.S. Sen. Lindsey Graham and several members of the state's congressional delegation plan to attend Saturday's event. But Trump's team has struggled to line up support from state lawmakers, even some who eagerly backed him during previous runs.
—
Published with permission of the Associated Press.