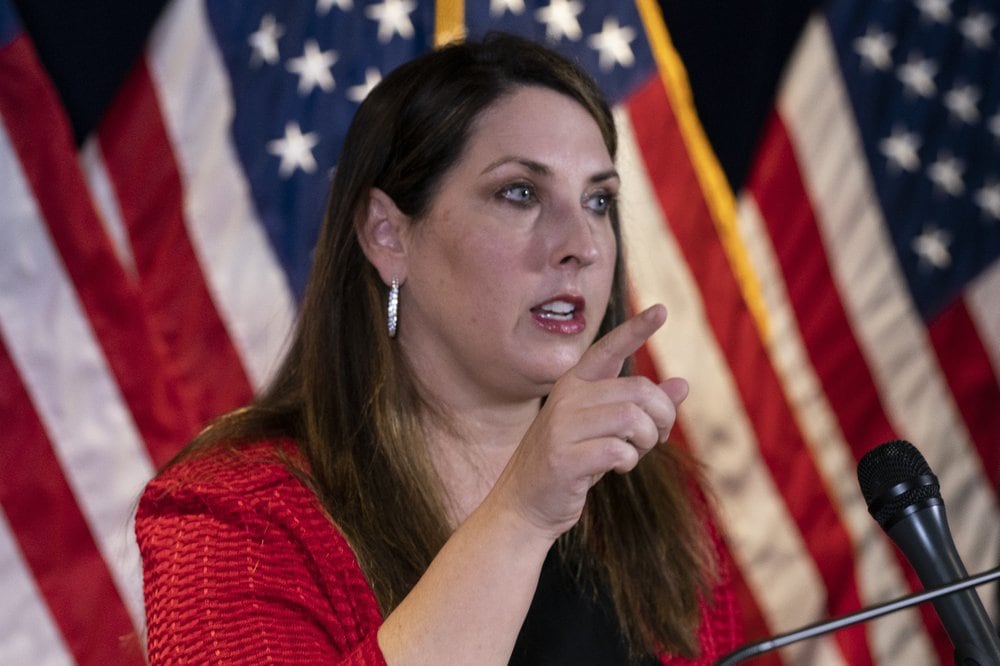 "The Overton Window has shifted...."
Despite spirited challenges from Harmeet Dillon and Mike Lindell, the national Republican Party is staying the course with Chair Ronna Romney McDaniel.
But one group of former Republicans turned "Never Trumpers" says that the decisive McDaniel re-election Friday was the latest sign that the "MAGA" movement helmed by former President Donald Trump had control over the national GOP.
"Ronna McDaniel's victory today in the race for Chair of the Republican National Committee, is a victory for MAGA. Originally appointed by Trump, she is a weak leader who submits to MAGA's whims to remain in power," the Lincoln Project contends, before offering more similarly heated rhetoric.
"No longer a fringe movement lurking in the shadows, MAGA now has complete ownership of the party apparatus. It has turned the GOP into an authoritarian nationalist cult obsessed with lurid conspiracy theories and fighting a weird culture war to roll back individual rights and destroy our democratic institutions," the argument continues.
"Anyone who believes that 'normalcy' can return to the republican party deludes themselves. The Overton Window has shifted and there is no going back to a pre-Trump GOP that cares about governing and finding ways to better America."
"The chaos and dysfunction we saw with the election of Kevin McCarthy as Speaker of the House is only a preview of coming attractions. Now that the whole of the party has aligned itself with the MAGA world-view, we can expect this disorder to play itself in communities and state capitals all over the nation. The division and chaos that comes from MAGA will only go away when MAGA has been soundly defeated."
Ironically given the rhetoric here, the challenge to McDaniel came from the right, not from any moderate constituency that may have existed. Leaders including Ron DeSantis suggested that it was time for a change, but the status quo holds. For the Lincoln Project, it's more of the same "MAGA" that they've decried for years.