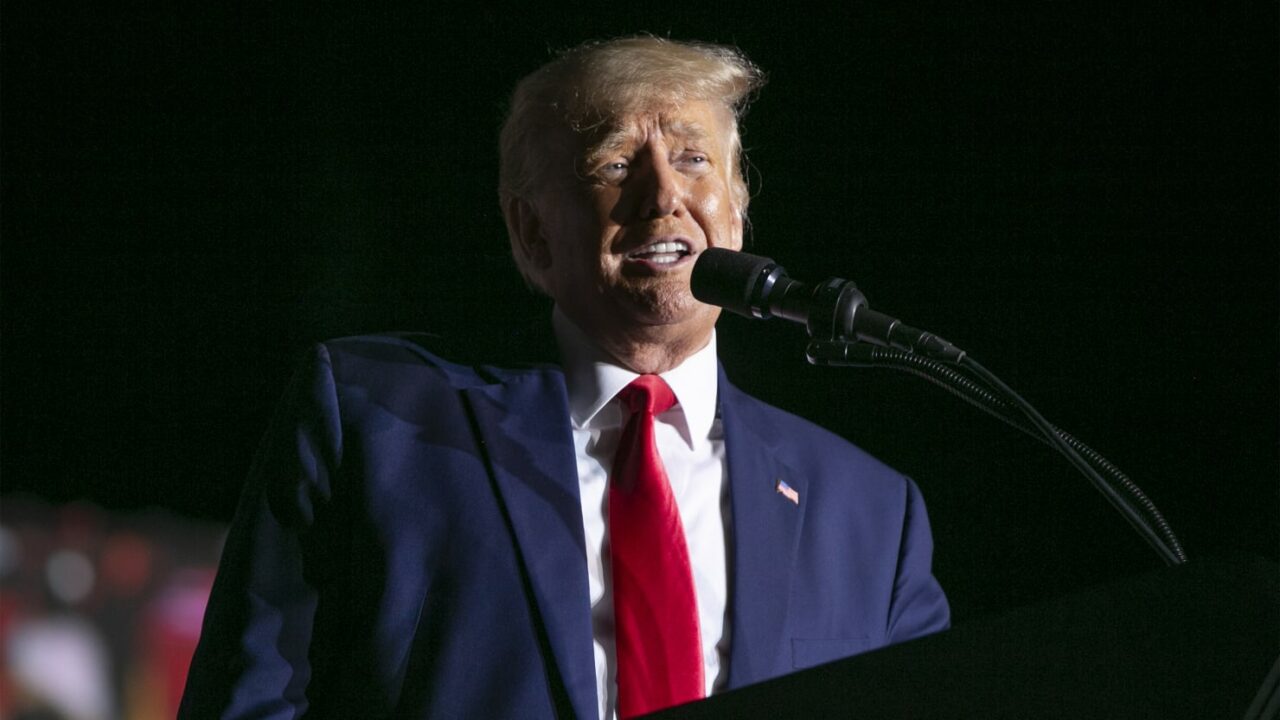 Meanwhile, DeSantis is up double digits in the most recent public poll in the Granite State.
Former President Donald Trump addressed New Hampshire Republicans Saturday in Salem, and to hear him talk he is the favorite for re-election.
Trump, down by double digits in the most recent poll of New Hampshire Republicans to Ron DeSantis, nonetheless made his case to the New Hampshire Republican State Committee Saturday as if he were the prohibitive front runner.
"We are absolutely, we are so far ahead in the polls, both in New Hampshire, one came one came out this morning we're way ahead," Trump said, though it is not clear which poll he meant there.
"Another one came out yesterday, a nationwide poll, and we're 35 points up, 39 points up. That's a lot."
That was a reference to an extremely favorable poll from Emerson College.
The national survey, which Trump spotlighted in a fundraising email Friday, showed Trump ahead of Biden, 44% to 41%, in a hypothetical 2024 General Election. And it showed Trump ahead of Gov. DeSantis, 55% to 29%, in a poll including the two GOP frontrunners and the rest of a potential Primary field.
The survey Trump cited runs counter to other polls showing a DeSantis trend. National surveys from Club for Growth, Morning Consult, and You Gov/Yahoo! have all shown that DeSantis may be more competitive with Biden than Trump, assuming the Florida Governor runs of course.
Trump vowed to run aggressively, saying "we won't play prevent defense like they do in football," and "we're going to win and win very big."
"Our polls have been fantastic," Trump added.
The most recent New Hampshire poll was not so fantastic for Trump, of course.
The "Granite State Poll" conducted by the University of New Hampshire Survey Center shows the Florida Governor with 42% support, a 12-point advantage over the former President. As is the case when potential candidates from a larger field are included in virtually all polls thus far, all other names are way back.
A polling memo going with the results notes DeSantis has stayed around 40% since a June 2022 poll, while Trump lost 17 points in the same time.
Just 46% of respondents say Trump should run again in 2024, with 50% saying that he should not, offering more evidence of the polarization driven by the former President. Sixty-five percent of Republican respondents want DeSantis to run, meanwhile.
In more evidence DeSantis could succeed in New Hampshire, he's the most popular potential candidate among the names polled. A full 73% of Republican respondents regard him favorably, with just 16% disapproving. That net +57 nearly doubles New Hampshire's own Governor, Chris Sununu, who sits at +30 with the voters who know him best.
Meanwhile, even though Trump addressed the New Hampshire crowd and DeSantis stayed in Florida, the case for change in the GOP was made by unsanctioned supporters of the Governor nonetheless.
As first reported by The Hill, the Ron to the Rescue super PAC will have a booth at a meeting of the New Hampshire Republican Party Saturday in Salem, supporting a potential campaign for Ron DeSantis.