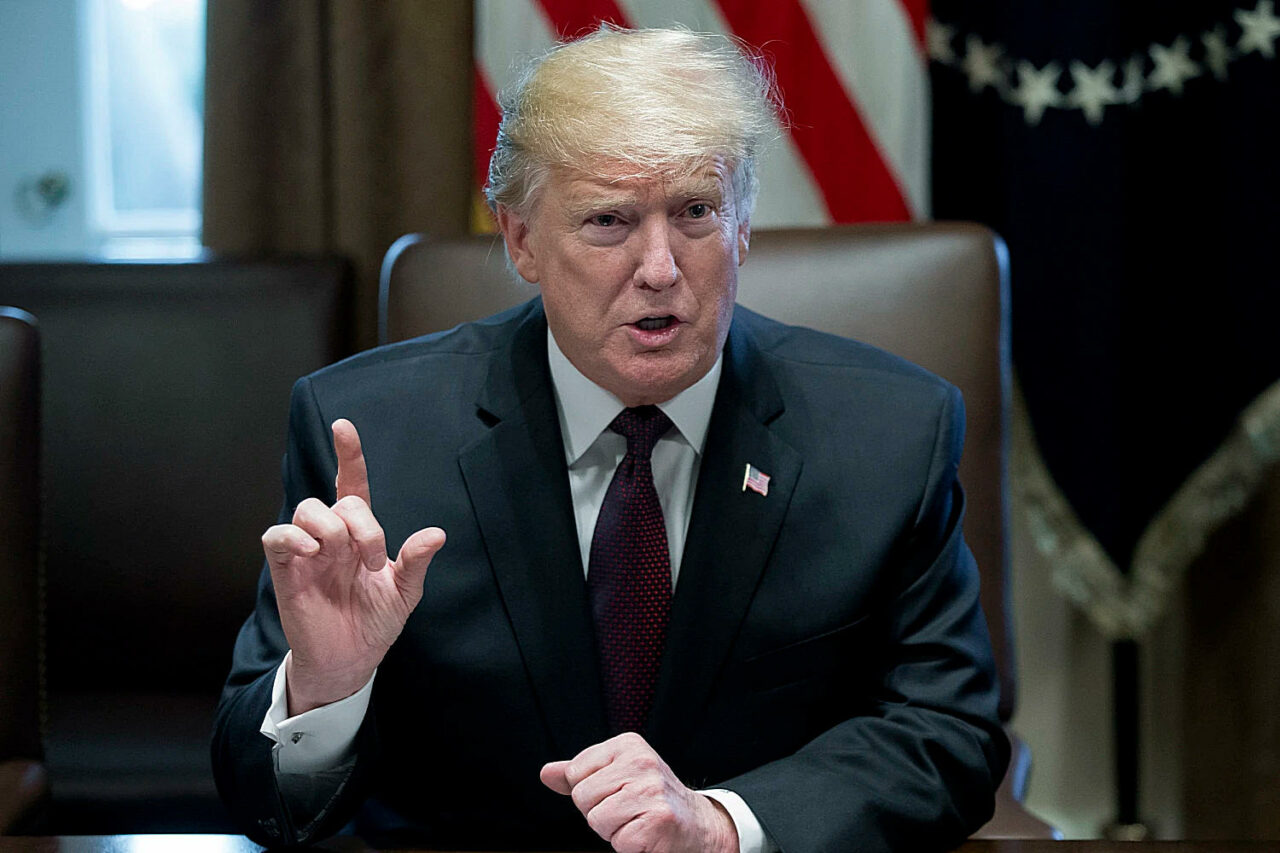 "One of the most accurate pollsters just released a poll that you need to see."
Former President Donald Trump is headed to South Carolina and New Hampshire Saturday, but issued a provocative message before he left.
"One of the most accurate pollsters just released a poll that you need to see," Trump wrote of a recent Emerson College poll extremely favorable to the former President. The national survey showed Trump ahead of Biden, 44% to 41%, in a hypothetical 2024 General Election. And it showed Trump ahead of Gov. Ron DeSantis, 55% to 29%, in a poll including the two GOP frontrunners and the rest of a potential Primary field.
"The poll also shows that I am the *ONLY* Republican who can beat Joe Biden in 2024," the email continued, setting up a call to action for his campaign's own "poll" of the question and more braggadocio.
"It's no surprise that we're LEADING the pack for 2024," Trump added, before extoliing his own record as President.
The poll, which also shows Biden over DeSantis by one point, has its own methodological questions. It shows Trump leading Biden with voters under 35 and under 50, and also suggests the former President commands the support of 40% of Hispanic/Latino voters.
It also runs counter to other polls showing a DeSantis trend. National surveys from Club for Growth, Morning Consult, and You Gov/Yahoo! have all shown that DeSantis may be more competitive with Biden than Trump, assuming the Florida Governor runs of course.
But to get to that General Election against Biden, Trump still has to clear the GOP Primary, and there is no national election in that state by state process.
Polling from New Hampshire, where Trump is slated to address Republicans Saturday in Salem, shows Trump down to DeSantis by 12 points. The same holds true in a fresh poll from North Carolina.
Meanwhile, the numbers are even more dire for Trump against DeSantis in South Carolina, where he will hold an event at which U.S. Sen. Lindsey Graham and Gov. Henry McMaster will lend their support at the State House.
The survey from the South Carolina Policy Council, conducted by Spry Strategies, shows Trump mustering just 33% support against DeSantis in a head-to-head, with DeSantis garnering 52% support.
Expect that Trump will spotlight the Emerson College poll during Saturday's speeches, just as he did at a November rally where one carefully selected survey showed him romping over "Ron DeSanctimonious." But the devil's in the details, and Donald Trump has a Primary Problem in the form of the Florida Governor.