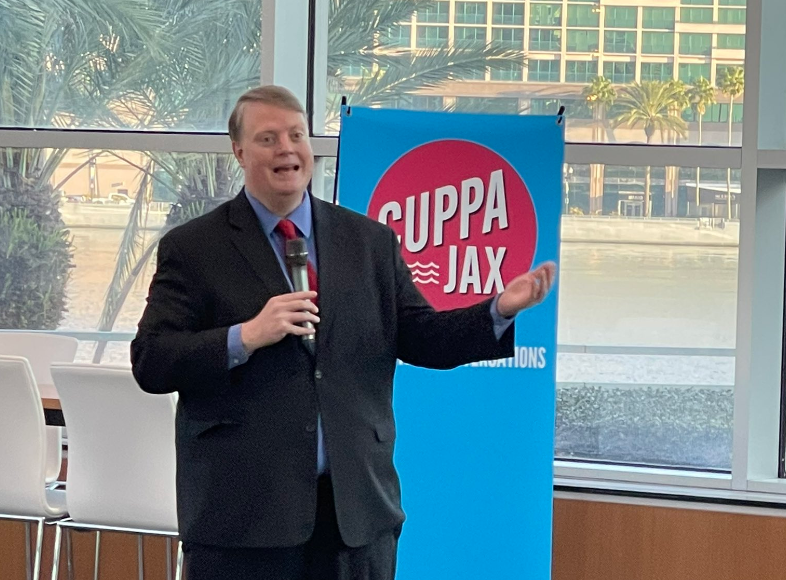 Chris Hand said he isn't interested in running for office himself.
Chris Hand is on a mission to get people involved in their government, and at the municipal level more than others.
Hand, the former Chief of Staff for Jacksonville Mayor Alvin Brown and Press Secretary for U.S. Sen. Bob Graham, spoke this week to the civic group Cuppa Jax and insisted the most powerful people in our political system are the voters, should they choose to exercise that power.
"You might be saying, 'Hang on a second, I'm not a Governor, or a Senator, or a President, or a Mayor, or a Councilmember or a School Board member," Hand said.
"Well, you don't have to be, because the most important role in American democracy is that of citizen — that is the most important title. I try to tell people that all the time — no matter what title some elected official holds, that most crucial title in democracy is 'citizen.'"
It's not enough to just have the title, he said. People have to use their citizenship to move government to act, but people don't necessarily have the citizenship skills.
"Where we have generally taught civics, we've taught it more as a spectator sport than as a participatory sport," Hand said.
There's no time like the present to use those citizenship skills, he said, with local elections coming up in March.
"When Sen. Graham and I have given these kinds of talks, one of the pieces of advice that we give out to different groups is that elected officials are never more open to persuasion than before they are elected officials," Hand said.
"When they are out campaigning, when they are preparing for office, that is the time that they are going to be most open to suggestion, probably most willing and have sufficient time to be able to engage in issues."
Despite his involvement locally and his celebrated 20 questions for Jacksonville city candidates, Hand said he isn't interested in running for office himself, but getting others engaged in the process.