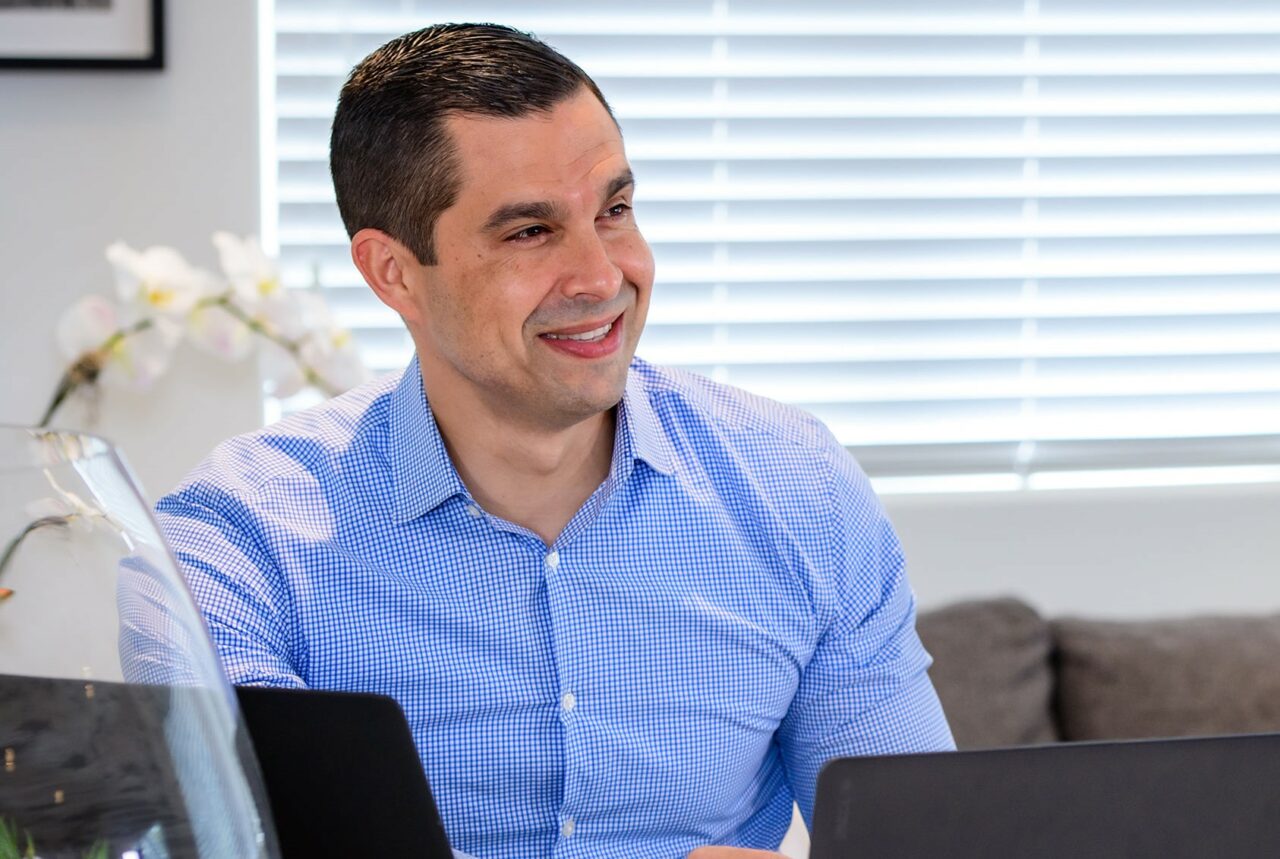 Lago has been a driving force behind efforts to extend Coral Gables' boundaries over the last two years.
More than half of Coral Gables voters favor a renewed push to annex the neighborhood of Little Gables, while over two-thirds support the man behind the move, Mayor Vince Lago, new polling shows.
Public opinion and consulting firm McLaughlin & Associates surveyed 300 randomly selected Coral Gables residents who are likely to vote in the city's April 11 municipal election. The survey, conducted in early January on behalf of Lago's re-election campaign, had a 95% confidence interval.
The firm found 55% of voters in the city favor an annexation of Little Gables, a 205-acre area of unincorporated Miami-Dade County surrounded on three sides by Coral Gables neighborhoods.
Twenty-six percent said they oppose annexing the area, while 19% claimed to either not know enough to answer the question or refused to respond.
Asked whether they support allowing residents in Little Gables to vote on the issue too, 65% of respondents said yes, compared to 19% who said no and 17% who didn't answer.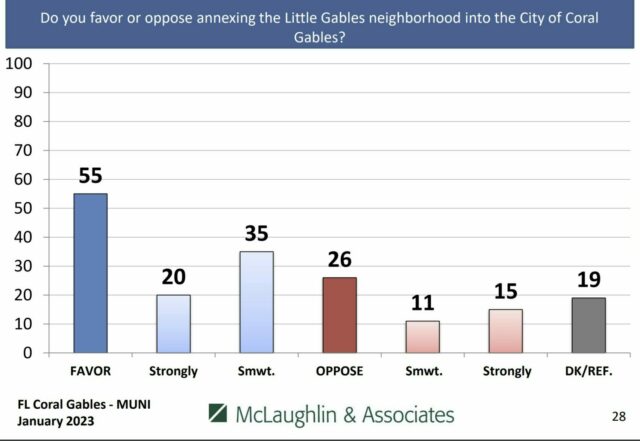 Efforts to see Coral Gables absorb Little Gables and the nearby High Pines and Ponce Davis neighborhoods have mounted since Lago won the city mayoralty in April 2021. A similar push two years before failed after the Miami-Dade Commission — which has final say in annexations — rejected measures authorizing the annexations, citing a lack of low-income housing for residents in the targeted areas, including those living at Gables Trailer Park in Little Gables.
Proponents of annexation, including Miami-Dade Commissioner Kevin Marino Cabrera, whose district encompasses much of Coral Gables, say it will increase the city's tax base, bringing millions of dollars in additional revenue into the city's coffers while extending services to people who only technically don't live in the city now.
Opponents, including members of Coral Gables' firefighters' union, argue expanding the city's borders will further strain resources — an assertion 2018 county analyses support. The three neighborhoods would add about 900 acres of serviceable area to the city, equal to a roughly 10% increase in residents.
Potential service to that area and existing parts of the city will likely improve after the construction of a fourth fire station near Sunset Road. The $12.8 million facility, set to begin rising in the second half of 2023, will add 15 more firefighters over the next three years and an additional rescue unit, Coral Gables Fire Chief Marcos De La Rosa told Miami Today late last month.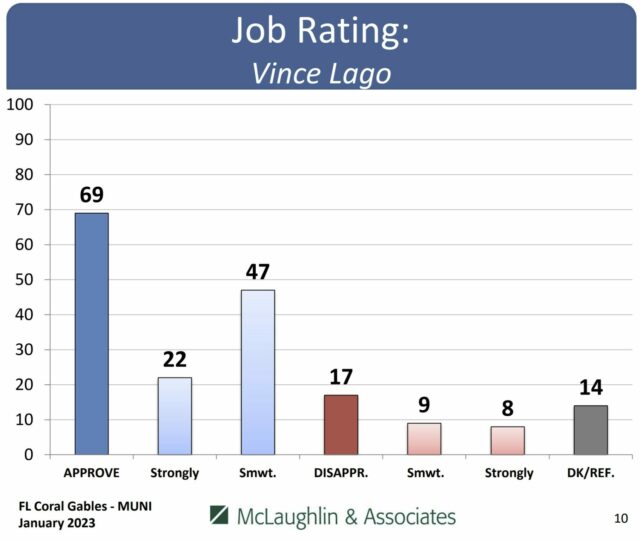 That's on top of a 14% increase in call volumes over the last five years for emergency services, according to the union, which last month moved to arbitration with the city after two years of deadlocked contract negotiations.
Lago, who has stressed that the city wants to reach an outcome to those negotiations that benefits residents and satisfies the needs of the city and union, is quite popular among Coral Gables voters, pollsters found. That bodes well for his re-election bid in two months.
Sixty-nine percent of likely Coral Gables voters said they approve of the job Lago has done since taking office, compared to 17% who disapprove and 14% who couldn't or didn't answer.
A third who favor Lago said they feel "strongly" that he's done a good job. The remainder felt so "somewhat."
Regarding how the annexations would impact the speed and quality of fire rescue services, Lago told Florida Politics last month the planned fourth Coral Gables fire station will help. It will be the first new firehouse built in the city since 1993, Fire Chief Marcos De La Rosa told Miami Today.