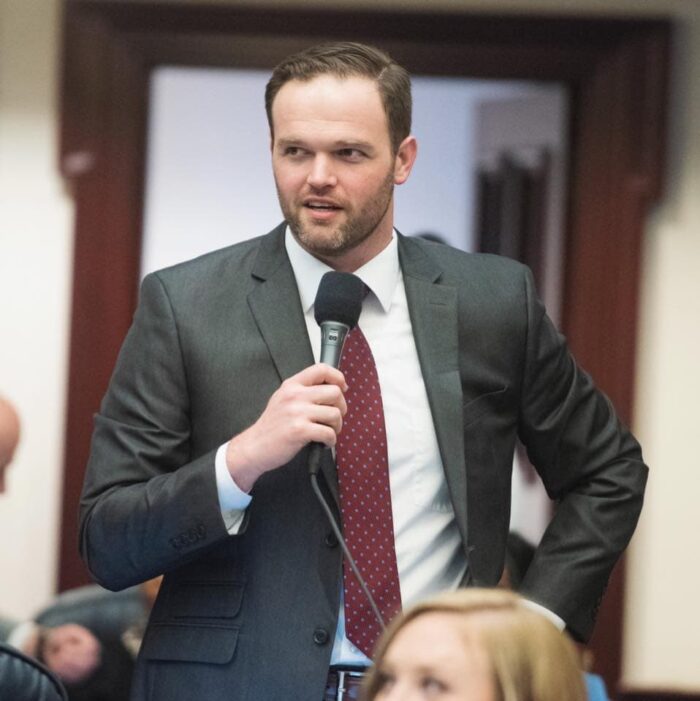 Andrade is instead endorsing Frank White.
State Rep. Alex Andrade will not run for the state Senate, he announced Friday.
Andrade has been speculated as a strong possible candidate for Senate District 1 in the Panhandle, currently held by Sen. Doug Broxson who is facing term limits. 
"While the opportunity to have a bigger platform is appealing, I don't feel called to run in the way I felt called to serve as your state representative," Andrade wrote.
He said that "whoever runs to replace Sen. Broxson" will have "massive shoes to fill."
On that note, Andrade endorsed Rep. Frank White, his predecessor in the House.
White served from 2016 to 2018, declining re-election for a second term to instead run for Florida Attorney General in 2018. He lost in the GOP Primary to now Attorney General Ashely Moody.
"I've known Frank for many years, and since his time in the Florida House, I know that Frank can lead with integrity, and will work with me to represent our home the way that it deserves," Andrade said in his announcement. "I look forward to working with him in the Florida Legislature. Frank is the only candidate I trust to prioritize a culture of integrity and collaboration in our delegation."
***Update: State Rep. Michelle Salzman is also endorsing White for the state Senate; "Frank White is a proven fighter for our shared conservative values and I am proud to endorse him for the Florida Senate. I know that Frank will continue the mission to keep Florida free, defend parental rights and protect our Second Amendment Rights."
Andrade said he is grateful t be "in the position to help our next Senator find success in their first two years in office."
In his announcement, Andrade thanked political allies who have aided him in his legislative career, including Broxson, former Rep. Jayer Williamson and U.S. Rep. Matt Gaetz.
"Serving alongside Rep. Williamson and Sen. Broxon has been the highlight of my time in the Florida Legislature. I owe both of those men, as well as Congressman Gaetz, a debt I'll never be able to repay," Andrade wrote. 
Andrade was first elected to the House in 2018, and subsequently re-elected in 2020 and 2022. He is eligible for re-election in 2024. 
Andrade lives in Pensacola with his wife, Jessica Andrade. An attorney by trade, Andrade has also served as a Judicial Nominating Commissioner.