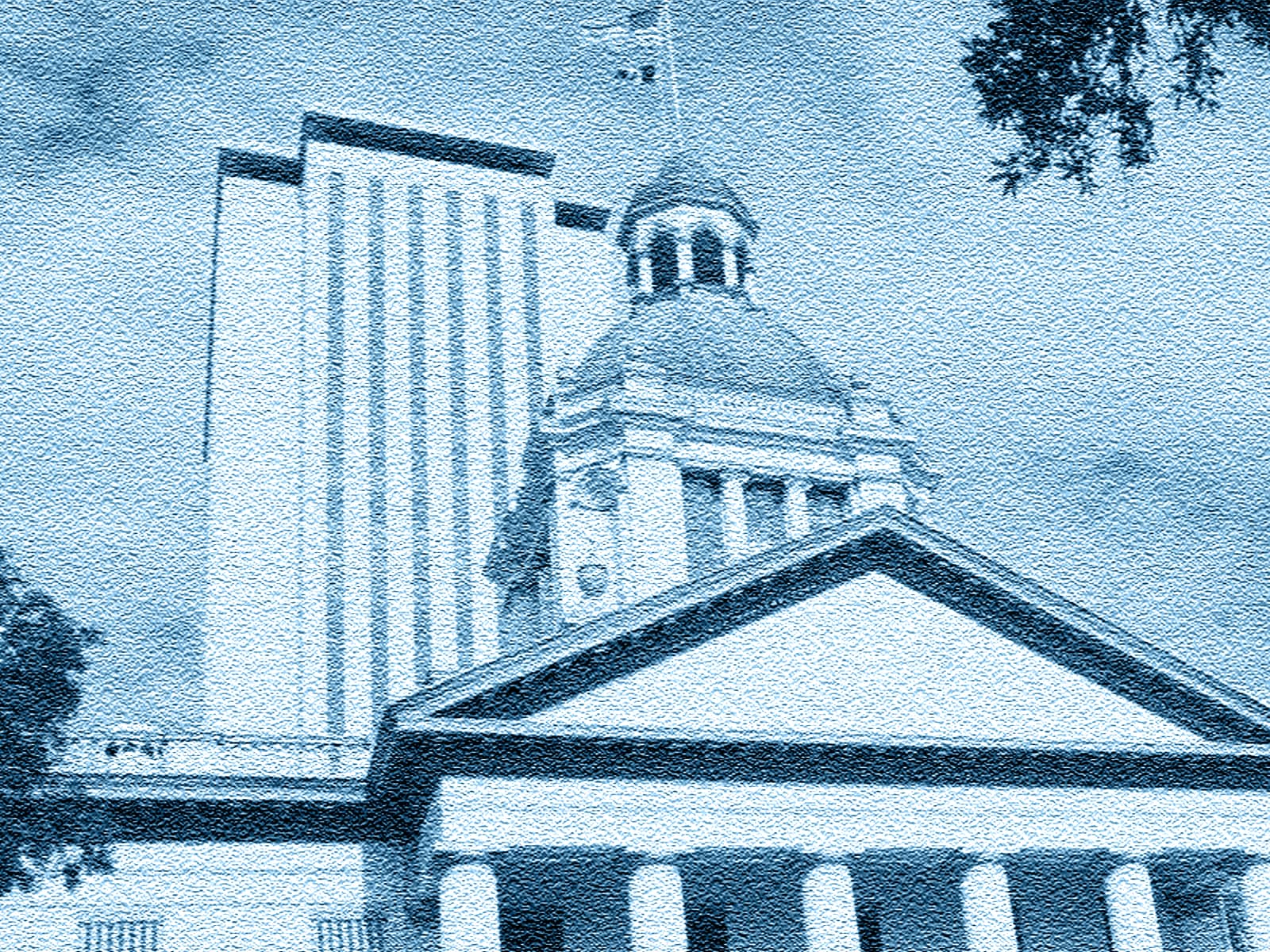 Florida's Old Capitol will be bathed in purple next week.
Look for some purple rain to bathe Florida's Old Capitol this coming week.
The historic building will be showered with purple light on Tuesday evening to recognize the fight against Alzehimer's disease in Florida.
The old Capitol lighting coincides with the Alzheimer's Association's state advocacy efforts on Tuesday and Wednesday, when advocates from across the state will convene in Tallahassee to lobby lawmakers ahead of the 2023 Legislative Session.
Based in Chicago, the American Alzheimer's Association initially chose purple as its signature color because it combines "the calm stability of blue and the passionate energy of red … purple makes a statement about our Association and our supporters: we are strong and unrelenting in the fight against Alzheimer's disease."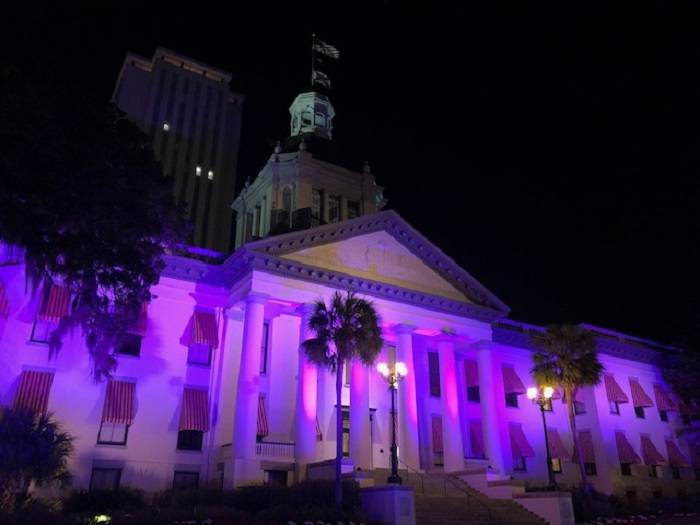 With Democrats usually identifying as "blue" and Republicans as "red" purple also has become a symbol of bipartisanship. The association is playing on the theme with a web page that notes ending Alzheimer's disease is something "both sides can agree on."
Alzheimer's disease is the most common form of dementia, which is a general term for memory loss and other cognitive conditions that are serious enough to interfere with daily life. Alzheimer's disease accounts for 60% to 80% of dementia cases.
It is a disease that unfortunately strikes many people in the state of Florida. There were an estimated 580,000 people in Florida aged 65 and older living with Alzheimer's in 2020. That puts the state second behind California, which had 690,000 residents with Alzheimer's in 2020.
The Alzheimer's Association projects that by 2025 the number of Florida residents with Alzheimer's will rise to 720,000, a 24.1% increase over a five-year period.
To abate that trend and to help those who have been impacted by the disease, the association is asking the Florida Legislature this year to pass legislation that establishes baseline dementia training standards for all long-term care providers.
The association also wants the state to fund community based services that assist Alzheimer's patients and their caregivers, including the Community Care of the Elderly (CCE) program. The association is also asking the state to continue funding for the Alzheimer's Association Brain Bus. Gov. Ron DeSantis has included the funding for the Brain Bus in his proposed budget request.
The Historic Capitol lighting ceremony begins at 6 p.m. and will be livestreamed by the Association's Florida chapters on Facebook, Twitter and YouTube.
"We are honored to have so many advocates travel from the furthest parts of the state to come to Tallahassee to share their personal stories. It is because of their dedication, we have achieved great policy victories for the more than 580,000 Floridians living with Alzheimer's. We look forward to having them advocate for our new policy priorities and funding requests that will continue to advance Alzheimer's policy here in Florida," said Alexander Anderson, Vice President of public policy in Florida for the Alzheimer's Association.
Coming up, the usual assortment of news, intel, and observations from the week that was in Florida's capital city by Peter Schorsch, Drew Wilson, Gray Rohrer, Christine Jordan Sexton and the staff of Florida Politics.
But first, the "Takeaway 5" — the Top 5 stories from the week that was:
Take 5
Governor unveils $115B budget — Gov. Ron DeSantis released his proposed budget recommendations for the 2023-24 fiscal year, recommending $114.8 billion in spending — a $3.8 billion increase from the current year. Among the highlights is a 5% across-the-board pay bump for state workers, and further pay increases for "hard-to-hire" positions. The Job Growth Grant Fund and VISIT FLORIDA would also be funded at $100 million each, up from $50 million in the current year budget. It also includes a slate of tax breaks, including the return of familiar sales tax holidays, such as a two-week holiday for disaster preparedness supplies and the continuation of "Freedom Week" which covers recreational items and experiences. The plan also includes two back-to-school tax holidays, one before the new school year, and another when students return after winter break.
Permitless carry push underway —Flanked by members of the Florida Sheriff's Association House Speaker Paul Renner this week announced at a Tallahassee press conference he will throw his support behind a bill to allow residents to carry a concealed firearm without a permit. "What we're about here today is a universal right that applies to each and every man and women regardless of race, gender or background," Renner, said. It's not the first time the legislation has been filed but its chances of making it across the legislative finish line this year is better than year's past given Renner and Senate President Kathleen Passidomo's support. DeSantishas previously said he would sign such a bill if it reached his desk. The endorsement from the Florida Sheriffs Association could also help the bill's passage. There are 26 states that have some form of permitless carry, although some states restrict to whom it applies. In Louisiana, for instance, only military and former military members can carry a firearm without a permit. Although the bill would get rid of the permit requirement, the Division of Licensing within the Department of Agriculture and Consumer Services, which processes permit applications, would still exist.
New College gets new leadership — Carlos Trujillo, President and founder of Continental Strategy, revealed this week that former Speaker of the House and Education Commissioner Richard Corcoran would be named president at New College of Florida in a letter he sent to clients. Trujillo sent the letter prior to the New College Board of Trustees' decision to terminate current President Patricia Okker. "We are beyond excited to announce that one of our Partners, former Department of Education Commissioner Richard Corcoran, will be returning to higher education to serve as the Interim — and hopeful permanent — President of the New College of Florida, in Sarasota," Trujillo wrote. "This move comes as part of Gov. DeSantis' ongoing work to refocus the university on providing the most value to its students and their parents." Corcoran helped found Continental Strategy and Trujillo brags in the letter that Corcoran's appointment as President distinguishes the consulting firm as a "leader in innovation and strategic solutions for the clients we serve." Corcoran is expected to assume the presidency in March.
April applications —The DeSantis administration announced this week a four-day window of opportunity for businesses to apply for new Medical Marijuana Treatment Center licenses. A total of 22 licenses will be available during the April 2023 batching cycle. The state published emergency rule 64ER23-1 which establishes the state will be accepting application between April 24 at 9 a.m. until April 28 at 5 p.m. Interested parties will be required to submit a $146,000 nonrefundable application fee to the state, an amount that was previously established under emergency rule (64ER22-9) which was published December.The licenses are being awarded as the number of people being certified for medical marijuan continues to increase. The state is projecting 1,044,072 patients will qualify for medical marijuana treatment and register with the state by June 2024.
Governor continues battle against CRT, DEI, tenure — DeSantis announced he would seek a series of changes at Florida's universities and colleges, including eliminating funding for diversity, equity and inclusion (DEI) training and further eroding tenure for professors. Tenured professors are already subject to five-year reviews under a law DeSantis signed last year, but his new pitch would allow university presidents to initiate a review at any time. The Governor's administration had previously asked all universities and state colleges to report how much money they spent on DEI requirements and training. The 12 universities reported spending $34.5 million last year, though much of the money came from federal or private grants. DeSantis also called for a "core curriculum" of "real history and the philosophy that shaped Western civilization" to be taught to students at all universities and colleges.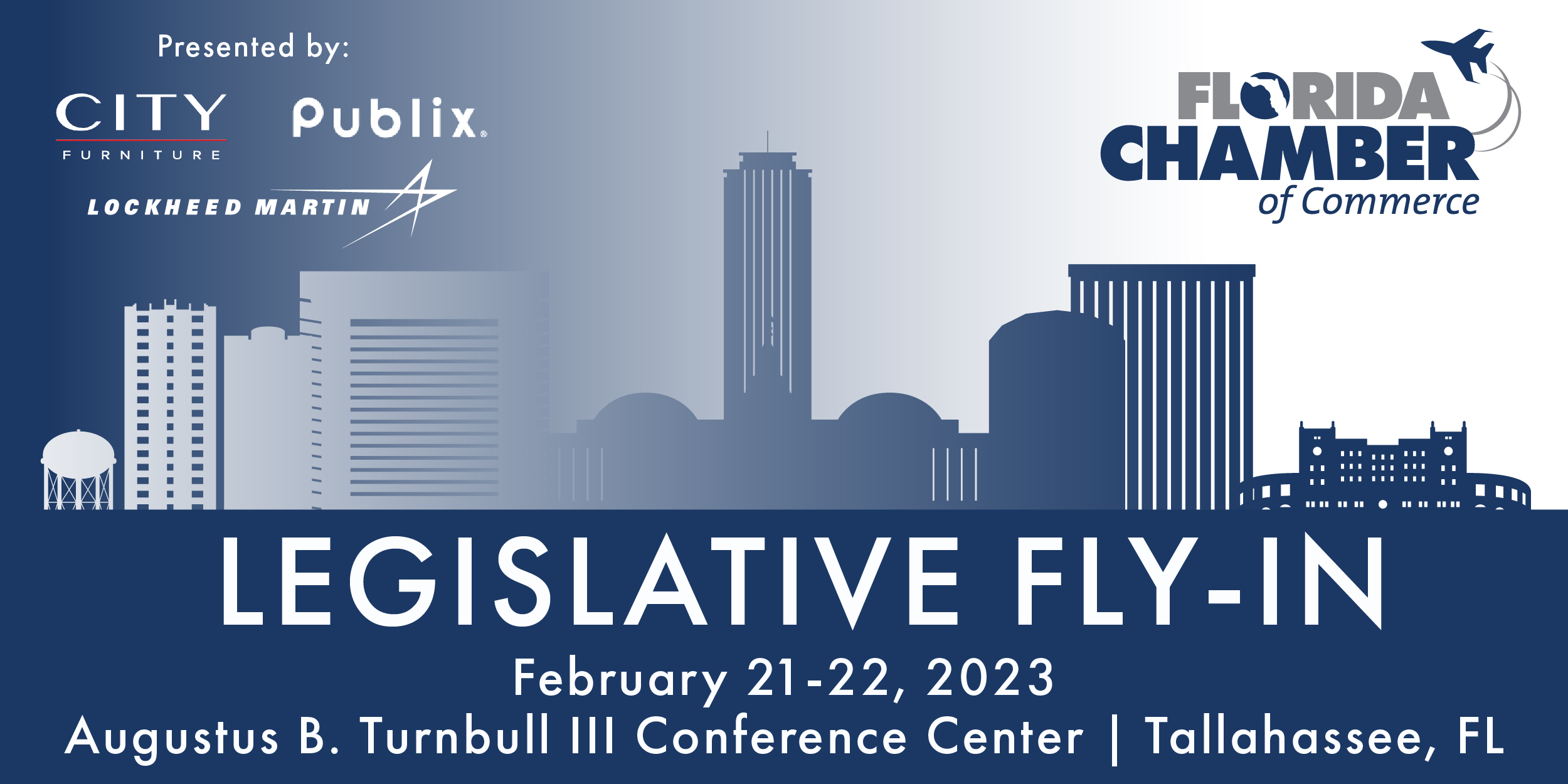 Identity Theft Awareness Week
Attorney General Ashley Moody is recognizing Identity Theft Awareness Week by issuing tips on how Floridians can avoid falling victim to scammers.
Identity Theft Awareness Week is an annual campaign led by the Federal Trade Commission that spotlights the pervasiveness of the crime and the ways fraudsters get ahold of their victims' personal information.
According to Javelin's 2020 Identity Fraud Survey, identity theft affects about one in 20 Americans every year, causing billions of dollars in losses. Thieves often use their mark's personal information to open accounts, steal tax refunds, or file fake health insurance claims.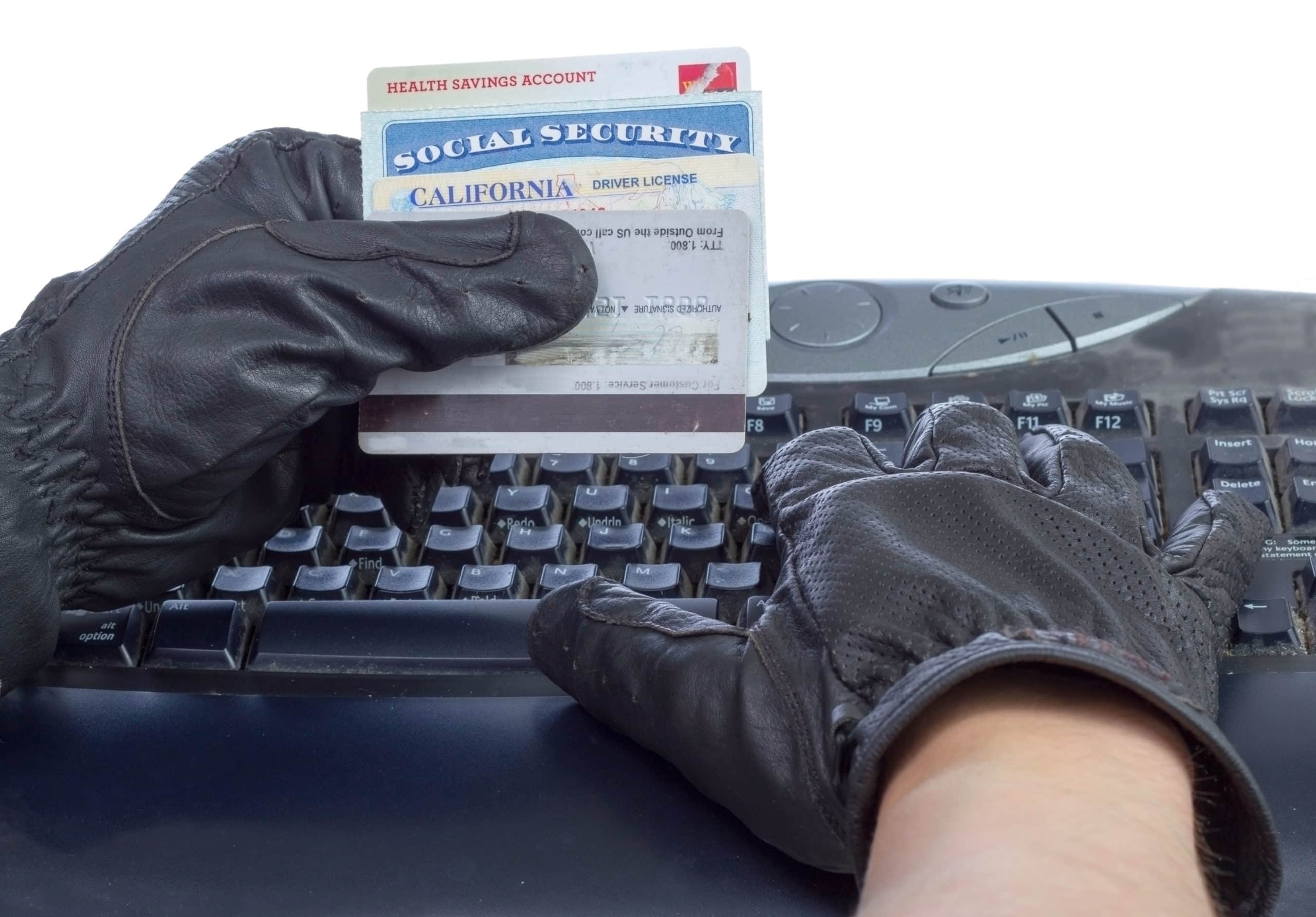 "From children to seniors, no one is immune from identity theft, and that is why it is vital for everyone to take proactive steps to help protect their sensitive information," Moody said in a news release.
Her office recommends taking a close look at bank and credit card statements as well as credit reports; placing a credit freeze so no new accounts can be opened; and not disclosing personal information without being sure who you are talking to — many scammers pretend to be employees of the IRS or other government agencies.
Other steps include using unique and secure passwords online, enabling two-factor authentication on sensitive accounts, and installing antivirus software.
For more information on how to avoid identity thieves, or what to do if you or someone you know is already a victim of identity theft, check out Moody's "Scams at a Glance: Identity Theft" tip sheet.
Anyone who encounters identity theft should report it to the FTC at IdentityTheft.gov or by calling 1 (877) 438-4338.
CFO on tour
Chief Financial Officer Jimmy Patronis went on tour this week to highlight proposed legislation to defend business owners from "overreach and targeting" by the IRS.
The headline provision of the bills (SB 372/HB 507), carried by Sen. Blaise Ingoglia and Rep. Toby Overdorf, is a new "Internal Revenue Service Civil Liability Trust Fund" that would help Florida's small businesses defend themselves from — or even sue — the IRS in the event of politically motivated audits or federal overreach.
Patronis' office outlined the bill last year after the IRS received a funding boost to hire 87,000 new workers to better enforce the federal tax code. Patronis, however, has raised alarms about potential over-enforcement or even malicious enforcement.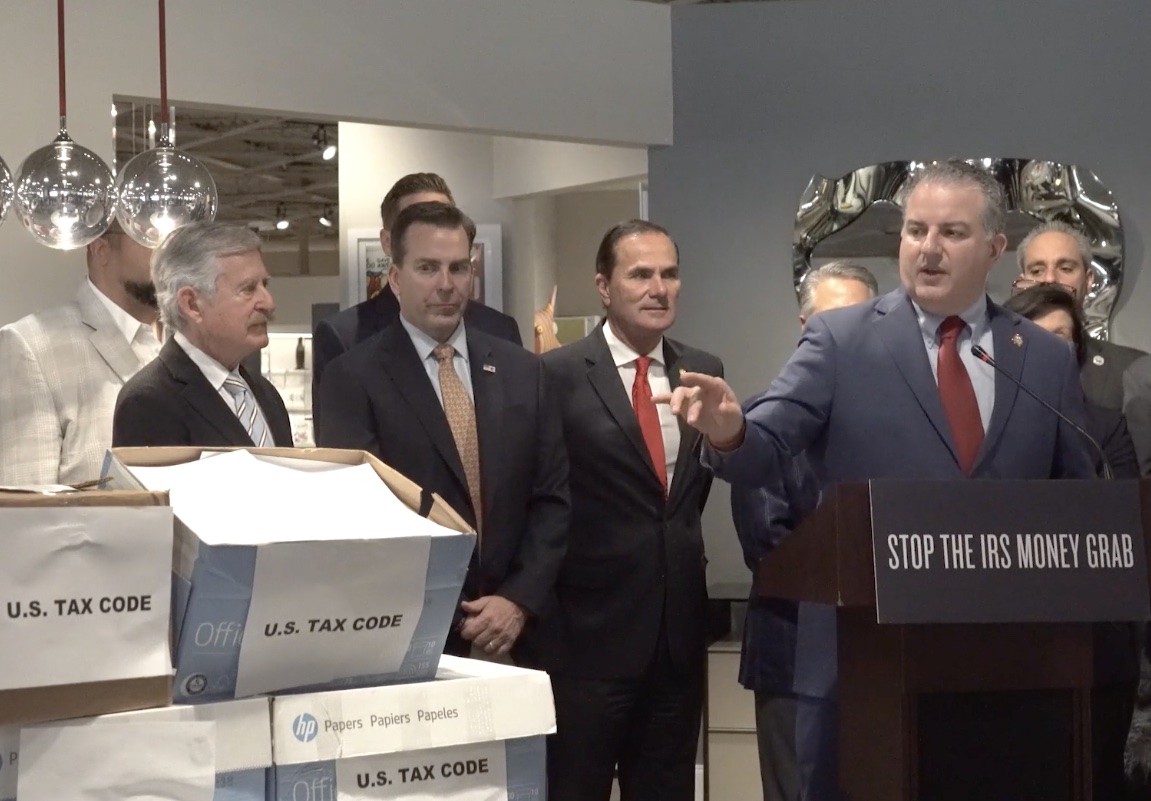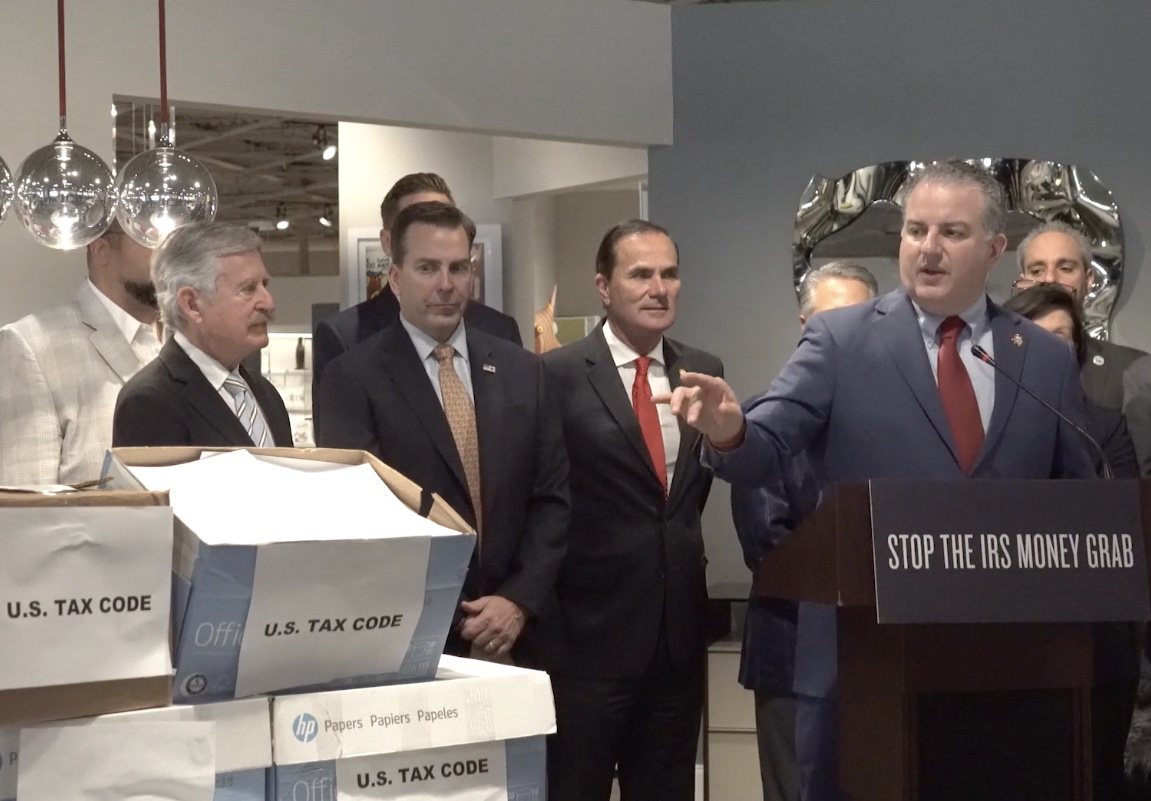 He doubled down on those claims during three stops of a "Stop the IRS Money Grab" tour this week, the first in Clermont followed by Tampa and then Boca Raton.
"With 87,000 new IRS personnel, there is absolutely no doubt that some of those new agents are going to target Floridians based on their political beliefs or the simple fact that Florida's economy has fared far better than most states. Not on my watch. It's simple — Washington has a spending problem — and they're sending these new IRS agents to our state to help fund it off the backs of honest taxpayers," Patronis said at the Tampa news conference.
"If our own federal government is going to try and shakedown businesses, non-profits, or families in the State of Florida, we will ensure you have the resources to fight back and win."
The new fund is only one of Patronis' proposed "Four Pillars of IRS Protection." The others call for state-chartered banks to report IRS inquiries; require online payment platforms to categorize whether transfers are for business or personal reasons; and for the state to penalize IRS agents who politically target Floridians.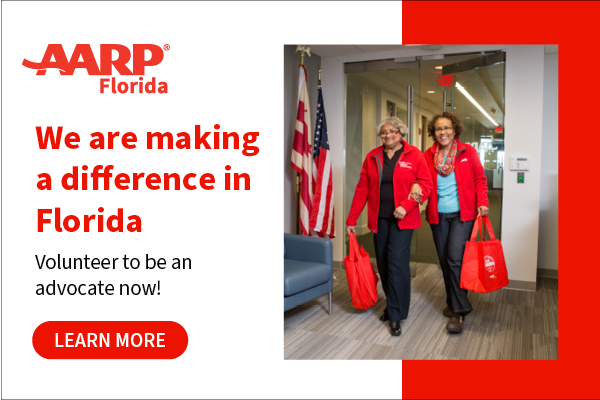 Instagram of the Week
The Week in Appointments
Charlotte County Supervisor of Elections — The Governor appointed Leah Valenti as Charlotte SOE. Valenti, who lives in Port Charlotte, is the External Affairs Manager for TECO Peoples Gas. She previously served as the Southwest Florida District Director to U.S. Sen. Rick Scott and as District Director to former U.S. Rep. Tom Rooney. She is currently a board member of the YMCA of Southwest Florida and the Naples Chamber of Commerce. Valenti earned her bachelor's degree in criminology from the University of Maryland.
Board of Osteopathic Medicine — DeSantis appointed Dr. Watson Ducatel to the board. Ducatel is a physician and the owner of Healthy Bodies Medical Center. He currently serves on the Board of Directors of the American College of Osteopathic Internists and is a current member of the Florida Medical Association. He earned his bachelor's degree from the University of South Florida and his master's degree in public health and his doctorate in osteopathic medicine from Nova Southeastern University.
University of Florida Board of Trustees — DeSantis has appointed Patrick Zalupski to the UF Board of Trustees. Zalupski, of Ponte Vedra Beach, is the founder, Chairman and CEO of Dream Finders Homes. He is a current member of the Northeast Florida Builders Association and earned his bachelor's degree in finance from Stetson University.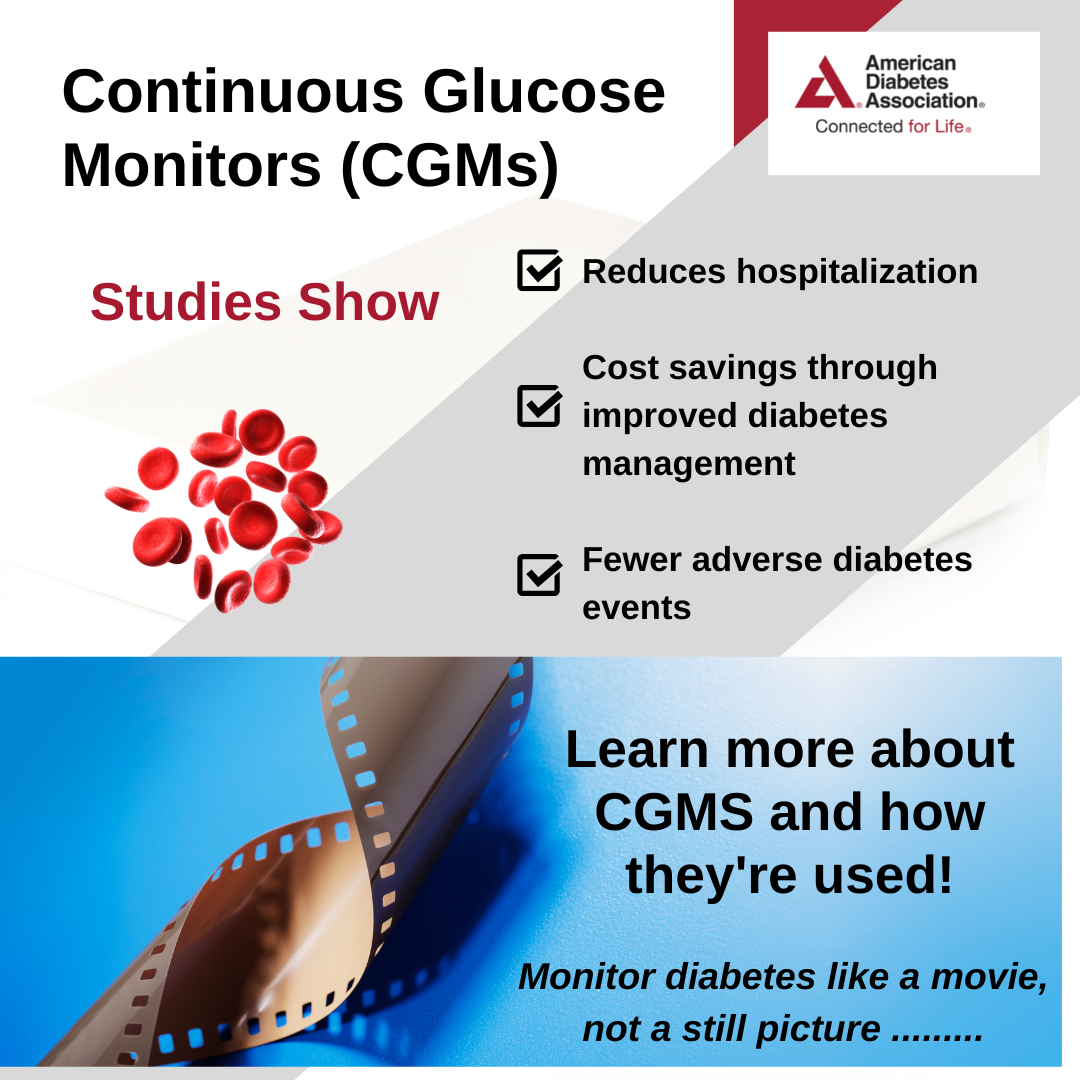 Cash and commodities
First Lady Casey DeSantis this week delivered $2.1 million to non-profits and faith-based organizations that have supported Floridians impacted by Hurricane Ian.
The money was delivered by way of the Florida Disaster Fund, which is funded through private-sector contributions. The First Lady has taken a leadership role at the fund since it was activated in the wake of Hurricane Ian.
"As a mama, I know how important it is to know your children have a bed to sleep in every night, which is why I was honored to award funding that will support long-term recovery in Southwest Florida," she said.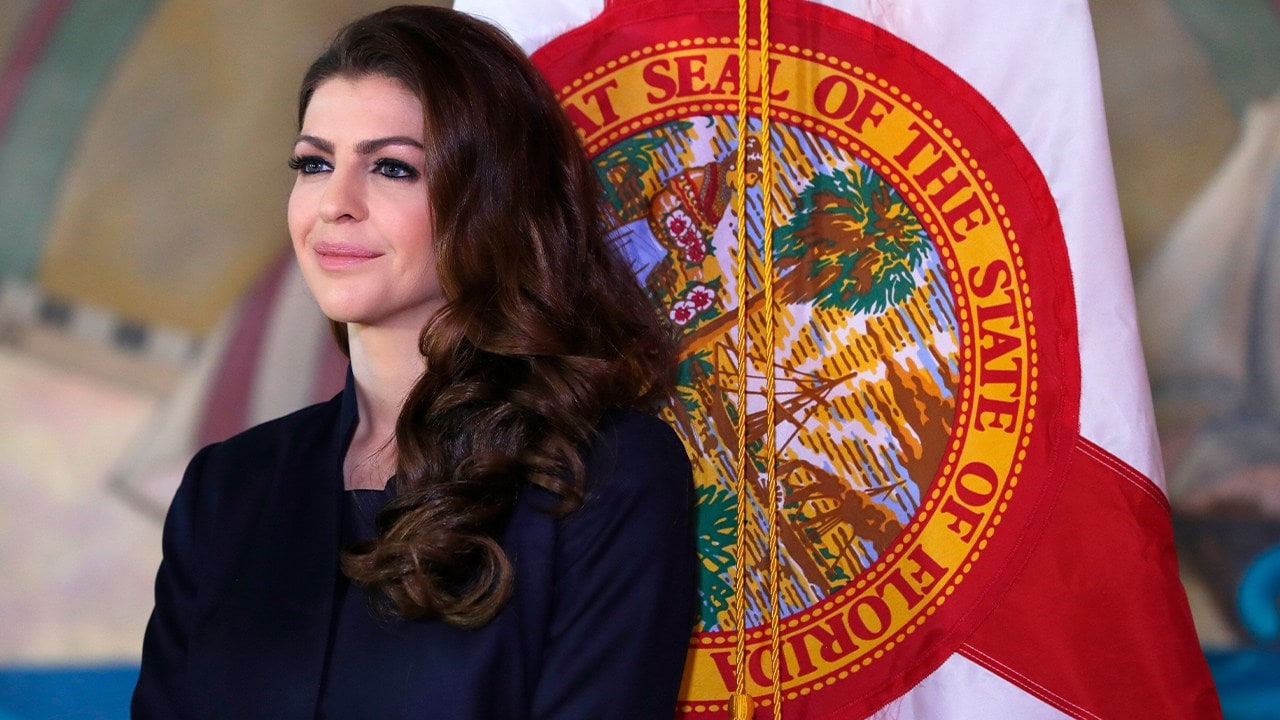 According to a news release, $1.7 million of the awards will be used to support 17 long-term recovery groups that help Floridians navigate available recovery resources and meet unmet needs. Another $427,500 was awarded to Adventist Community Services, which will use the money to connect available commodities and building supplies with Floridians as well as to support other non-profit organizations engaged in construction efforts.
In addition to the funding, DeSantis announced that hundreds of commodities provided by companies such as Home Depot, Lowe's and Walmart will be disbursed to Floridians in need. The cache includes 1,216 doors donated by the Masonite Company, which will be used to replace doors in homes damaged by the storm.
"I am also appreciative of our private-sector partners who donated hundreds of mattresses, sheets, building supply items and doors that will help make so many families feel like they have a home again," the First Lady said.
"The people of Southwest Florida are so resilient, and we will continue to seek out meaningful ways to make their recovery easier. We are so appreciative of the outpouring of support that our private-sector and non-profit partners have shown Floridians following Hurricane Ian."
Black History Month
As DeSantis was drawing headlines this week over nixing an AP African-American History pilot project course because of the inclusion of critical race theory and other concepts he says are banned by state law, the Florida Department of State was preparing to commemorate Black History Month.
The Department of State is holding several events throughout the month to "commemorate the achievements of Black Floridians."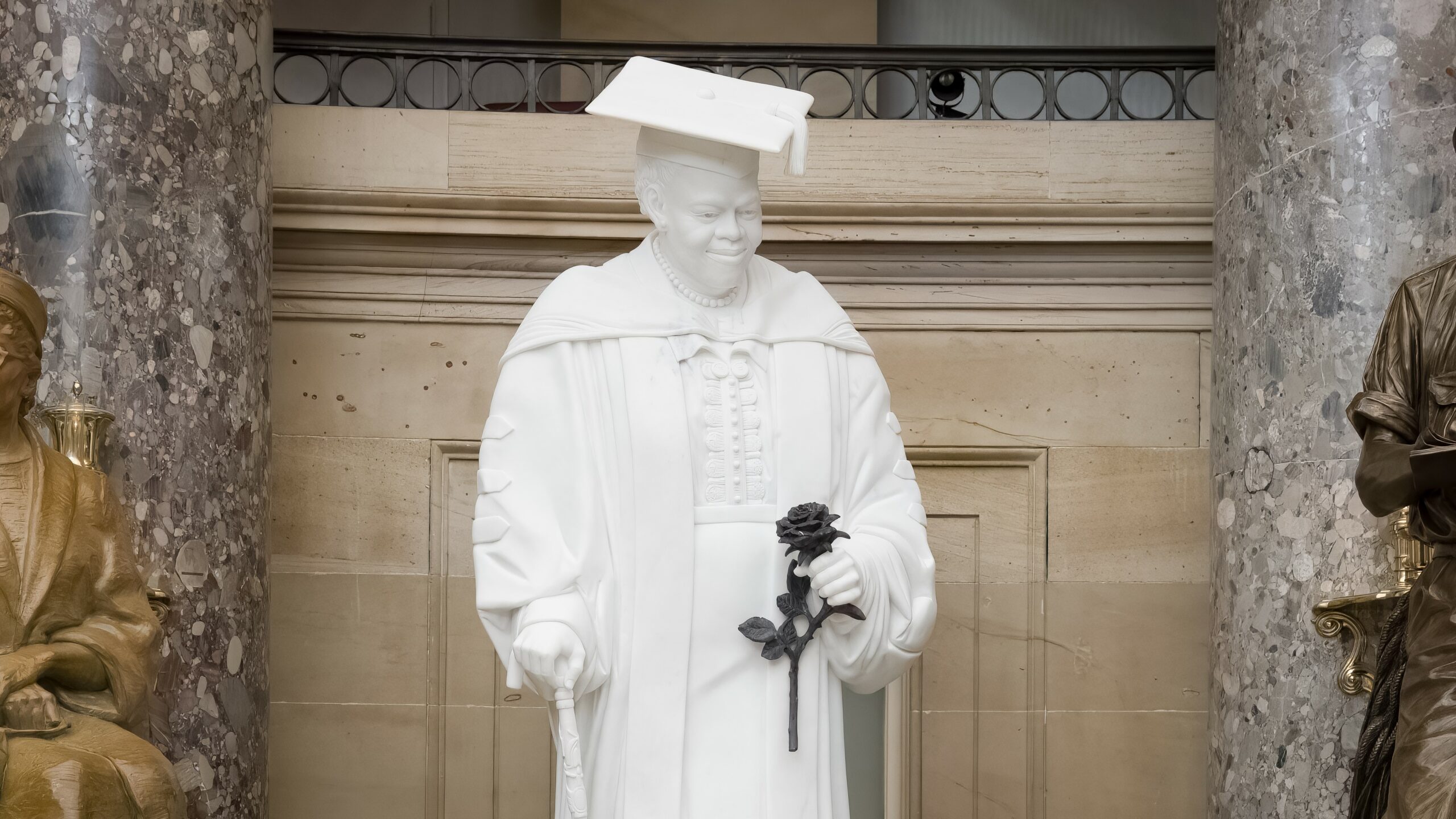 The Black History Arts and Culture Festival is the signature event, which kicks off Feb. 10 at the Grove Museum in Tallahassee from 5:30-8:30 p.m. It's hosted by the Florida Division of Arts and Culture and the Florida Division of Historical Resources.
"Black Floridians have made great achievements that have added to and bolstered the history, culture, and economy, of not only our state, but the nation," said Secretary of State Cord Byrd. "From Dr. Mary McLeod Bethune to John G. Riley to the group of Black artists who would become known as The Florida Highwaymen, the indelible impact of the achievements of Black Floridians is a deep and rich component of our state and nation."
To see a list of the events celebrating the achievements of Black Floridians, click here.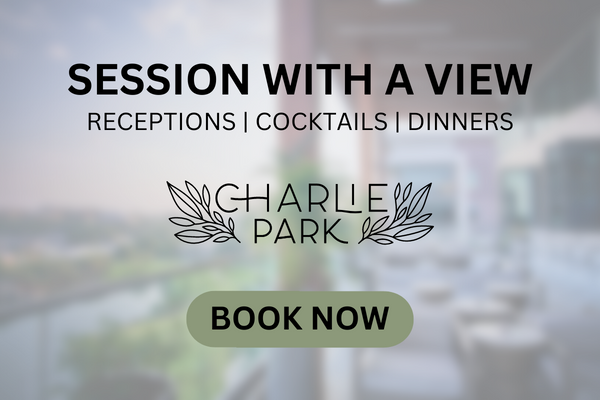 Upping security
Florida is stepping up security at its Board of Medicine meetings.
Two Florida Department of Law Enforcement (FDLE) agents attended the two-day BOM meeting in Jacksonville this week.
The FDLE agents were in addition to more than a half dozen local law enforcement officers and private security officers.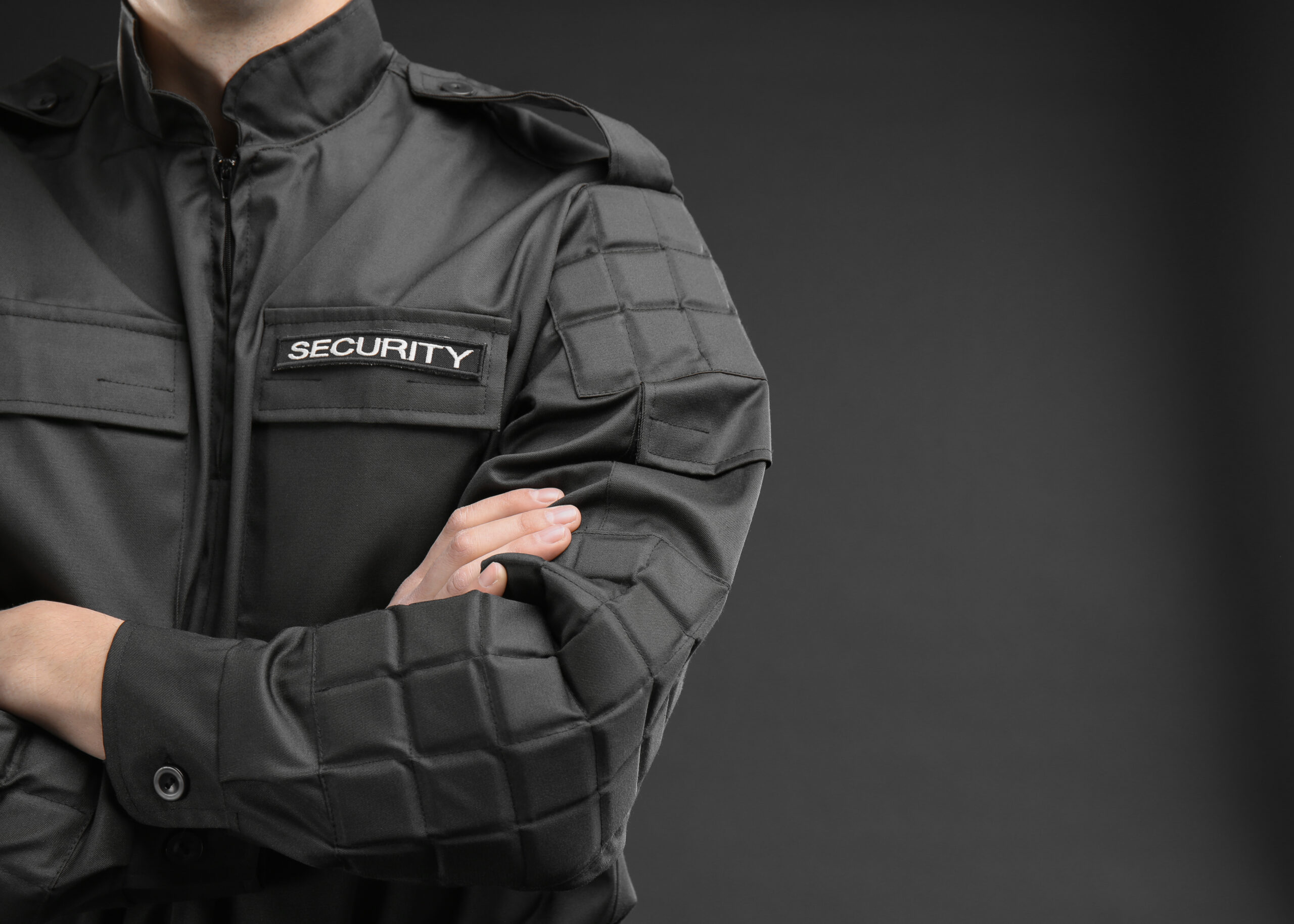 According to Florida Department of Health (DOH) communications director Nikki Whiting the added security is being paid for by the Division of Medical Quality Assurance (MQA) and is needed because threats have been made against some Board of Medicine members.
The threats against the board members have come after the board agreed last August to amend its "standard of care" rules to ban physicians from providing gender affirming care, such as puberty blockers, or gender-confirming surgeries on minors.
It's not clear how many board members have had threats made against them. FDLE had not replied to Florida Politics' request for information at press time.
Apply now
Florida is launching a grant program for residents who suffered coastal beach erosion due to Hurricane Ian and Hurricane Nicole.
The two storms hit the state last year and caused damage on both coasts. State legislators during a December special session authorized the grant program and seeded it with $50 million. The Department of Environmental Protection (DEP) opened a portal to accept applications for the program this past Wednesday.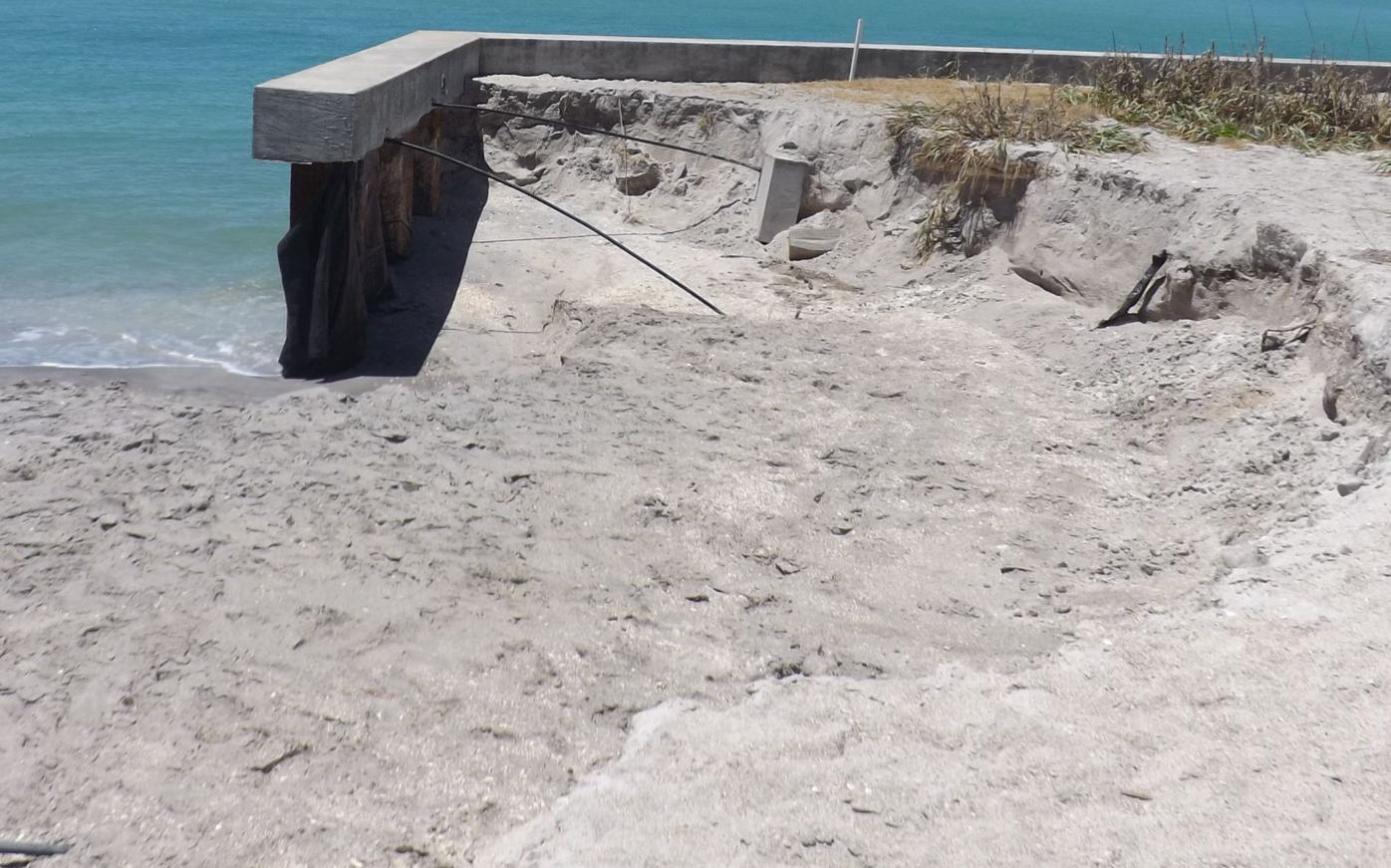 "We are grateful we are able to help support recovery for these communities," DEP Secretary Shawn Hamilton said in a prepared release. "DEP has been in these communities since the storms hit, and we look forward to continuing our efforts through this new program to help expedite recovery for affected areas."
Grants are available for residential properties in Brevard, Broward, Charlotte, Collier, Duval, Flagler, Indian River, Lee, Manatee, Martin, Nassau, Palm Beach, St. Johns, St. Lucie, Sarasota and Volusia counties. Projects may include construction projects for sand placement and temporary or permanent coastal armoring.
DEP said that applications will be processed on a first-come, first-served basis, and priority will be given to low- and moderate-income homeowners.
In order to receive a grant, DEP said that the owner must be an eligible applicant of an eligible residential property with an eligible project and eligible costs. Additionally, applicants must provide required submittals for reimbursement. All projects must be permitted prior to implementation and reimbursement. DEP can reimburse up to 50 percent of eligible costs up to a maximum of $150,000 per parcel.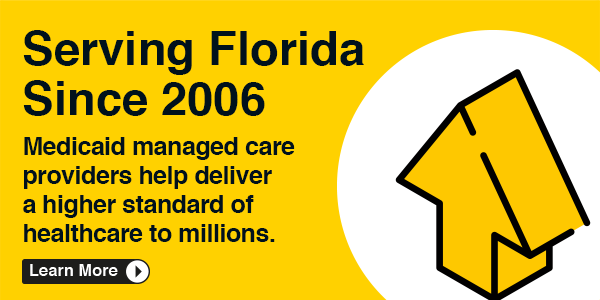 Intercepted and apprehended
The Florida Division of Emergency Management said it has intercepted nearly 10,000 immigrants and apprehended more than 5,000 since the Governor declared a state of emergency on immigration last month.
Additionally, DEM said since DeSantis signed the executive order on Jan. 6 it has removed a total of 152 migrant vessels, including 47 from the Dry Tortugas and 48 from the Lower Keys.
Suspicious packages containing 146 pounds of cocaine, worth an estimated $2.3 million, have also been removed and turned in to U.S. Border Control after washing up on shore in the Florida Keys.
DeSantis signed the emergency order after more than 300 migrants arrived at the Dry Tortugas National Park, about 70 miles west of Key West, on Jan. 1. Though the federal government controls immigration policy, DeSantis has slammed President Joe Biden for not doing enough to respond to Florida's influx of migrants.
As part of the deployment, airplanes and helicopters from the Florida National Guard have been sent to the area to help the Florida Fish and Wildlife Conservation Commission marine patrol interdict "and ensure the safety of migrants attempting to reach Florida through the Florida Straits."
Go fish
The Coastal Conservation Association (CCA) of Florida has helped expand a fishing club program that is supported by the state to 50 schools across the state.
According to the Fish and Wildlife Conservation Commission, the partnership between it and the CCAF has led to an additional five fishing club programs at schools this year. The FWC School Fishing Club Program helps students to learn about ethical angling and conservation as well as basic fishing insights.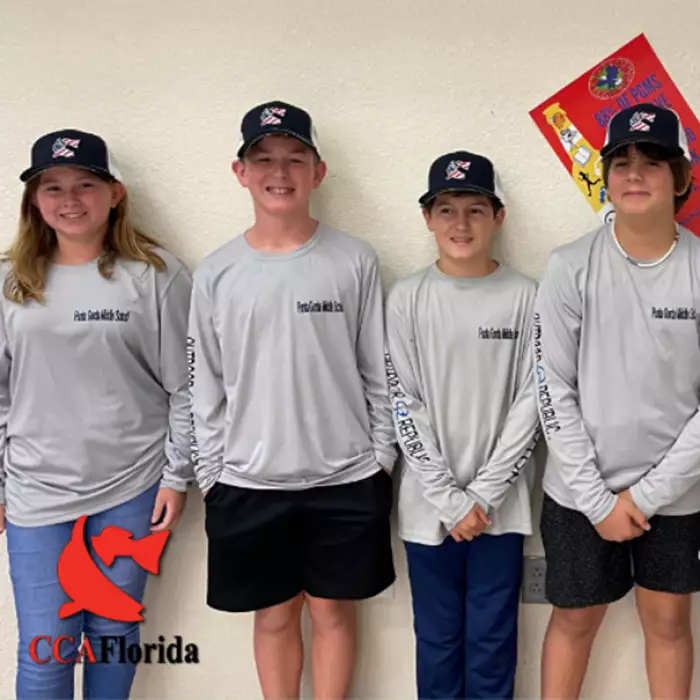 FWC provides the curriculum, as well as pre- and post-tests, and student clubs must complete at least one conservation project. Mentors work with school programs to provide support and hands-on training in knot-tying and fishing gear assembly.
"We are proud to work with a great conservation organization like CCA on this important fishing initiative," saidTom Graef, FWC's director for the Division of Freshwater Fisheries Management. "Encouraging the next generation of anglers to take part in activities that help their communities and our Florida fisheries at the same time is a win for all involved."
CCA Florida Executive Director Brian Gorski said the program helps participants understand the importance of protecting Florida's marine resources and to help ensure those resources "will be here for the next generation to enjoy."
A not for profit organization, CCA Florida has more than 18,000 members. Information about the 2023-2024 School Fishing Club Program will be announced in the summer.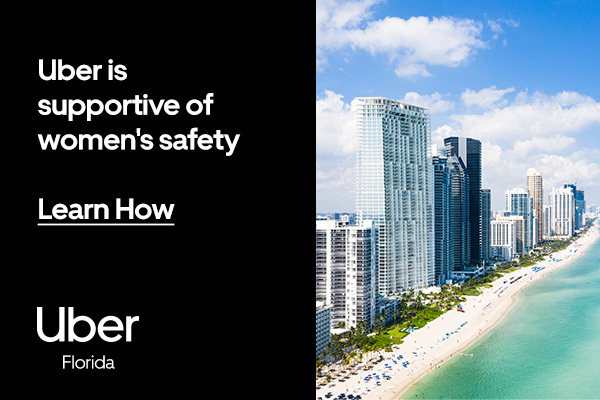 Vets helping vets
The Florida Department of Corrections highlighted the Jacksonville Veterans Treatment Court (JVTC) recent visit to the Union Correction Institution
The collaboration pairs at-risk veterans in its program with inmate veterans who serve as mentors.
JVTC has partnered with Union Correction Instittuion's Vietnam Veterans of America Chapter for the past 10 years connecting veterans with service-related mental illness or substance abuse issues who have been arrested with incarcerated veterans.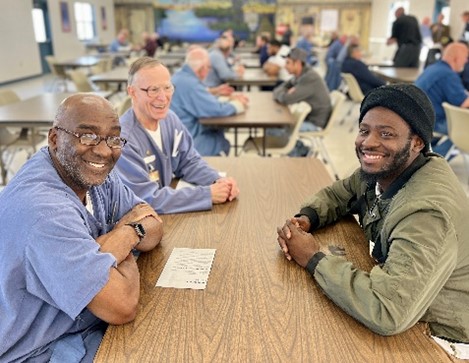 The program helps the at risk veterans avoid additional pitfalls that can land them behind bars. The program also gives the incarcerated veterans the opportunity to serve as mentors.
"I feel this program explains the reality of what it's like to lose the freedoms that we all tend to take for granted,"said Assistant Warden Kevin Tomlinson.
Duval County Court Judge Mose Floyd said JVTC program participants make significant improvements.
"I am honored to be here to witness firsthand how the mentorship we provide to veterans in our program reduces crime by guiding them in the right direction."
Life changer
Democratic Rep. Dan Daley aims to show kids democracy in action through a contest with the same name undoubtedly because he's keenly aware how its impact could go far beyond inspiring new laws on the books.
This week, he filed a bill (HB 585) that would make it mandatory for public school cafeterias to display a poster instructing diners on how to help a choking victim. It's the winning idea in this year's Democracy in Action contest. And it comes from McArthur High School in Hollywood. It was chosen from a field of 15 other ideas.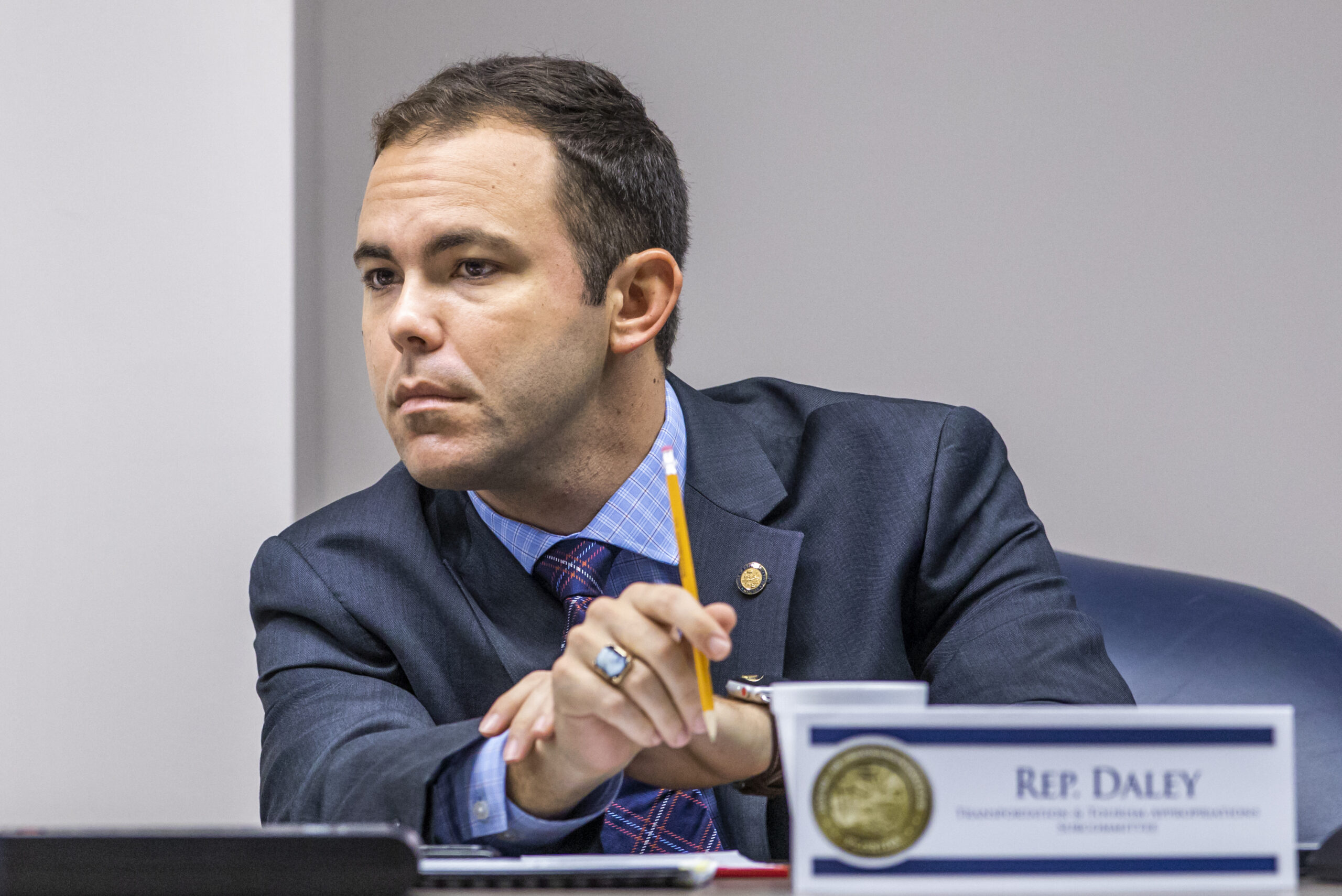 So, the legislation could save a life and, Daley can attest, could also change a life. He was part of the contest while a student at Marjory Stoneman Douglas High School and it's a big reason he's sitting in the Florida House of Representatives today — even if his bill wasn't the one that won that year.
"It taught me that there WAS a Florida Legislature," Daley texted.
Daley is continuing the tradition Ari Abraham Porth, who served as a Democratic Representative from 2004 to 2012, was coordinating when Daley was a lad at MSD. Porth, now a Circuit Court Judge, has been a mentor ever since, Daley said.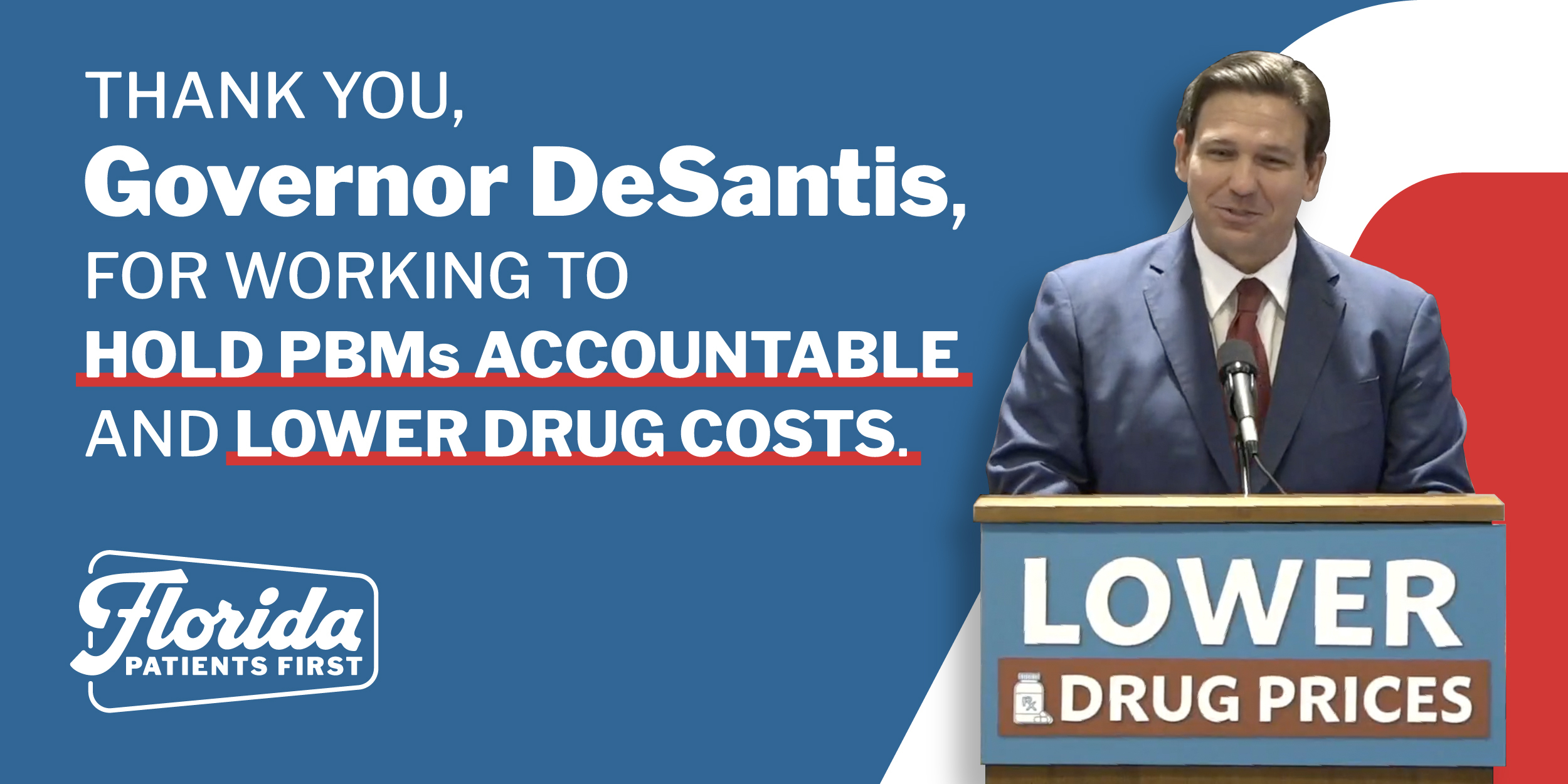 Save the copays, save lives
A pair of South Florida lawmakers want to eliminate out-of-pocket costs for diagnostic mammograms and other supplemental breast imaging when medically necessary.
HB 575 and SB 460 were filed by state Rep. Marie Woodson and Sen. Lori Berman, respectively, both of whom are breast cancer survivors.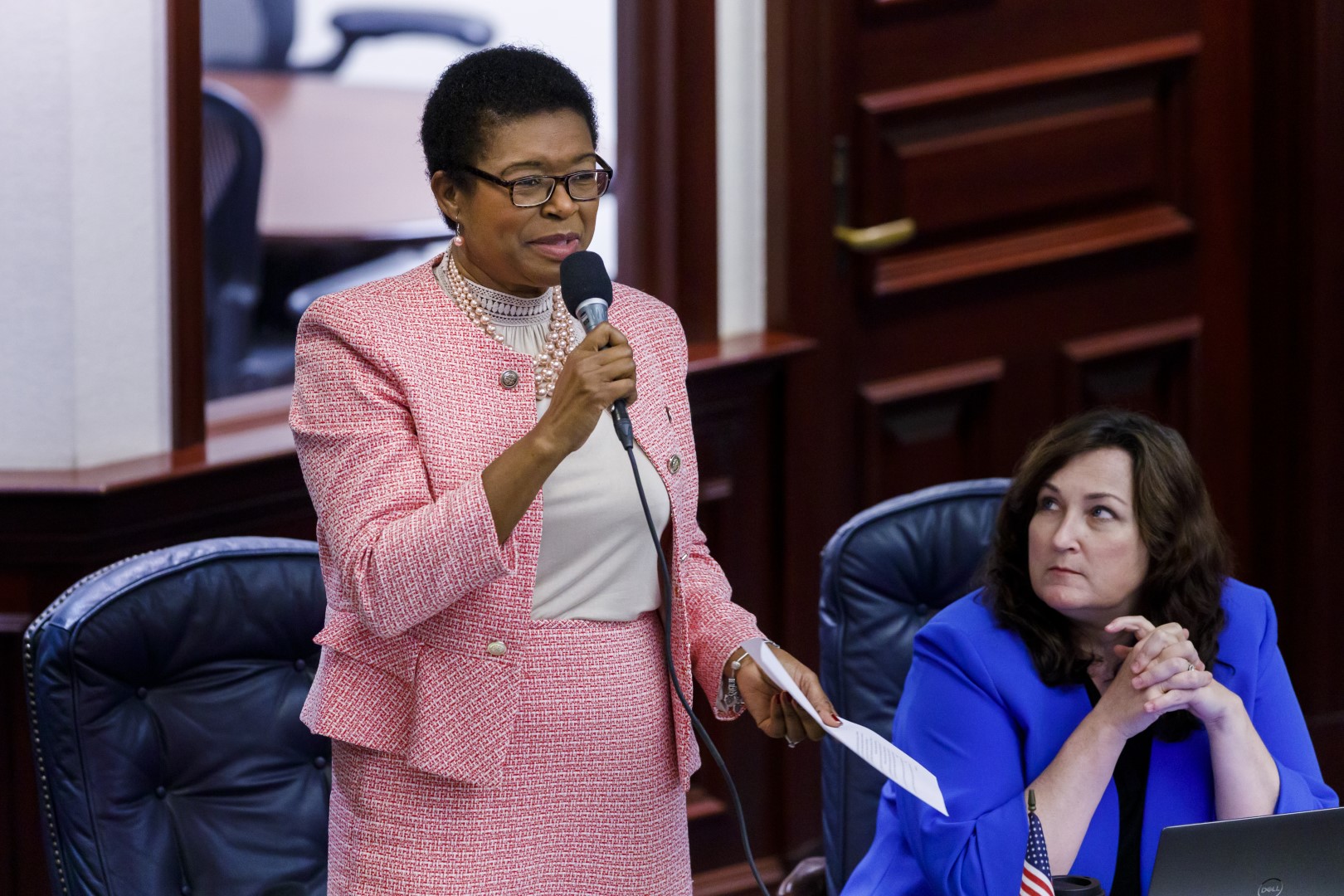 "As someone who has personally benefited from early detection, I cannot stress enough how impactful and important this legislation is. Breast cancer is a life-or-death situation, and breaking the barriers to accessing care is paramount," Woodson said in a prepared release.
Berman is a seven-year breast cancer survivor.
"I am grateful for the treatment I was afforded. As soon as I knew my mammogram revealed a mass that subsequent testing determined was breast cancer, I was able to go forward with a treatment plan. Not everyone has the same means. I hope to change that with this lifesaving legislation," Berman said in a statement.
In 2023, it's estimated among women in the U.S. there will be 297,790 new cases of invasive breast cancer 55,720 new cases of ductal carcinoma in situ (DCIS), a non-invasive breast cancer and 43,170 breast cancer deaths
The estimated breast cancer mortality rate in Florida in 2023 is 17 deaths per 100,000.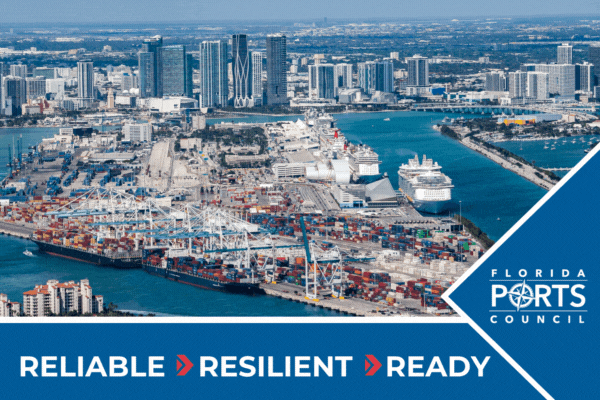 Forever a 'Nole
Florida State University's first head cheerleader at the first football game in 1947, Margaret "Maggie" Strum Acheson Allesee, passed away last month at the age of 94.
A 1949 FSU graduate in English, journalism and education, Allesee was the first woman to win an FSU varsity letter and was one of the original founders, and the only female founder, of the FSU Varsity Club.
While she settled in Detroit, Allesee annually returned to FSU in the fall to put on her original cheerleader uniform and made appearances in the FSU Homecoming Parade and on the football field.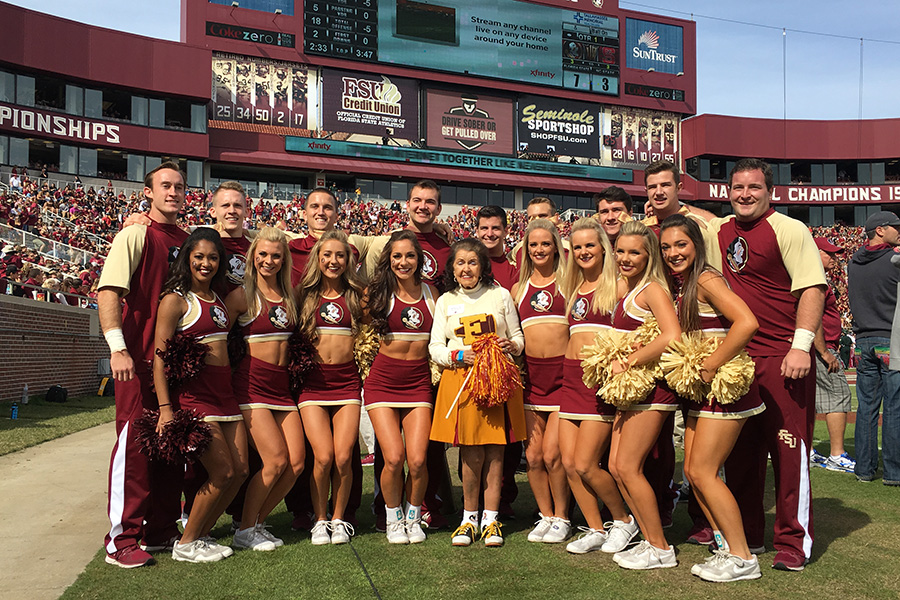 "It was such a joy to see her return each year for our homecoming festivities," said Julie Decker, President and CEO of the FSU Alumni Association. "She leaves a generous legacy that will continue paving the way for a new generation of FSU athletes and artists."
Her support of FSU went well beyond the football field.
In 2000, Allesee endowed the Maggie Strum Allesee Women's Golf Scholarship and in 2004 she endowed the Maggie Allesee National Center for Choreography. The center, housed within the FSU School of Dance, is the first national center for choreography located in a major research institution.
Allesee also gifted the university the one-ton, 15-foot-tall statue, "Sportsmanship," at Doak Campbell Stadium. Unveiled in 2000, the gift honors her father, Al Strum.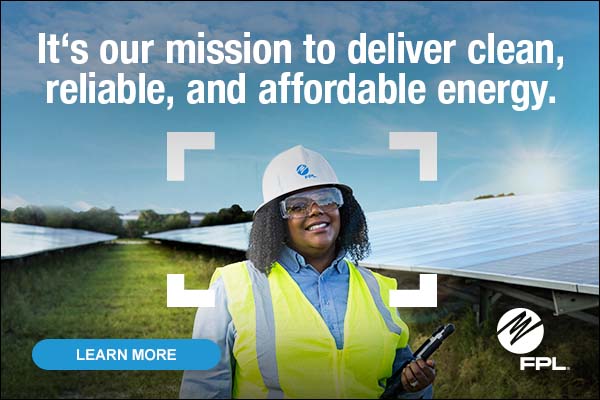 STEM, STEM, STEM
The Al Lawson Jr. Multipurpose Center at Florida A&M University (FAMU) is the locale for the Tallahassee Regional VEX Robotics Tournament this Saturday. There will be two competitions occurring at once, one geared for grades 3-7, the other for grades 8-12.
More than 40 combined teams from across Florida and South Georgia will be competing in the competition, vying for an invite to compete in the VEX Robotics State Championship in Tampa and potentially the World Championship.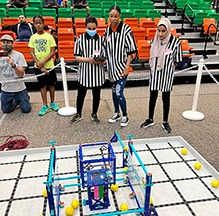 The VEX Robotics Competition, presented by the Robotics Education & Competition Foundation, is the largest and fastest growing middle school and high school robotics program globally.
Students are presented with an engineering challenge in the form of a game. With guidance from teachers, students build robots.
The tournament is sponsored by the FAMU College of Education and the FAMU School of Architecture and Engineering Technology. According to FAMU, 95% of participants say they have an interest in pursuing STEM education and STEM-related careers.
The competition is also sponsored by the Northrop Grumman Foundation and the REC Foundation, which has a stated mission of providing every educator with competition, education, and workforce readiness programs to increase student engagement in science, technology, engineering, math, and computer science.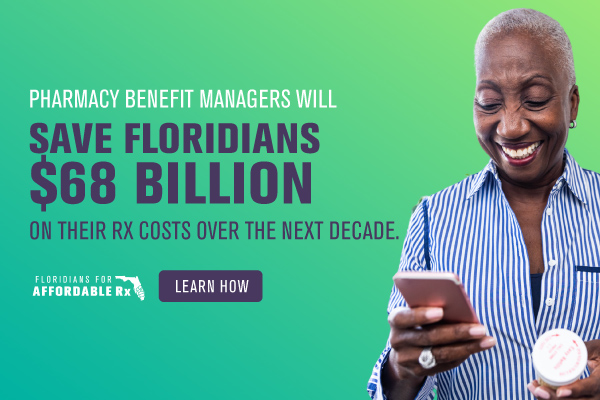 Capitol Directions

Ron DeSantis — Up arrow — History is (re)written by the victors.
Black History Month — Crossways arrow — The College Board technically caved last month, so at least there's that.
Bill Proctor — Up arrow — The Leon County Commissioner has a friend in the Governor's Office.
Richard Corcoran — Up arrow — Go Noles! Go Null Set!
Bill Galvano — Up arrow — The Bradenton-to-Sarasota commute isn't bad at all.
James Uthmeier, Alex Kelly — Up arrow — All eyes are on the "Hillsdale of the South."
Dana Young — Up arrow — Remember when VISIT FLORIDA was on the chopping block? The Governor doesn't either.
Lauren Book — Up arrow — Dems landed the diaper tax break. Well, half of it. Small victories.
Gas stoves — Up arrow — Wow! We'll save enough to cover a month's worth of bronchodilators.
State workers — Up arrow — Pay raises are becoming an annual tradition.
Bachelor's in Ed. — Down arrow — It's the next VCR repair certificate.
"Freedom Week" — Up arrow — We wouldn't be the Free State of Florida without it.
Hackers — Down arrow — Sorry, Florida's upgrading its rig.
Jewish day schools — Up arrow — The Governor's got their back.
Paul Renner — Up arrow — He said he was gonna take on ESG and he is; he promised permitless carry and he backed up his talk.
Jim Boyd — Up arrow — He doesn't want a congressional seat; he wants a gavel. We'll see.
Jason Pizzo — Up arrow — We saw this coming from a mile away, and we're here for it.
Randy Fine — Up arrow — Another day, another Senate endorsement.
Berny Jacques — Up arrow — A death penalty bill is a heavy lift for a freshman Rep., but the former prosecutor can handle it.
Ralph Massulo — Crossways arrow — Yes, soda's unhealthy, but his resolution is one part Bill de Blasio, one part classism, and 100% meaningless.
Joe Gruters — Down arrow — 🚨You know you can unsend texts now, right?🚨
Annette Taddeo — Crossways arrow — Either she's piling on endorsements or every other Democrat in the state is screaming "Not it!"
Disney — Crossways arrow — The Special Session sequel is coming, but we don't have any spoilers to share.
Home rule — Down arrow — Is it ever not a down arrow?
Invisalign — Down arrow — You won't have to wait for the first retainer to get a headache.
NRA — Up arrow — Permits? We don't need no stinkin' permits.
Uber Eats — Crossways arrow — Don't they already list fees? Just subscribe to Uber One. It's easier.
Ruth's List — Up arrow — Christina Diamond is going to get some Dems elected.
Marc Caputo — Down arrow — Sounds like he's "leaving NBC" in the same way his former tenant is "leaving Key West."