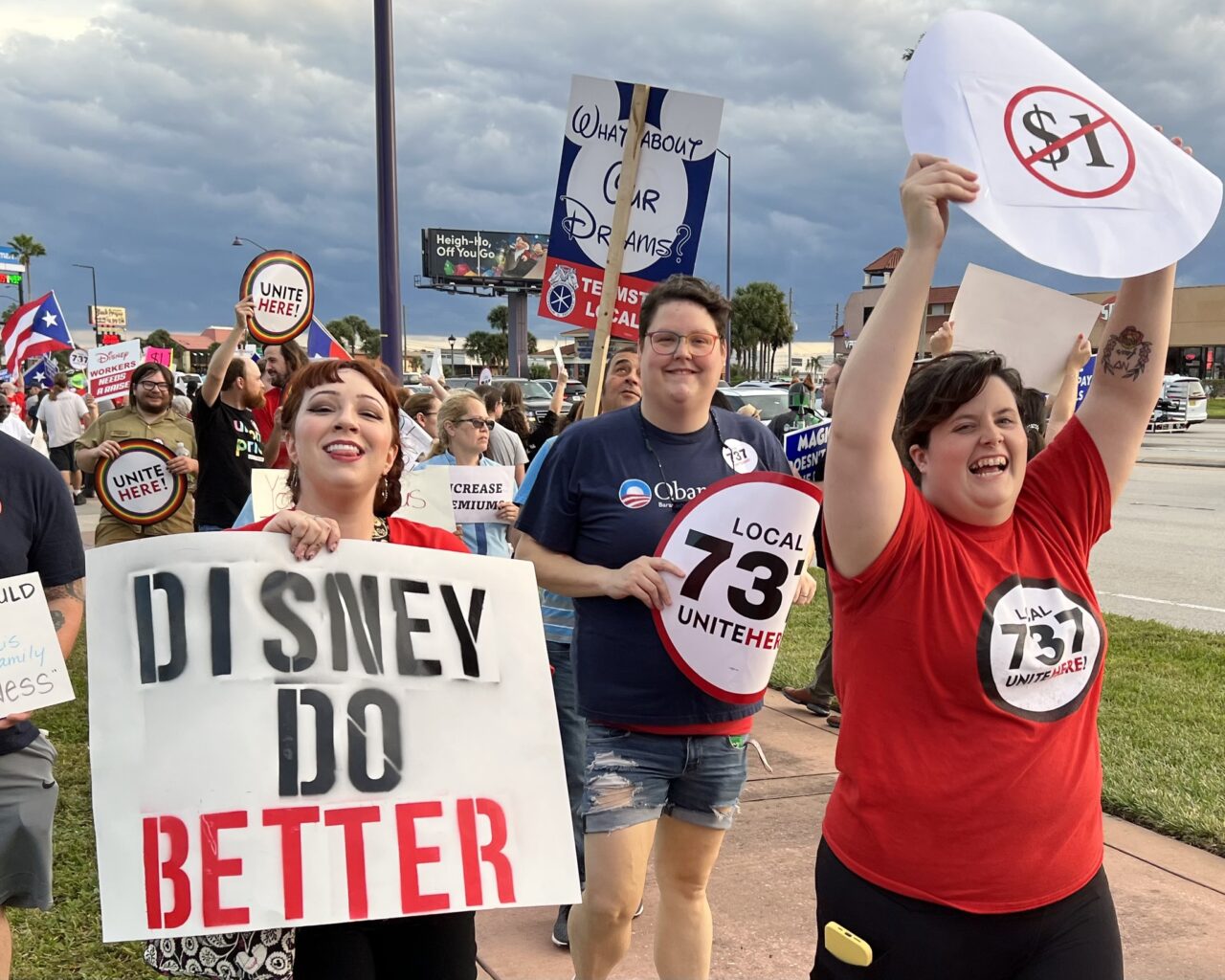 $1 raises don't keep up with cost of living.
Disney World's biggest union coalition overwhelmingly rejected the company's contract offer Friday for $1 annual raises as some cast members said that's not enough money to earn a living wage at a time when Disney parks generate record profits.
"We are not asking to drive Bentleys and go on vacations every other week," said Sean Hopper, who is paid $16.50 an hour working full-time at Hollywood Studios. "We just want to be able to live."
The election results were tallied late Friday as the Service Trades Council Union – a coalition representing 32,000 full-time workers at the theme park giant – voted this week.
The ballot issue was whether or not to accept Disney's offer for a five-year deal giving union members $1 annual raises, bringing the current $15 hourly minimum pay to $20 by 2026.
About 96% of the more than 14,000 workers who cast ballots voted against it, according to the union.
Disney called the election results disappointing.
"Our strong offer provides more than 30,000 Cast Members a nearly 10% on average raise immediately, as well as retroactive increased pay in their paychecks, and we are disappointed that those increases are now delayed," Disney spokesperson Andrea Finger said in a statement.
The union had publicly urged its members to vote down Disney's offer and union leaders said they had been pushing Disney instead for a three-year contract to bump the $15 minimum wage up $3 in the first year followed by a $1 increase after that.
When Central Florida's largest employer and its biggest union coalition negotiated the previous contract that's since expired, union workers first turned down a Disney proposal in December 2017. The two sides went back to labor talks, and by September 2018, they reached an agreement that was unprecedented in the Central Florida hospitality industry. Disney workers' starting wages jumped from $10 an hour up to $15 by October 2021 through a series of raises. Remember this was pre-pandemic before restaurants, hotels — and even sometimes Disney — struggled to hire enough workers during a tight labor market for employers.
Disney said it offers other benefits to its employees including health care, paid vacation and sick time, overtime opportunities and discounts.
Today, other major employers are paying similar wages — or better — for their workers. In May 2021, Disney's competitor, Universal, announced full-time and part-time hourly workers were getting bumped up to at least $15 an hour too.
Last month, union leaders said Sodexo Hospitality workers at the Orange County Convention Center will get paid at least on$18 an hour this year. Union leaders called it "the new standard for Central Florida workers."
Sodexo workers are represented under Unite Here 737 which is the same local for food/beverage workers and hotel housekeepers at Disney World.
Hopper, who said he loves what he does, was part of the majority of union cast members voting no this week.
Growing up with a tough childhood, Hopper's trips to Disney World were some of the best memories he ever had, Hopper said.
Hopper said he loves working at Disney because the roles are reversed. He is the one now helping strangers who might be going through a dark time but they get to experience moments of joy at the parks they will never forget.
But Hopper, an attractions coordinator at Star Wars: Galaxy's Edge land, said working for Disney is getting harder.
He and his wife, who also works at Disney, rent a room to his in-laws to help cover the $2,045 monthly rent for their house. They live in St. Cloud, a city in northern Osceola County where housing is cheaper than in Orlando.
Hopper said he usually makes about $660 a week and tries to pick up overtime shifts to earn extra pay even if it means leaving the house at 5 a.m. and coming home after his three kids are in bed.
Disney theme parks are money makers and company leaders touted all-time historic financials during earnings calls. Helping bring in those profits are Disney charging guests to jump the lines and higher admission prices.
"Here's the thing we want the company to be successful," Hopper said. As cast members, "we also want to share in that. …We make your money for you. It's time to pay us appropriately."