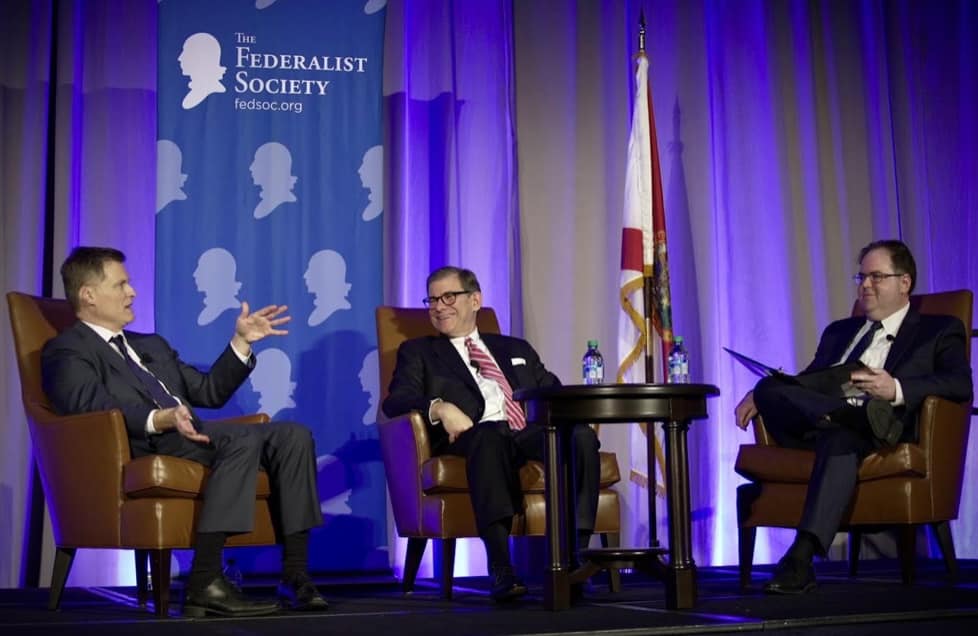 Since 2019, five new members have joined the Supreme Court of Florida.
Florida's Supreme Court is in a unique, and arguably better position, than some other courts because of a "supermajority" of justices who have similar judicial philosophies.
So says Chief Justice Carlos Muniz of the Supreme Court of Florida, who spoke during a discussion of the courts and policy with Chief Judge William Pryor of the 11th U.S. Circuit Court of Appeals at The Federalist Society's Florida Chapters Conference at Walt Disney World in Orlando. Judge Robert Luck of the 11th U.S. Circuit Court of Appeals served as moderator.
"In our court, I think, over the last several years, I think it's become clear we have a supermajority of justices who have, kind of through our work, committed to a judicial philosophy," Muniz said. "We've come out with some decisions on precedent that have given people a clearer sense of how we view the law of precedent and how we're going to apply that."
That doesn't necessarily put the kibosh on debate between them, though.
"Having colleagues where we obviously don't agree on every case, even those of us who kind of agree at the level of first principles of what we're trying to do … I think it makes for very interesting discussions within the court, with people who do kind of agree on the first principles," Muniz said. "Then you can have very interesting discussions in each case about how best to apply those."
When justices disagree on first principles, he added, there's only so far those debates will take them.
Jesse Panuccio, a partner with Boies Schiller Flexner LLP and the master of ceremonies for the convention banquet, laid out some of those first principles when welcoming attendees to the conference.
"We started this conference to help spread the ideals of The Federalist Society, across our state and across our legal profession," Panuccio said. "And those are the founding principles of the separation of powers, fidelity to written law, and the importance of civic virtue, all of which are vital to the continued flourishing of American society." 
This comes after what was acknowledged by the jurists on the dais as a large amount of turnover in the judiciary, both at a state and federal level. Since 2019, five new members have joined the Supreme Court of Florida, for instance. 
"Despite the turnover, we've managed to maintain a lot of collegiality," Muniz said. "That's not missing the fact that, increasingly, people on our court … aren't moving to Tallahassee like I think people historically did."
It's a benefit, he said, to have people keep their connections with their home areas.
For the 11th Circuit, with the exception of two people, each judge on the court was appointed by either Barack Obama, three, or Donald Trump, five. Pryor's time on the court is the second-longest at the moment, having joined in 2004. 
"One, there's always the challenge of maintaining collegiality," Pryor said. "The second is, you also don't want to lose a lot of institutional knowledge."
They've been fortunate in that judges joining the court had earlier experience clerking for other judges on the same court, he said.