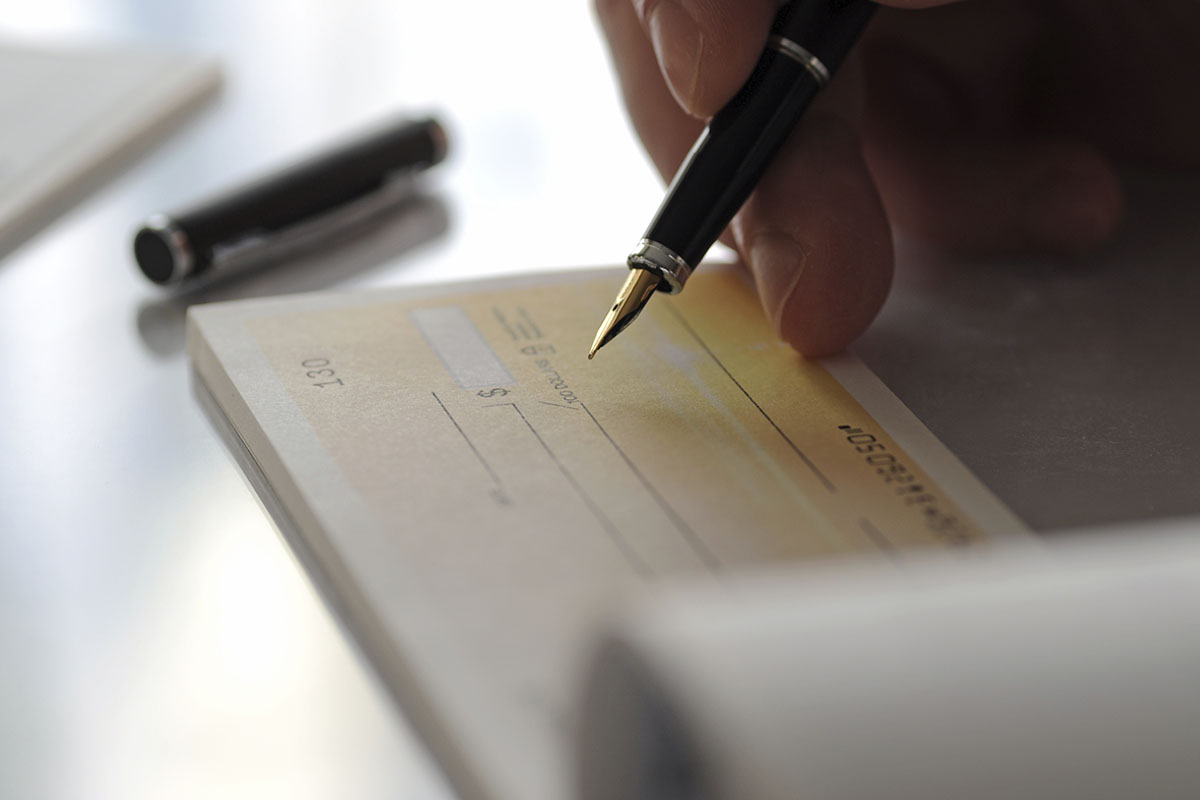 House leadership has packed the schedule ahead of the 2023 Legislative Session.
House Republicans are holding a flurry of fundraisers this month, most benefiting members of the 2022 freshman class.
The list so far includes seven events and provides ample opportunity for members of The Process to rack up facetime with House Speaker Paul Renner, Speaker-designate Daniel Perez and future Speaker Sam Garrison.
Here's a rundown of the fundraisers scheduled in the run-up to the 2023 Legislative Session.
Feb. 7: Rep. Fabían Basabe
Rep. Basabe will host a fundraiser at the House Campaigns Office, 106 S. Monroe St., on Tuesday at 5:30 p.m.
Basabe is in his first term representing House District 106, which covers all or part of the municipalities of Aventura, Bay Harbor Islands, Miami Beach, North Bay Village, North Miami Beach and Sunny Isles.
The former reality TV star turned stay-at-home dad won election last year in one of the closest House contests in the state — just 240 votes separated him from Democratic nominee and former Bay Harbor Islands Mayor Jordan Leonard.
Through December he had raised $1,000 for his 2024 campaign and had about the same amount in his political committee, Common Sense For Florida.
Those looking to attend his fundraiser can send an RSVP to [email protected] or call 305-842-9606.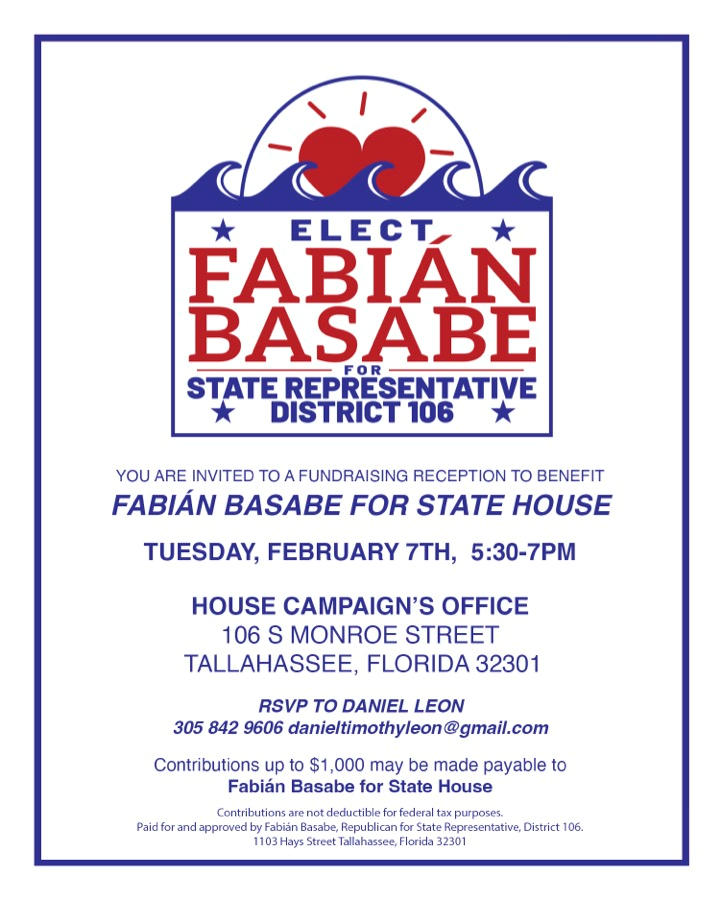 Feb. 15: Reps. Jennifer Canady and Tiffany Esposito
The House Campaigns Office will serve as the venue to another 5:30 p.m. fundraiser on Feb. 15, this one to boost the re-election accounts of Reps. Canady and Esposito.
As with the Feb. 13 event, the House Speaker and the two men in line to succeed him appear atop the event invite.
Canady is serving her first term representing House District 50, which covers part of Polk County including a portion of Lakeland. She won the safely Republican without opposition in the General Election.
Esposito represents House District 77, which covers part of Lee County, including Fort Myers. She defeated Democratic nominee Eric Engelhart in a 67%-33% rout three months ago.
RSVPs may be sent to [email protected] or [email protected].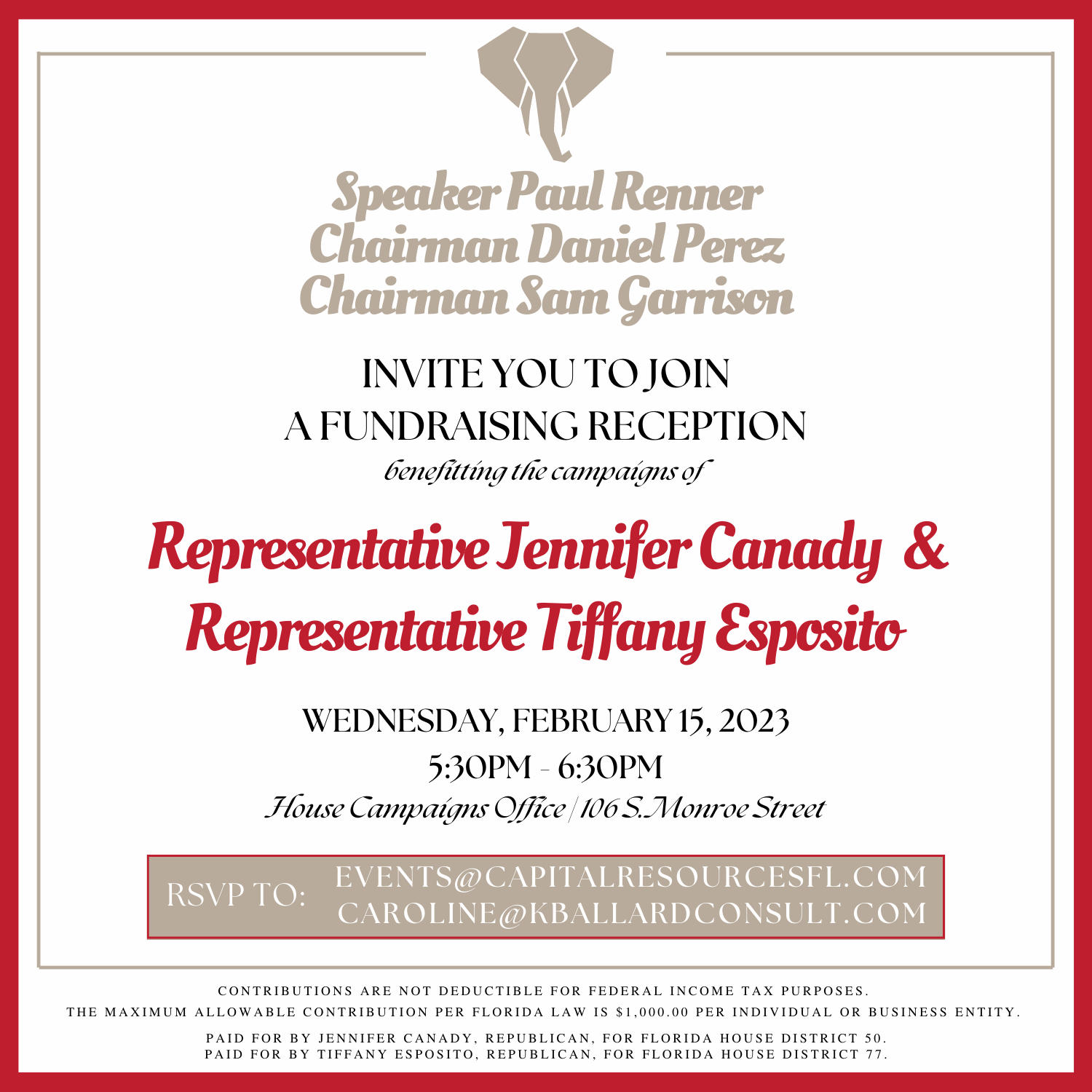 Feb. 20: Rep. Shane Abbott
House leadership will help another freshman refill his coffers with a Feb. 20 fundraiser at the Governors Club.
The event will benefit DeFuniak Springs Rep. Abbott, who emerged from a contested Republican Primary to succeed former Rep. Brad Drake in Northwest Florida's House District 5.
Abbott, a pharmacist, has proved to be a prolific fundraiser — collecting more than $400,000 in campaign cash and another $200,000 through his committee Prescription for Florida's Prosperity ahead of his Primary win.
Those looking to swing by the event can send an RSVP to [email protected].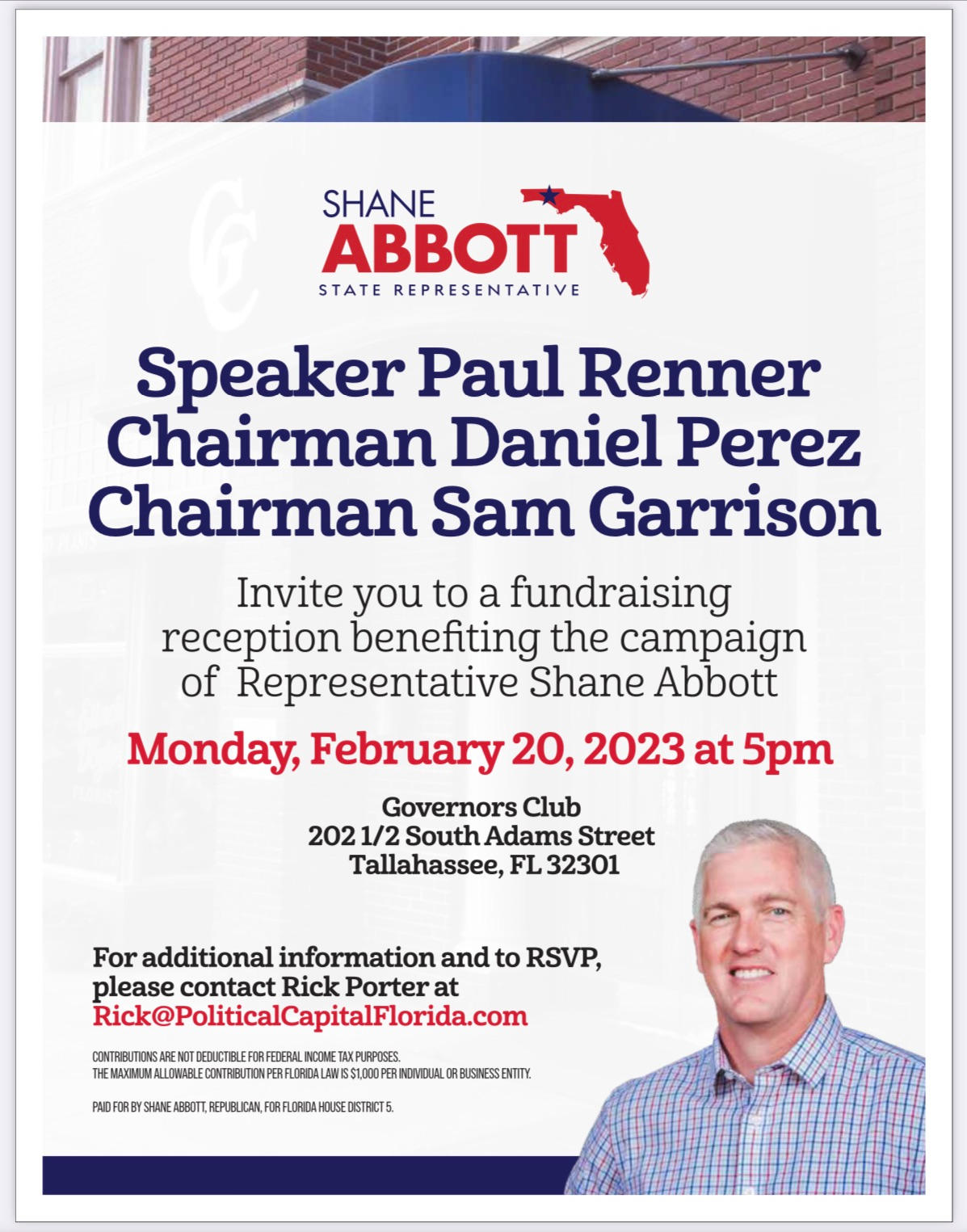 Feb. 20: Reps. Traci Koster, Lauren Melo and Dana Trabulsy
After the Abbott fundraiser, House leadership will zoom over to the House Campaigns Office hosting another three-for-one fundraiser at the House Campaigns Office at 5:30 p.m.
This time, the event will benefit a trio of GOP sophomores: Reps. Koster, Melo and Trabulsy.
Koster, of Tampa, represents Hillsborough County-based House District 66. The district has a Republican lean but is considered somewhat competitive. However, like most Republicans on the 2022 ballot, she ran up the score in November, winning her second term by 20 points.
Melo, who chairs the Postsecondary Education & Workforce Subcommittee, represents Hendry County and part of Collier, including Naples. She represents the decidedly Republican House District 82 and skated into a second term without facing an opponent in the General Election.
Education Quality Subcommittee Chair Trabulsy represents the new House District 84, which covers a part of St. Lucie County. She secured a second term in the House after earning 61% of the vote against Democratic challenger Forest Blanton.
RSVPs should be sent to [email protected].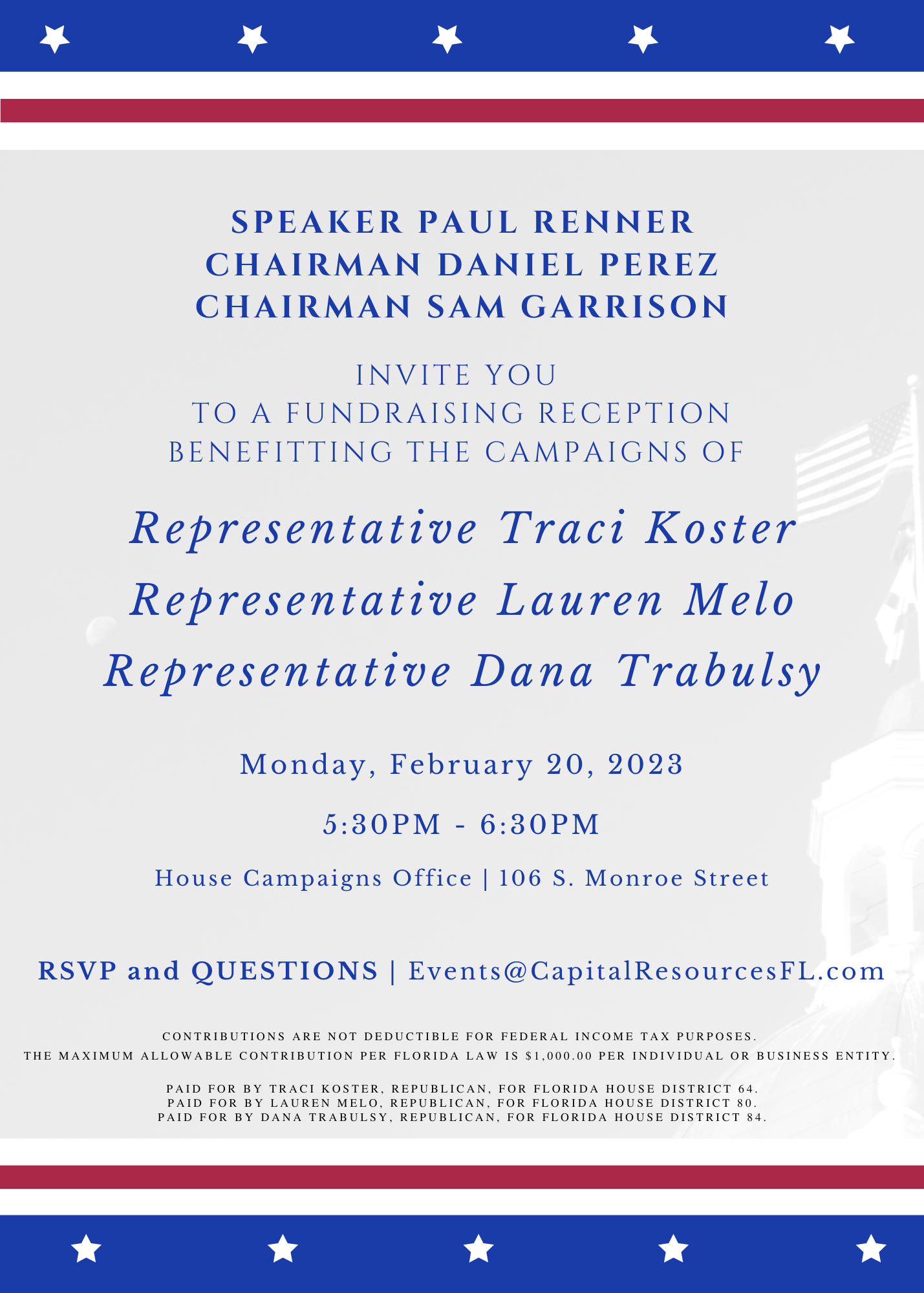 Feb. 21: Rep. Jeff Holcomb
Renner, Perez and Garrison will flex their fundraising might for another first-termer with a Feb. 21 event at the House Campaigns Office.
This time the beneficiary is Spring Hill Rep. Holcomb, who represents Hernando County and a part of Pasco in the new House District 53.
Holcomb won the election after walloping his Democratic opponent 70%-30% in November. He also ran up the score in August, when he cruised past Primary challenger Anthony Kocovic with nearly 83% of the vote.
Supporters can get in the door by sending an RSVP to [email protected].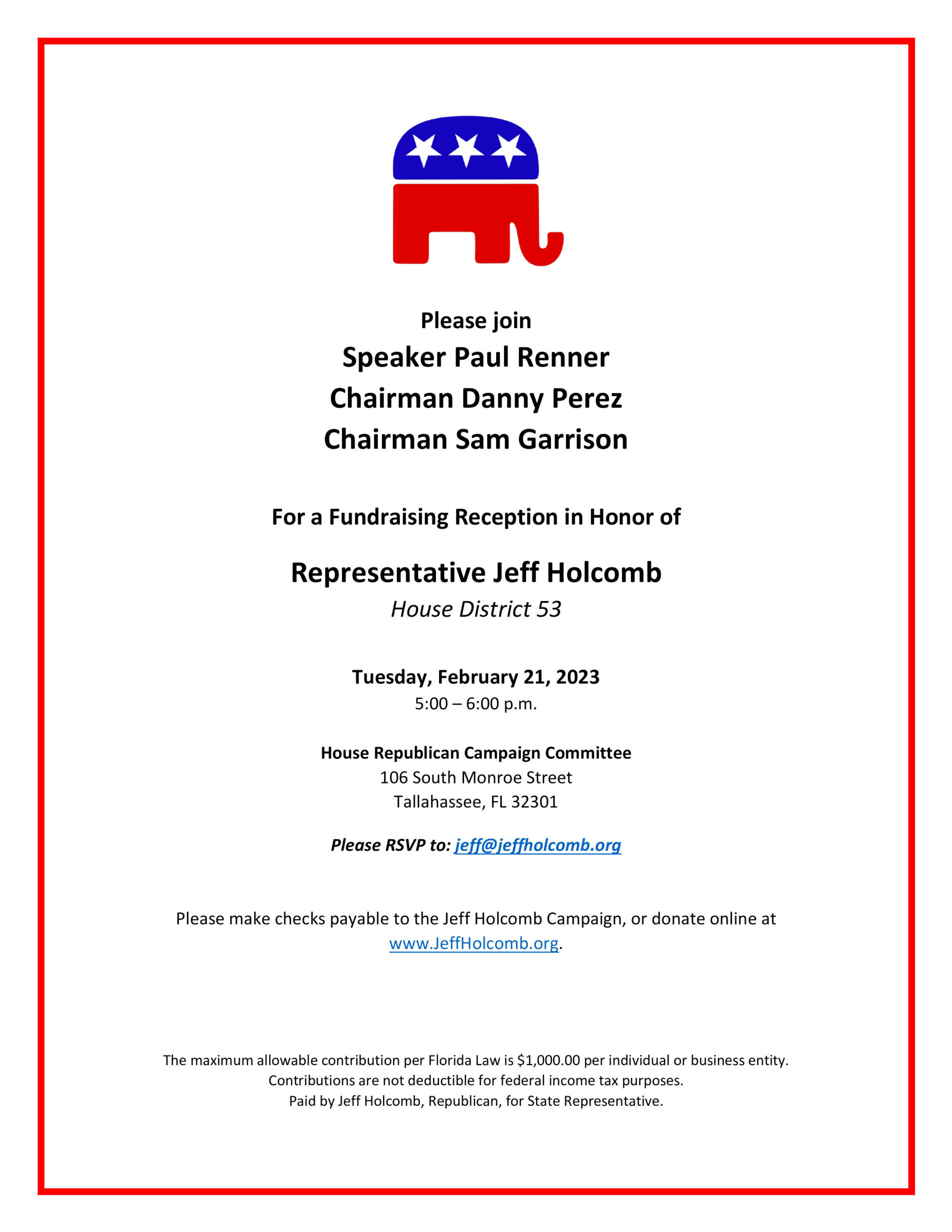 Feb. 22: Rep. Spencer Roach
The last item for your event calendar is a Feb. 22 fundraiser benefiting Rep. Roach.
Roach represents Southwest Florida's House District 76, which covers all of DeSoto County as well as portions of Charlotte and Lee counties. He was elected to his third term without opposition in the Primary or General Election.
Heading into the 2023 Legislative Session, the North Fort Myers Republican was named Chair of the Constitutional Rights, Rule of Law & Government Operations Subcommittee.
His fundraiser will be held in the Fountain Room at Andrew's Downtown, 228 S. Adams St., starting at 6 p.m.  Renner and Perez are listed at the top of the event invite.
RSVPs should be sent to [email protected].