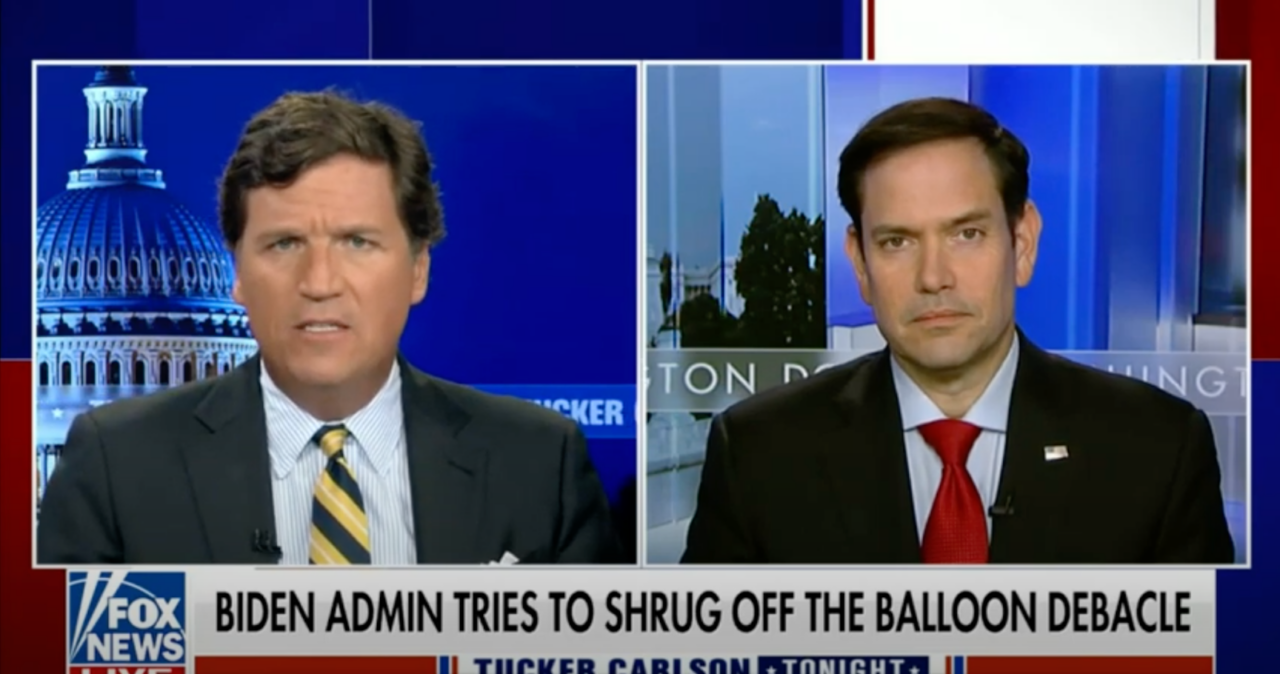 "Now they're scrambling for answers and to deflect blame."
The Chinese Spy Balloon was popped this weekend, but Sen. Marco Rubio and Tucker Carlson spent some time Monday bursting a narrative in its wake.
The Florida Senator and the conservative talk show host devoted part of the A-Block of Carlson's Monday show to lancing a new retroactive justification from the Joe Biden administration, which now contends that similar airborne devices also floated skyward over the United States during the Donald Trump era, a story the former President denies.
Cued up by a Carlson introductory monologue, the Florida Senator rebutted the presumption that spy balloons of the sort that captivated the American viewing public last weekend were simply business as usual, unnoticed until now.
"The notion that somehow this has been happening all along, it's just not true. People were spotting this thing with a naked eye. They were seeing it, they were calling in. They had to warn people in South Carolina not to try to shoot it down on their own, because it was visible to people," Rubio told Carlson.
The White House, Rubio added, was "just being dishonest, for no reason." Then he gave a reason.
"The reason is I think they were caught off guard and did not respond appropriately. Now they're scrambling for answers and to deflect blame."
Carlson expressed concern over the "disfigurement" of the Pentagon, saying that while he "always admired the U.S. military," it was "very discouraging to watch" it become a "political instrument" for the Biden administration.
"It's also in many cases, as you've pointed out, these unnamed sources that go off the record and leak out these little pieces of information," Rubio related, offering quotes elided from his office's transcript of the segment.
"So we don't know if they're political appointees or civilians or someone just trying to climb up the chain of command and be promoted."
The Senator then pivoted to more familiar discussions of how China was sending a message that the U.S. was a "hollow superpower" because Beijing "felt bold enough to fly this thing entering over Idaho, through Montana, the Midwest of the United States."