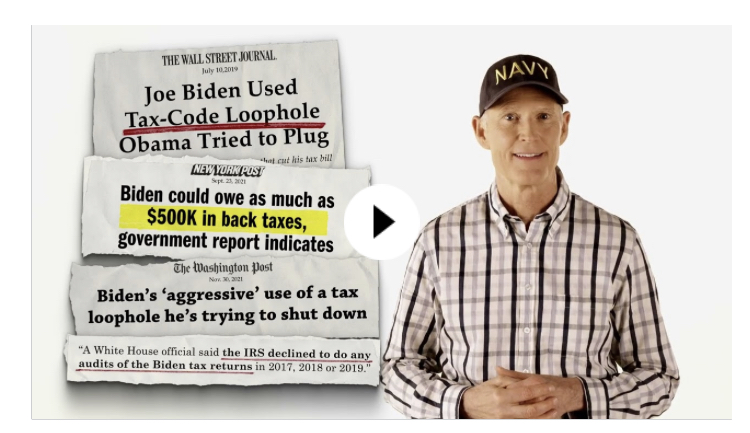 This ad mirrors another Scott ran last year.
It appears to be rerun season in Rick Scott's world.
The Senator's political operation is rolling out an ad this week to welcome President Joe Biden to Florida, one much like another that has been seen before, when Biden visited Florida in November.
The new spot is timed to hit Biden's Tampa visit this week.
The 30-second ad features first-person narration from Scott, as he again wears his trademark Navy cap and a plaid shirt as he blasts the President for what he deems questionable ethics in a harangue that raises questions of its own.
"Joe Biden just cut $280 billion from Medicare, and we know about his 80,000 new IRS agents. What you don't know is that Joe Biden also cheated on his taxes, and got away with it," Scott claims.
The Senator is reviving an old Republican complaint about Biden routing income through S corporations to limit his personal tax exposure, and is repeating a documented falsehood about a Democratic vote that did not cut benefits but allowed for negotiation with pharmaceutical companies.
Scott would go on to describe Biden's tax strategy as "improperly used a loophole to dodge half a million of dollars that should have gone to Medicare."
"Now that Biden has ripped off Medicare for half a million dollars, he wants to close the loophole and raise your taxes," Scott said, urging the President to "resign."
This ad is the latest salvo in an ongoing war between Scott and Biden, which was revived during Tuesday's State of the Union, when Biden alluded to Republican who wanted to cut Social Security and Medicare. Scott contends that is a misrepresentation of his "12-point plan to Rescue America," which advocated for periodic "review" of entitlement programs.
The ad is essentially the same as the November spot, illustrating the static nature of the argument, with Republicans again distancing themselves from the proposal last night as Biden suggested "some Republicans" wanted it and he was happy to give them a copy of Scott's plan.
There are ironies in Scott making an ad blasting a Biden financial decision that may seem esoteric for most. Currently the richest man in the Senate, Scott's "blind trust" was a matter of intense speculation when Scott was Governor. Disclosure of what was in it in 2018 left many questions unanswered.
Likewise, Scott's tenure as head of Columbia/HCA, which led to a $1.7 billion fine for the company overcharging Medicare, adds another layer of irony to his message here.
.@JoeBiden once again lies about Republicans trying to cut Social Security and Medicare.

Here is my ad running tomorrow to welcome Joe to FL – he is a tax cheat and needs to resign. pic.twitter.com/9AdblW008W

— Rick Scott (@ScottforFlorida) February 8, 2023