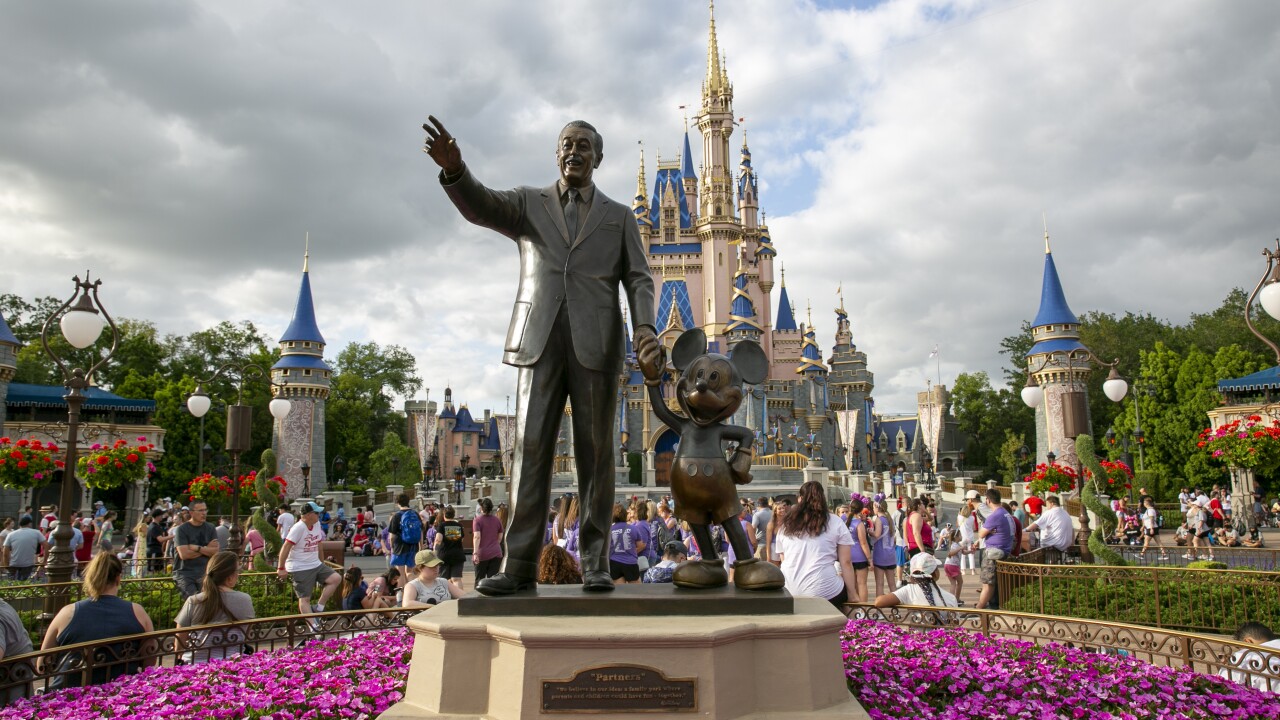 'We're taking one problematic swamp and we're creating another swamp by allowing for one person to appoint all five positions.'
A bill reshaping Disney World government's board passed through a House committee despite some lawmakers expressing concerns that the Governor has the power to appoint all its members.
Critics argue it could create a situation ripe for corruption and leave Central Floridians without any say.
Lawmakers are considering whether to seize control over Reedy Creek Improvement District's board of supervisors by allowing Gov. Ron DeSantis to pick the five members.
Legislators already voted last year to dissolve Reedy Creek by June 2023. The bill filed Monday changes the deadline and gives Reedy Creek two years to transition into a new board called the Central Florida Tourism Oversight District.
Reedy Creek is a government like no other. Covering 25,000 acres in Orange and Osceola Counties — virtually all of it owned by Disney — Reedy Creek essentially handles the services a municipal government does like building roads and utilities or providing emergency fire protection.
Reedy Creek also has the power to issue bonds. The bill says renaming Reedy Creek won't affect its more than $1 billion in debt so local taxpayers wouldn't be on the hook, said Rep. Fred Hawkins, the bill's sponsor.
Hawkins argued his bill puts Disney on an "equal playing field" with its competitors as he spoke during Wednesday's House State Affairs committee. 
"It takes away any special advantages that they once had for the past 50 years or more," the Republican from St. Cloud said about the government board handpicked by Disney.
Rep. Anna Eskamani pushed back and argued under the bill, Disney still keeps its tax benefits, like not having to pay impact fees on construction projects and issuing tax-free bonds.
"Disney still maintains the same perks they did before," the Orlando Democrat said, calling the bill only "cosmetic changes."
Furthermore, Eskamani expressed concerns about DeSantis potentially picking his friends to serve on the board.
"There's clear consensus that the original board makeup of Reedy Creek was very problematic," Eskamani said. "We're taking one problematic swamp and we're creating another swamp by allowing for one person to appoint all five positions."
Eskamani unsuccessfully tried to amend the bill to expand the board from five members to seven and automatically include the mayors of Kissimmee, Orlando and Orange County as well as the chair of Osceola County Board of Commissioners.
Eskamani said she wants a new Reedy Creek board that mixes appointees with elected officials from Central Florida in order to give local residents a voice. She pointed out a similar make up on the Greater Orlando Aviation Authority which has oversight of the Orlando International Airport.
Another failed Eskamani amendment pushed to rename Reedy Creek's board as "Florida's Attempt to Silence Critical and Independent Speech and Thought" — an acronym that spells out fascist.
Republicans' fight with Disney began last year after the Walt Disney Company spoke out against Florida's controversial "Don't Say Gay" bill which was ultimately passed into law. 
"This is an attempt to silence critical, independent speech and thought in Florida. And we've already seen a chilling effect of businesses across the state and across the country," Eskamani said Wednesday. "I just don't think it's Democratic. I think it's anti-freedom."
Hawkins' HB 9-B also eliminates Reedy Creek's ability to exercise eminent domain and to build a nuclear power plant.
Hawkins acknowledged Disney's government has never actually sought to move forward on a nuclear power plant, a power given to them in a 1967 state law. Reedy Creek used eminent domain to take over a grove once in the late 1960s or early 1970s, Hawkins said.
"This corporation can eminent domain anywhere currently under the current rules anywhere in the state. They could go from Orange County to Ocala currently if they wished," Hawkins said.
No one from Disney World or Reedy Creek spoke Wednesday although a Reedy Creek Fire Department representative spoke in support of Hawkins' bill. Reedy Creek firefighters have feuded with district leaders for years and have publicly supported DeSantis' changes.