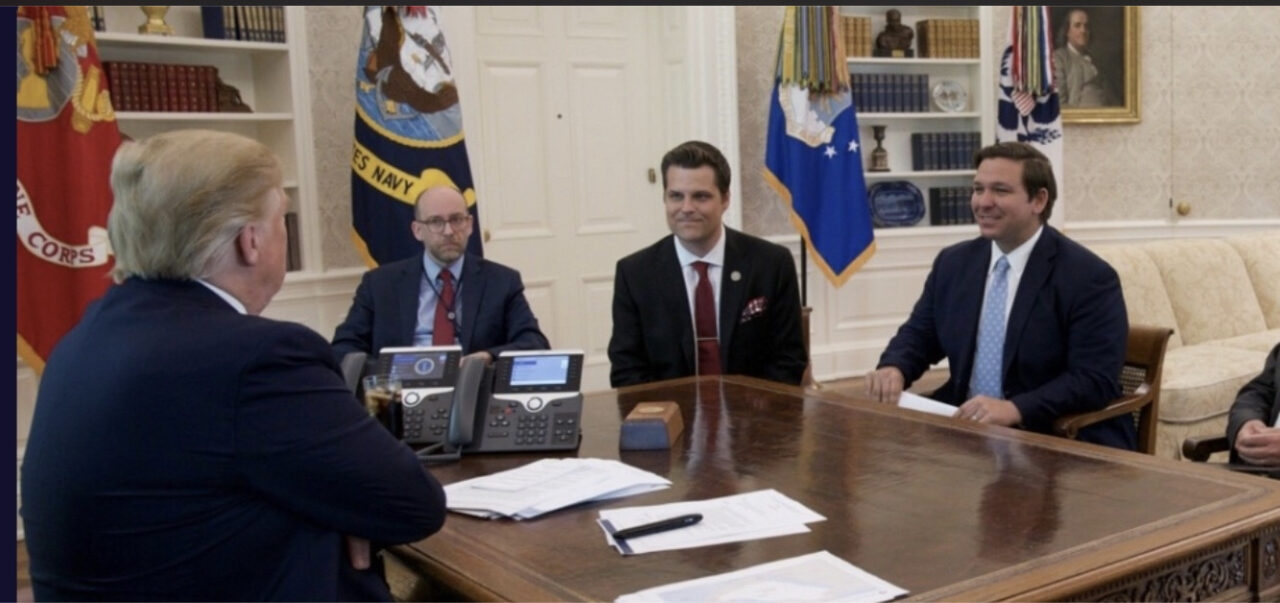 'America's Governor' was once all smiles around the former President.
Former President Donald Trump continued his one-sided war with Ron DeSantis Friday evening on Truth Social.
Captioning a picture including DeSantis, Rep. Matt Gaetz, and other Republican politicians, the President asked a seemingly rhetorical question about the grinning DeSantis: "Who is that in the blue tie being so nice to the President of the United States while in the Oval Office?"
The Friday night flashback offers the latest reminder of Trump's belief that the "disloyal" DeSantis curried his favor to get an endorsement and electoral help in 2018's campaigns against Adam Putnam and Andrew Gillum, leveraging the relationship to the Governor's Mansion.
The seemingly gentle ribbing in that post offers a contrast to sharper attacks on the same platform in recent days, other posts from Trump on Truth Social that included the amplification of allegations that the Governor was "grooming high school girls with alcohol" during his short-lived, pre-politics stint as a college preparatory academy teacher.
Trump had taken nearly a week off from attacks on DeSantis, with the last barrage being at the beginning of February, when he took to his Truth Social account to whack DeSantis as a "globalist" and a "RINO" (Republican in name only).
Prior to that, Trump posted a video of then-Congressman DeSantis citing former House Speaker Paul Ryan as a model, continuing a stream of invective on the so-called "globalist" Governor.
DeSantis has struggled to respond in kind, taking the high road, an approach praised by supporters in the conservative online intelligentsia.
"So here's what I'd say about all of that. I get that you guys want the controversy," DeSantis said during a press conference earlier this week. "I'd also just say this. I spend my time delivering results for the people of Florida and fighting against Joe Biden. That's how I spend my time. I don't spend my time trying to smear other Republicans."
What's clear is that despite DeSantis' attempts to deflect, the former President continues to deliver receipts from when the then-Congressman sought his blessing.
"There were tears coming down from his eyes," Trump recently told Hugh Hewitt, recounting yet again DeSantis' emotional appeal for support.