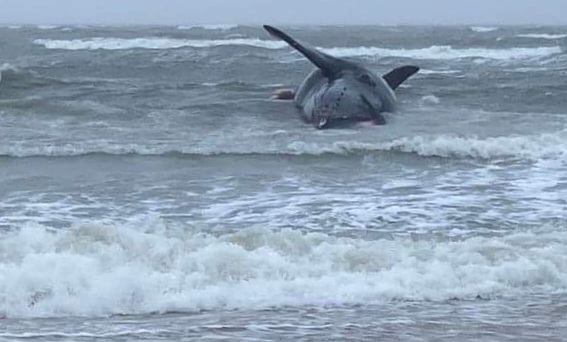 Advocates have been pushing the federal government to act to save the species.
A whale on the beach demands attention, and so attention is being paid to the latest North Atlantic right whale found dead or maimed this year, this time on the Virginia coast.
Right whales transit the Atlantic Coast each year as they swim from feeding grounds off New England and Canada to give birth in the warmer waters off Northeast Florida and Southeast Georgia. It's a perilous journey, in which whales have to contend with heavy ropes from lobster and crab gear, along with busy marine traffic that includes chances of deadly ship strikes.
Scientists believe every North Atlantic right whale death the past 50 years is from human activity.
There are an estimated fewer than 340 right whales in existence and fewer than 70 calving females. A so-far six-year "unusual mortality event" is ongoing, with the species on a trajectory to extinction.
NOAA Fisheries had yet to update their website on the situation Tuesday morning, but a federal official told local reporters Monday that the dead whale was indeed a right whale, though it's unknown how it came to be that way. A necropsy is underway.
Advocates have been pushing the federal government to act to save the species, but any new regulations are six years out, thanks to a deal cut between the New England lobster and crab industry and their allies in Congress in a recent spending package. The Joe Biden administration also recently refused to get involved in an emergency rule-making request from conservation groups.
"Oceana calls on NOAA to quickly release a detailed analysis of this whale's cause of death and take necessary steps to prevent future deaths of this critically endangered species," said Gib Brogan, campaign director for the United States.
"We do not have strong enough protections in place to prevent human-caused threats of ship strikes and entanglements in fishing gear. In December, Oceana submitted an emergency request to protect these vulnerable whales, and our request was rejected. NOAA is not doing enough to prevent deaths like these."
Observers discovered a dead right whale calf in North Carolina this year, but thus far scientists have not discovered exactly what happened.
Scientists believe, from still photos and video, that the calf was around a couple of weeks old, underweight and in poor health. Calves nurse on their mothers on the trip from calving grounds off Florida and Georgia back north to New England and Canada. Without its mother around, the calf wasn't going to live long.
There need to be around 50 calves born each year to stabilize the population, but calf births are barely reaching half that in recent years, with fewer than 20 so far this year.