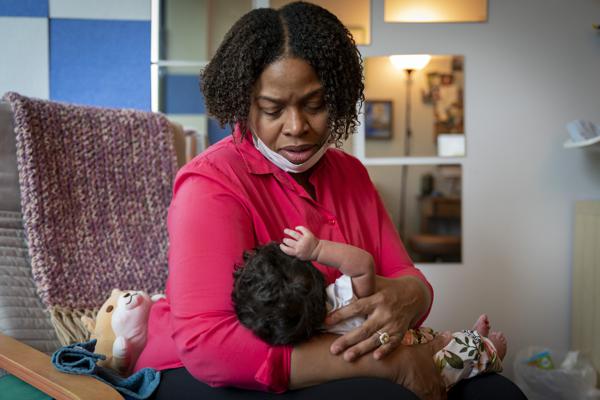 There are some exceptions.
Freshman Democratic Rep. Ashley Gantt of Miami is enjoying some early success with her first piece of state legislation, a bill to mandate lactation spaces in courthouses for members of the public.
The House Civil Justice Subcommittee unanimously advanced Gantt's bill (HB 87), which would require courthouses throughout Florida to have lactation spaces by Jan. 1, 2024.
"This legislation prioritizes the health and welfare of Florida working families and recognizes the health, economic impact and contribution of working mothers," Gantt said.
"By providing breastfeeding mothers a clean and safe space, lactation rooms remove a barrier for women returning to the workplace."
HB 87 and its Senate counterpart (SB 144), filed by Boynton Beach Democrat Lori Berman, would require the lactation spaces to be shielded from public view, free from intrusion while occupied and have at least one electrical outlet.
Courthouses may be exempted from having to offer lactation rooms if doing so requires new construction, providing such space cannot be done at a "reasonable cost" or if there's no available space to be repurposed.
Private or state-appropriated funding may be used to provide lactation spaces at courthouses.
A lawyer who won her House seat in August, Gantt said she's heard for years about the lack of private space in judicial buildings made available to nursing mothers. That deficiency has been an issue the Florida Association of Women Lawyers — which offers lactation space grants — has taken up for years.
Gantt said her legislation is also in line with recently passed federal legislation like the PUMP for Nursing Mothers Act, which among other things provides lactation spaces in the workplace and at large and medium-sized airports.
"I've volunteered with voluntary Bar organizations, and every year we heard a story from either an attorney, court staff or someone who was at the courthouse who needed to nurse or pump and are brought to tears because they didn't have that private space," she said.
"They have to go to their car or leave the courthouse in general. So, this bill is very important to support families, working mothers, and it has an economic value, where we can have qualified employees to do jobs, and they don't have to choose between providing for their family or going to work."
Several advocacy groups signaled support for the measure, including the Florida National Association for Women, Florida Association of Criminal Defense Lawyers, National Latina Institute for Reproductive Justice, Democratic Women's Club and Florida Association of Women Lawyers.
The bill also earned a lot of praise from the committee dais. Sarasota Republican Rep. Fiona McFarland commended Gantt for pursuing a change that will impact her directly.
"As a mother who is on track to have three babies in three and a half years, and I have jury duty upcoming in July in Sarasota, where it will be very hot, I am glad that I won't have to pump in my car," she said. "I have a personal stake in it."
Rick Roth called it a "good, common-sense bill." Kristen Arrington, Darry Campbell, Patt Maney and Toby Overdorf expressed similar opinions.
Tyler Sirois, a Merritt Island Republican, embellished his encouragement with a pun.
"Great bill, congratulations. I hope you keep the committee members abreast of its progress throughout the process," he said.
To that, Will Robinson, the committee Chair, said, "I wish bad jokes were against the rules. They aren't."