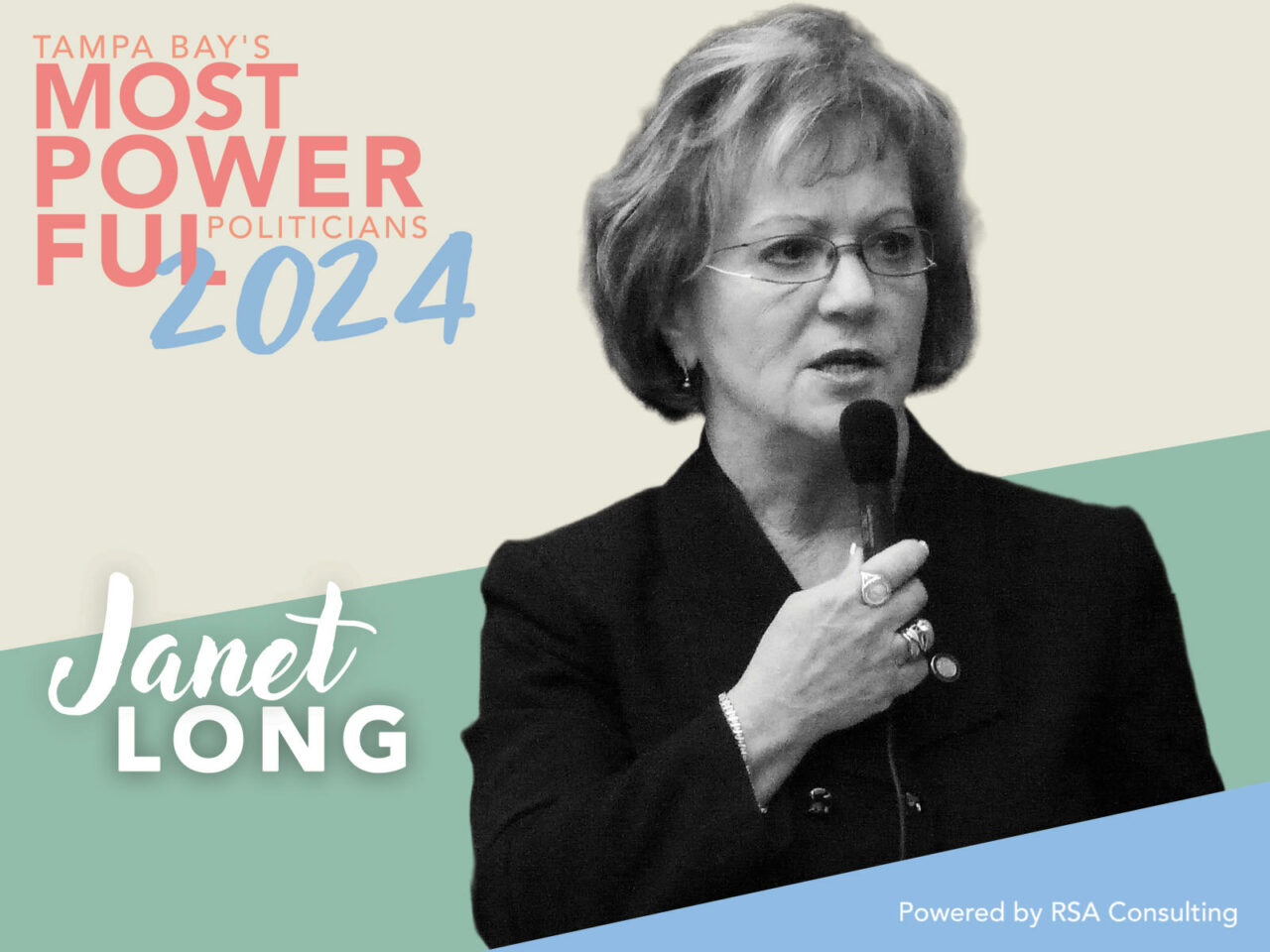 She'll wage whatever battles are ahead as Chair of the County Commission, despite a new Republican majority.
Pinellas County Commissioner Janet Long has jumped a whopping 10 spots from last year's rankings. In 2022, she barely made the cut at No. 24, a backslide from the previous year, when she landed at No. 19.
Then, it looked like Long's influence in the community might be waning. She was not far off a bruising campaign trail that saw the Democrat narrowly win re-election in 2020 against a hard-right Republican, Larry Ahern. We know now that was foreshadowing what was to come in 2022, when Long's Democratic colleague, Pat Gerard, lost her seat to a Republican in a red wave that flooded the state.
Now though, Long is looking less at the near misses of the past, and more toward the future. She's not expected to seek re-election in 2024, so in these likely final years in office, there's not much to lose.
And she'll wage whatever battles are ahead as Chair of the County Commission, despite a new Republican majority. While that position adds inherent power to a Commissioner's status — she'll run meetings and work closely with the County Administrator and staff — she's already faced some pushback resulting from the partisan shift.
As Commission Chair, Long made recommendations for which boards members would sit. She tapped herself for the Pinellas Suncoast Transit Authority Board (PSTA), on which she's served before, but was poo-pooed when Commissioners instead opted to send new Commissioner Brian Scott to the PSTA. He owns a charter bus company, after all. 
But in a show of earned respect, the Commission approved the rest of her recommendations. 
Outside boardroom politics, Long has also been a strong advocate for various community services, including most recently the launch of a free mental health program for first responders, called Mental Health for Heroes. Long partnered with Pinellas County Sheriff Bob Gualtieri to bring the program online. As of its launch in September, it had already served 170 first responders.
"Janet Long is a thoughtful, pragmatic leader with years of experience. She views issues through the lens of how they will impact our kids and grandkids and that approach has resulted in positive decisions that will benefit future generations of Pinellas County residents. Her latest endeavor was helping to form Mental Health For Heroes, a nonprofit aimed at providing free counseling and other mental health services to our first responders," said communications consultant Preston Rudie, who has worked with Long.
"Bottom line, Janet Long cares about her community and her actions reflect that."
Behind the scenes, Long will likely maintain at least some interest in the Commission's future, perhaps keeping an eye on who might succeed her in office should she indeed not seek re-election.
Whoever that is will have big shoes to fill … and a tough campaign trail. With an expected Long departure, Republicans are eyeing the seat to further solidify, and possibly expand, their new majority. 
Methodology
We define the Tampa Bay region as Pinellas, Hillsborough and Pasco, but can also include Hernando, Polk or Sarasota — if the politicians from those counties impact either Pinellas or Hillsborough.
We define a politician as being in office or running for office.
Being first on a panelist's list earns the politician 25 points, second earns them 24 points and so on, to where being listed 25th earns a politician one point. Points are added and, voilà, we have a list.
Special thanks go to our experienced and knowledgeable panelists, who were essential to developing the 2023 list: Christina Barker of the Vinik Family Office, Ashley Bauman of Mercury, Ed Briggs of RSA Consulting, political consultant Maya Brown, Ricky Butler of the Pinellas Co. Sheriff's Office, Reggie Cardozo of The Public Square, Ronald Christaldi of Schumaker, Barry Edwards, Joe Farrell of Pinellas Realtors, pollster Matt Florell of Vicidial Group, Shawn Foster of Sunrise Consulting Group, Adam Giery of Strategos Group, political consultant Max Goodman, Mike Griffin of Savills, Todd Josko of Ballard Partners, Natalie King of RSA Consulting, political consultant Benjamin Kirby, Merritt Martin of Moffitt Cancer Center, Mike Moore of The Southern Group, Ron Pierce of RSA Consulting, J.C. Pritchett, pastor of St. Pete's Faith Church, Darren Richards of Tucker/Hall, Preston Rudie of Catalyst Communications Group, Amanda Stewart of Johnston and Stewart, Bemetra Simmons of the Tampa Bay Partnership, Alan Suskey of Shumaker Advisors and communications consultant Janelle Irwin Taylor. With Michelle and Peter Schorsch.