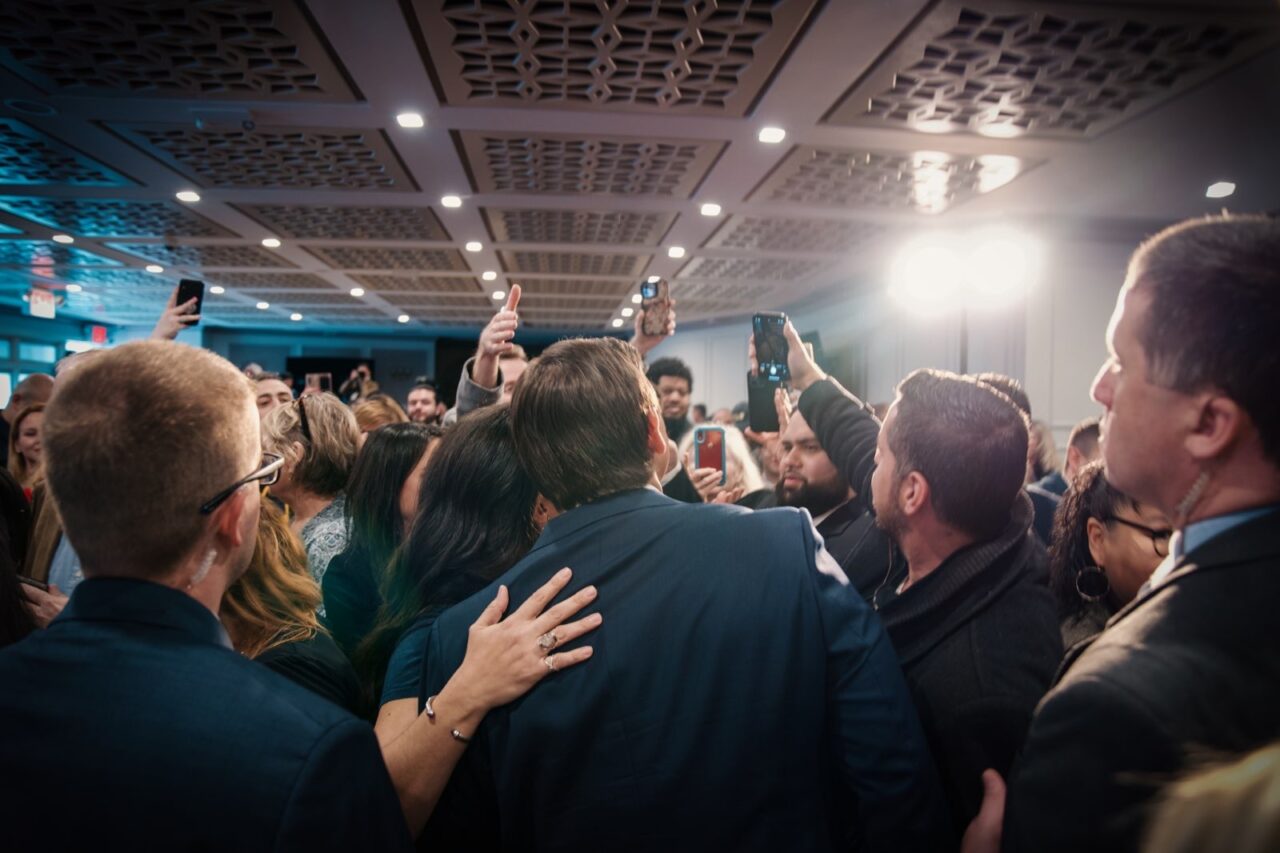 Ron DeSantis comes home to tout his new book.
On Thursday morning, Gov. Ron DeSantis makes a return home to Ponte Vedra Beach — with his new book in tow.
The Governor will be signing his just-released volume The Courage to be Free at 11 a.m. at the Books-A-Million just over the county line from Duval. Assuming you don't have a day job, there's likely no more pressing engagement for DeSantis enthusiasts.
Reviews have been mixed, unsurprisingly.
The New York Times wouldn't be expected to give the book a strong review, but the write-up from Jennifer Szalai leads with an indictment of the book's clichéd framing. Comparing the book to a "politician's memoir written by ChatGPT," the Times reviewer noted the book failed in its fundamental mission to introduce DeSantis ahead of a 2024 run.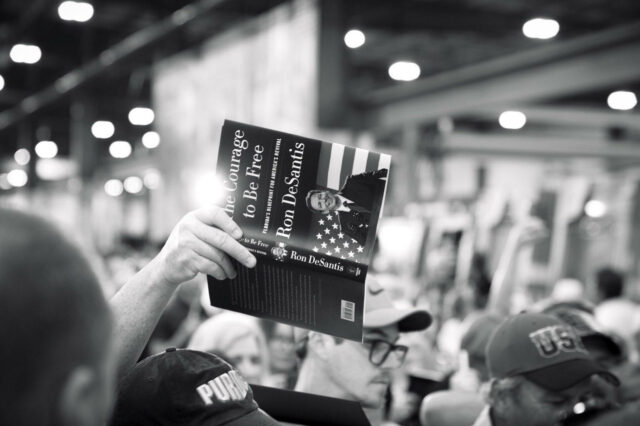 "As governor of Florida, Ron DeSantis has been casting himself as a (Donald) Trump-like pugilist. But the overall sense you get from reading his new memoir is that of the mechanical try-hard — someone who has expended a lot of effort studying which way the wind is blowing in the Republican Party and is learning how to comport himself accordingly," Szalai wrote.
(Asked about the Chat GPT dig in a recent interview, DeSantis denied that anyone drafted the book for him after Brian Kilmeade explained exactly what Chat GPT is to the Governor.)
The Guardian write-up by Lloyd Green said "The Courage to be Free" isn't particularly courageous at all:
"On the page, the Florida Governor doesn't show much courage about the man he must beat to be the Republican nominee."
For a review from a reporter who has covered DeSantis since his days in Congress, consider the one from our own A.G. Gancarski, the first review by any in-state reporter.
It goes in-depth into what's in the book … and what's not.
DeSantis represented Ponte Vedra Beach for four years in Congress, before moving downstate after redistricting and then running for Governor. He voted for himself in Ponte Vedra before the 2018 election, and all expectations are he will get a hero's welcome — and probably a sore hand — at the St. Johns County autograph session grip and grin.
History honored
A classroom instructor and a fifth grader from Duval County were among recent honorees by Gov. Ron DeSantis in last month's Black History Month celebration.
Mrs. Cleon Edwards teaches eighth graders at the Joseph Stilwell Academy of Military Leadership on Jacksonville's Westside, and she took a multimedia approach to education that got the attention of the executive branch, winning one of four Excellence in Education awards this year.
"Ms. Edwards teaches eighth grade students and leads the military leadership program at her school. She is described as a role model for her students and to celebrate Black History Month, she encouraged her students to learn about influential or lesser-known African Americans throughout history and create a poster about them," read a release from the Governor's Office.
Also honored for an essay on former Sheriff Nat Glover was fifth grader Taige Edwards, a student at the Richard Lewis Brown Gifted and Academically Talented Academy.
Friday, Gov. DeSantis hosted teachers to celebrate #BlackHistoryMonth and announce the winners of the educator contests.

Congrats to our winning educator, Ms. Edwards, at Joseph Stilwell, for encouraging students to learn about influential or lesser-known African Americans. pic.twitter.com/GGDynFdVH9

— DCPS (@DuvalSchools) February 27, 2023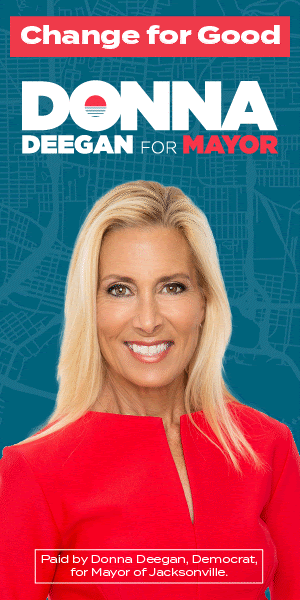 Fast Cars and Mason Jars
This week, U.S. Rep. Aaron Bean went all-out for "Fast Cars and Mason Jars," the annual event sponsored by Tallahassee-based nonprofit Tree House.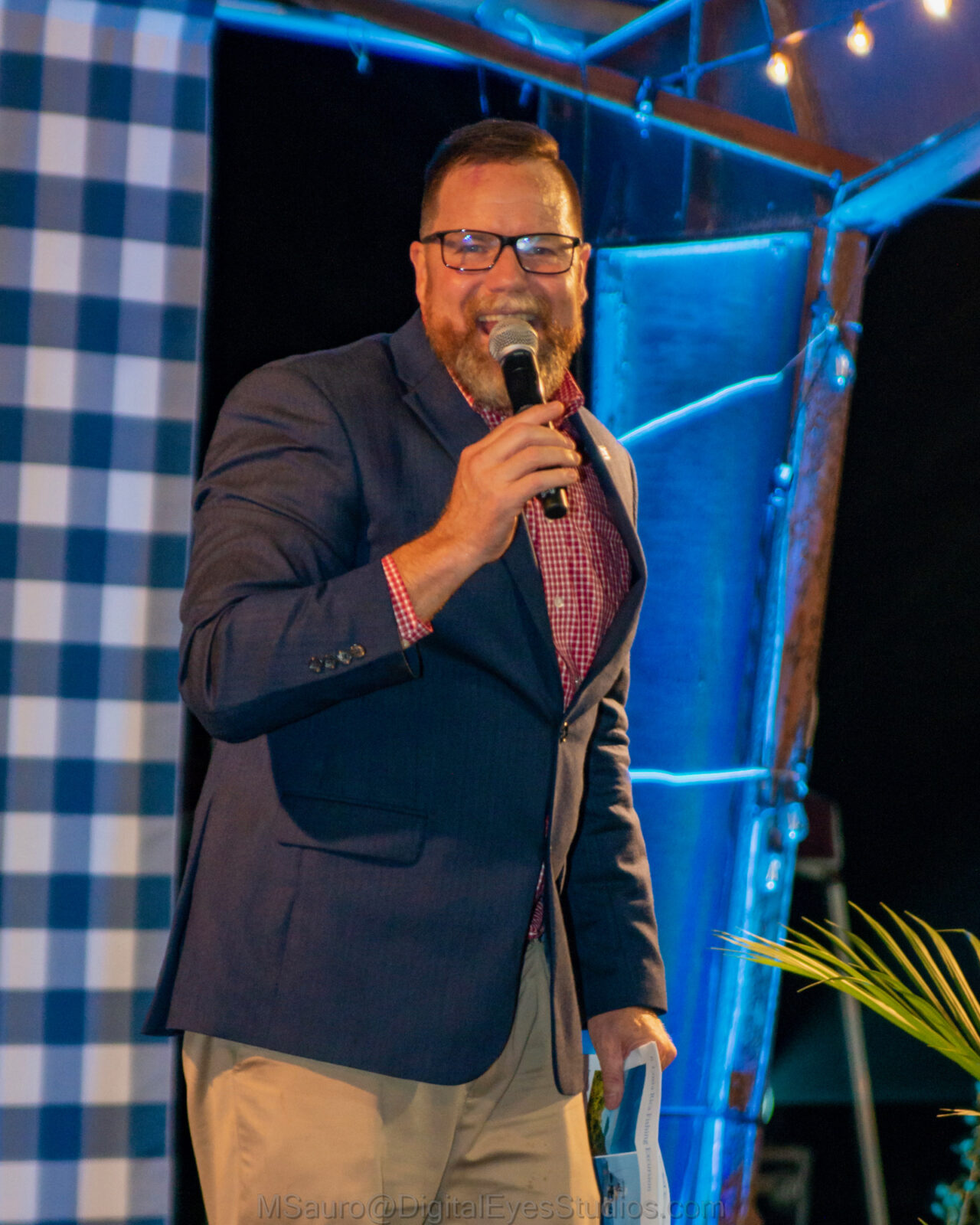 For more than 30 years, Tree House served thousands of children in Leon and surrounding counties with a safe home during times of crisis. As the only program of its kind in the state of Florida, Tree House is often the only place sibling groups can go to remain together, minimizing further disruption to their family.
Support for the Fast Cars and Mason Jars fundraiser helps Tree House conduct its mission of providing safe haven for children when they need it the most. Donations help support its homelike environment by providing necessary resources for home renovations and the purchase of food, toys, birthday gifts, back-to-school clothing and supplies.
"Congressman Bean is going to great lengths to make Fast Cars and Mason Jars a huge success for the children in Tallahassee and the surrounding counties," said Melanie Black, Tree House Board member. "Thanks to his efforts to reach our audience and his ability to personally connect to the crowd, this fundraiser continues to be a recording-breaking success year after year. Congressman Bean takes the event to the next level and this year we had the added bonus to watch his son, Mayor of Fernandina Beach, Bradley Bean, assist his dad and light up the stage with the usual contagious Bean energy. Tree House of Tallahassee is lucky to have Congressman Bean serve as our auctioneer as we strive to make meaningful impacts for these deserving children."
Encore
Three people from Northeast Florida are among DeSantis' most recent wave of reappointments to state boards.
Judge Adrian Soud, a Judge on the 5th District Court of Appeals, got another term on the State Council for Interstate Adult Offender Supervision. That Board of seven members deals with inmates and accused criminals being transferred to or from Florida from other areas.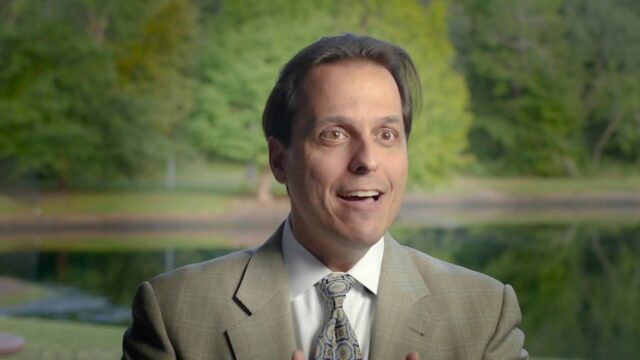 The Governor's Office notes that Soud previously served on the Fourth Judicial Circuit of Florida from 2009—2022 and was appointed in 2017 as the State Courts System's representative on the Commission for Florida Law Enforcement Accreditation. He got his law degree at Stetson and did his undergraduate work at the University of Florida.
DeSantis is also reappointing Kathy Panozzo and Scott Reagan to the Commercial Motor Vehicle Review Board. Jacksonville's Panozzo is the Director of Trailer Maintenance at Landstar. Reagan, a resident of St. Johns, who has a political science degree from the Citadel, is the Safety Director at Centurion Auto Transport.
All appointments are subject to Senate confirmation.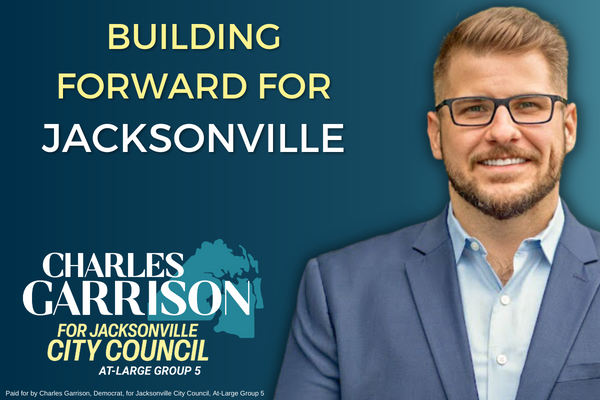 Double play
In a sign of where the race for Jacksonville Mayor stands a few weeks from Election Day, Daniel Davis' Building a Better Economy political committee is on the attack against Republican opponents Al Ferraro and LeAnna Gutierrez Cumber.
Perhaps in response to recent polling showing Ferraro outperforming his paltry fundraising, the Davis committee is attacking Ferraro more than Cumber these days.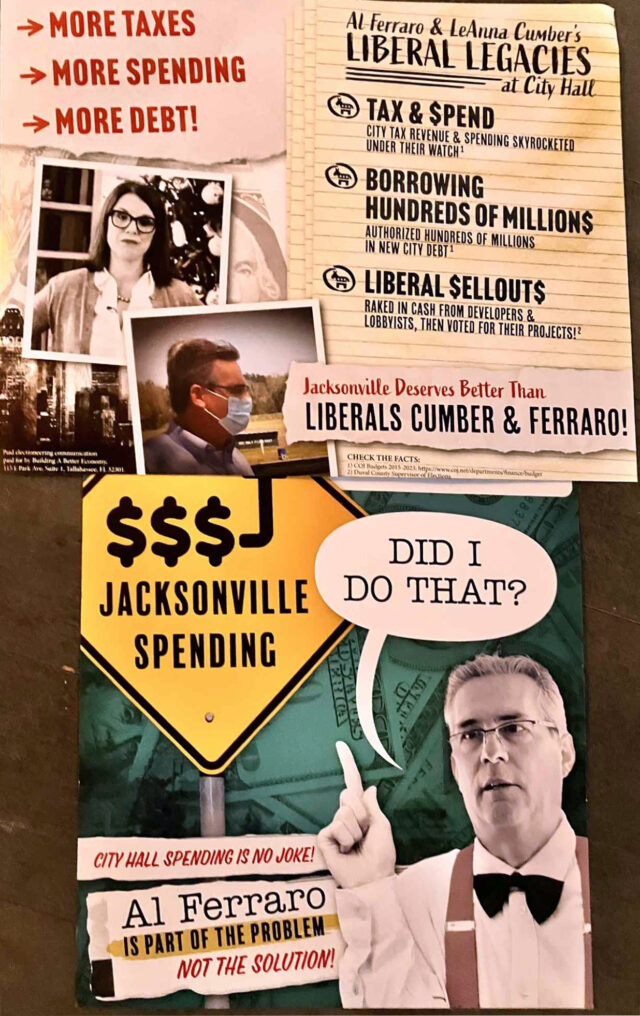 One mailer shows Ferraro as Urkel from the 90s sitcom "Family Matters," with a bow tie and suspenders and the caption "Did I do that?"
The mailer blames Ferraro, arguably the biggest social and fiscally conservative member of the Council, for "increased spending" and "new borrowing" that "ballooned local government" during his time on the City Council, where he made the mistake of voting for Mayor Lenny Curry's budgets.
A second mailer blames the "liberal legacies" of Cumber and Ferraro for "more taxes, more spending, more debt." The "liberal $ellout$ raked in cash from developers and lobbyists, then voted for their projects," the mailer claims.
For his part, Ferraro has his own positive mailpiece, spotlighting his "record of accomplishments," which includes votes against the JEA sale, the Lot J development, the Black Hammond Island Development and his commitment to "protect our historical monuments and markers."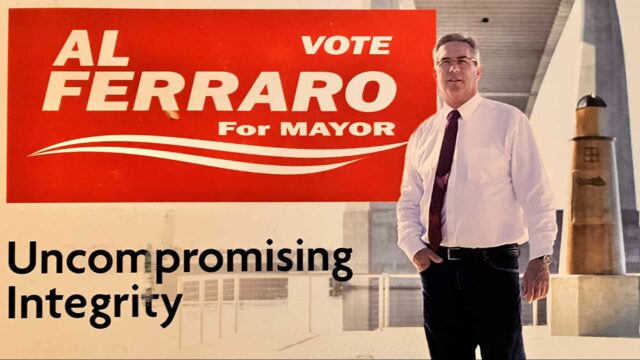 Bar rescue
All Jacksonville mayoral candidates except for Republican Davis will participate in a forum Thursday at noon held by the D.W. Perkins Bar Association.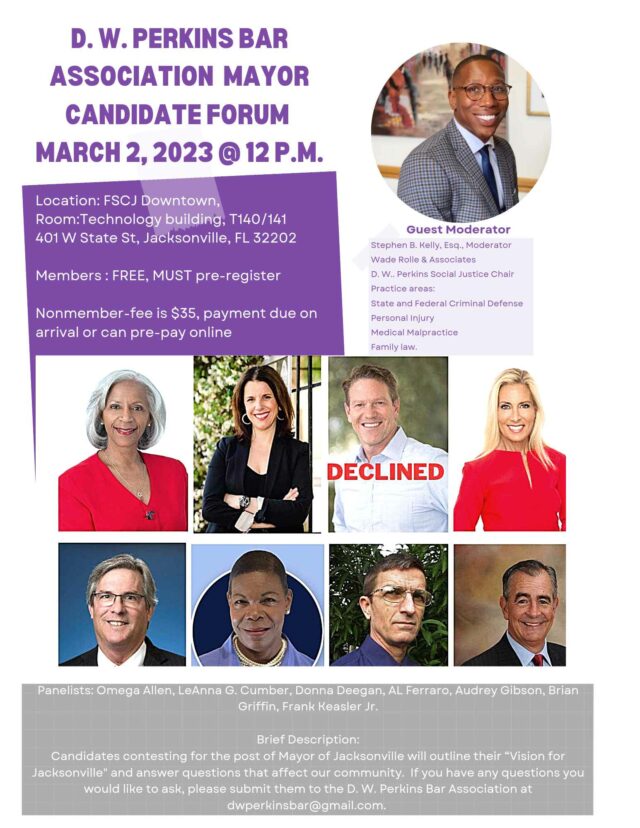 "Candidates contesting for the post of Mayor of Jacksonville will outline their 'Vision for Jacksonville' and answer questions that affect our community. If you have any questions you would like to ask, please submit them to the D.W. Perkins Bar Association at [email protected]. The forum will be moderated by our Social Justice chair Stephen Kelley, Esq," reads a release from the organization.
With less than two weeks to go before the March 21 "First Election," forums are nearly a daily occurrence, and candidates are picking their spots. An event held Monday night by the local NAACP saw no Republican mayoral candidates show up.
Expect, however, that all candidates will be at next Wednesday's televised debate on WJXT, to be moderated by Kent Justice, held, as usual, at Jacksonville University.
The uptick in activity comes as polling indicates a two-person race that won't end in March.
The latest survey from the University of North Florida Public Opinion Research Lab shows that while Democrat Donna Deegan is on track to be the leading candidate in the First Election on March 21, she will fall short of the 50.01% needed to win outright.
Deegan was the choice of 37% of those polled, with Republican Daniel Davis in second place with 20%. No other candidate was in double digits.
Republican City Council member Ferraro drew 8% support, Democrat Audrey Gibson pulled 7%, and Republican City Council member LeAnna Gutierrez Cumber drew just 5%. No-party candidate Omega Allen and Republican Frank Keasler each drew 1%, while 22% of respondents were still undecided.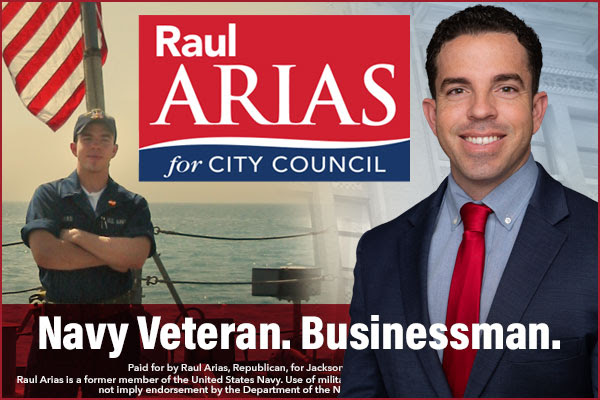 Court win
While Council member Cumber may be fifth in polling, she scored a key win Monday in the U.S. District Court's Middle District of Florida — Jacksonville Division.
Per a release from her campaign, she "applauded the landmark ruling from federal court to uphold her signature 2020 legislation on City Council to require those working in strip clubs to be at least 21 years old, in an effort to erode human trafficking avenues that feed from the adult entertainment industry. This landmark ruling will make Jacksonville the first city in the nation (only Louisiana has anything similar on the books) to protect young girls from those who recruit them from strip clubs or force them to work there."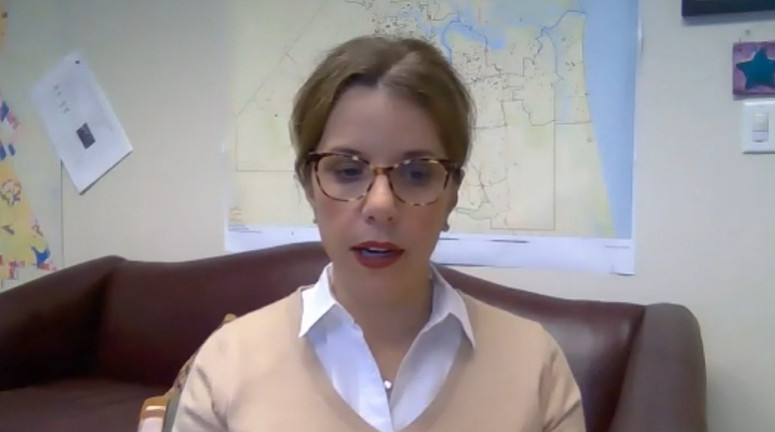 Cumber said: "Today is a great day for women and girls. The Federal District Court held that it recognizes a direct nexus between strip clubs and human trafficking and that children are most vulnerable to trafficking. By upholding my first-in-the-country landmark legislation passed in 2020 that raised the stripping age to 21 in all circumstances, the Court upheld the principle that there is a real governmental interest in protecting our children from being exploited at clubs. I am thrilled that the legislation I authored will change the lives of so many young girls here in Jacksonville and that the bill will be a model throughout the nation."
Waters' world
While several candidates face opposition later this month, Jacksonville's Sheriff T.K. Waters is not among them.
During an interview on "Fox and Friends" with Brian Kilmeade, who was doing a remote Tuesday in Ponte Vedra Beach, the sheriff talked about his success politically, winning "as a Republican in the inner city."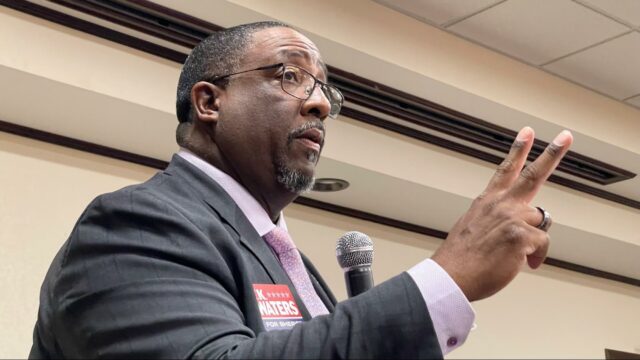 "People recognize experience," Waters said. "They recognize I'm an old-school policeman. I believe in law enforcement. I believe in taking care of our people. That message resonated with people."
Asked about "gang activity," Waters talked about the violence reduction strategy, which targeted young men committing crimes in the community.
He also lauded State Attorney Melissa Nelson as an "amazing" State Attorney, who helped that program with a "targeted prosecution unit."
Waters, Jacksonville's second elected Black sheriff, said he's a Republican because of his "core belief system" and because he "believe(s) in law and order."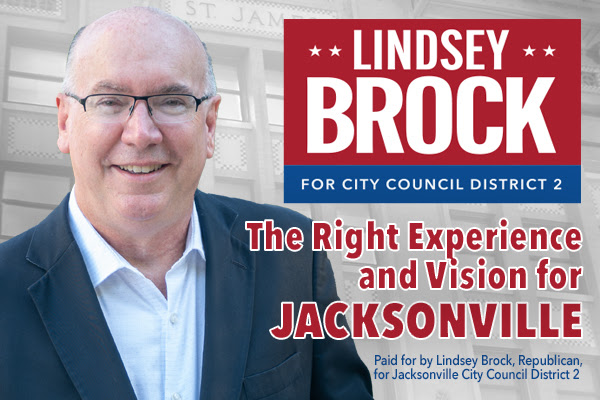 Author author
Jacksonville's first Black sheriff is headed to a bookstore near you.
Forefront Books and the Frederick Douglass Family Initiatives (FDFI) will publish Striving for Justice: A Black Sheriff in the Deep South by former Sheriff Nat Glover as part of its new joint publishing imprint, Frederick Douglass Books. The book will be pre-sold beginning on Juneteenth, underscoring Glover's unique historic role in the city.
Glover was sheriff decades ago and ran for Mayor in 2003, where he fell short against Republican John Peyton. His story is one the publishers expect will resonate.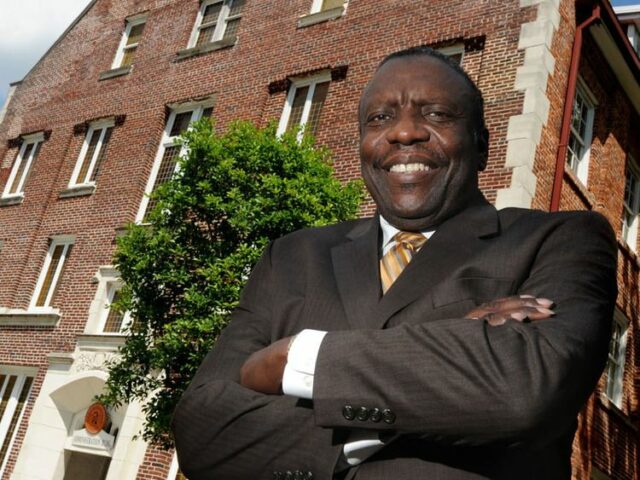 "The Frederick Douglass Family Initiatives is the perfect partner with no greater legacy on which to build," said Jonathan Merkh, president of Forefront Books. "We selected Mr. Glover's memoir because it aligns perfectly with Fredrick Douglass' lifetime efforts to cross tough racial and partisan divides and has meaningful dialogue for the greater good."
"After much thought and prayer and lots and lots of urging, I have decided to share my story in the form of a book," said Glover. "My memoir intends to build enough awareness and goodwill to also establish a significant endowment for need-based scholarships in our region through the Florida State College at Jacksonville Foundation and The Where They Will Shine Scholarship."
The ultimate publication date of Aug. 23 coincides with a brutal day in local history, and Glover says that's no coincidence.
"Ax Handle Saturday changed the direction of my life," said Glover. "It's significant that my story, which includes my experience on that day, brings attention to the terrible events that happened, which should never be forgotten."
Council confusion
While it's a certainty that Republicans will retain a strong majority on the Jacksonville City Council after the 2023 Elections, fresh polling from the University of North Florida's Public Opinion Research Lab says that the three at-large races could be a mixed bag for the GOP.
While City Council President Terrance Freeman has a 40% to 24% lead over Libertarian challenger Eric Parker, it's interesting that Democrats and NPA voters back Parker, by 21 points and eight points, respectively. Freeman, a Republican appointed to the Council by Rick Scott in 2018 and then elected the next year, has run a quiet campaign. Parker may be able to make inroads, but whether he can close the gap is another matter.
City Council VP Ron Salem faces an even closer race against Democrat Joshua Hicks, meanwhile. Salem is up 41% to 40% with both men around +70 with their own political parties. Hicks has a six-point lead with NPA voters.
Salem breezed to victory in 2019, but Hicks is keeping this one closer.
In the final AL race to replace term-limited Sam Newby, what's certain is a May runoff. 36% of those polled don't know who they are voting for, while Republican Chris Miller and Democrats Charles Garrison and Nahshon Nicks languish in the teens. Republican Reginald Blount, NPA Jack Meeks, and Libertarian Jerry "Tub" Rorabaugh are mired in single digits, meanwhile.
The City Council's approval rating was also polled, and the body is marginally underwater, with 45% approval and 46% disapproval. Republicans are the happiest, with 58% approval, compared to 41% of NPAs and just 35% of Democrats.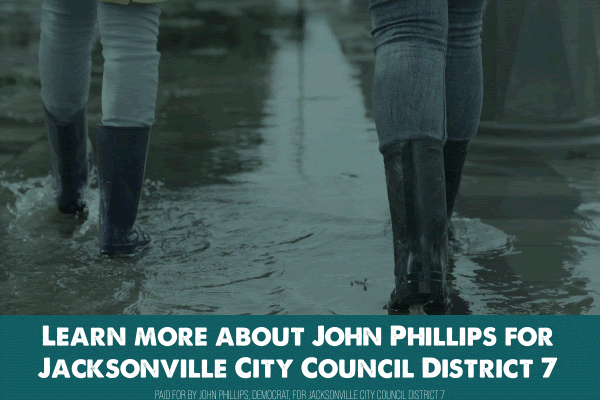 Lucky 7
The race in Jacksonville City Council District 7 continues to stay hot, with Democrats Jimmy Peluso and John Phillips sending out mailers as the March election gets closer.
Peluso's pitch is rooted in "infrastructure." The word surfaces four times in a double-sided mailer, along with pitches about flood prevention, climate resiliency and affordable housing for all, including a Tenants Bill of Rights.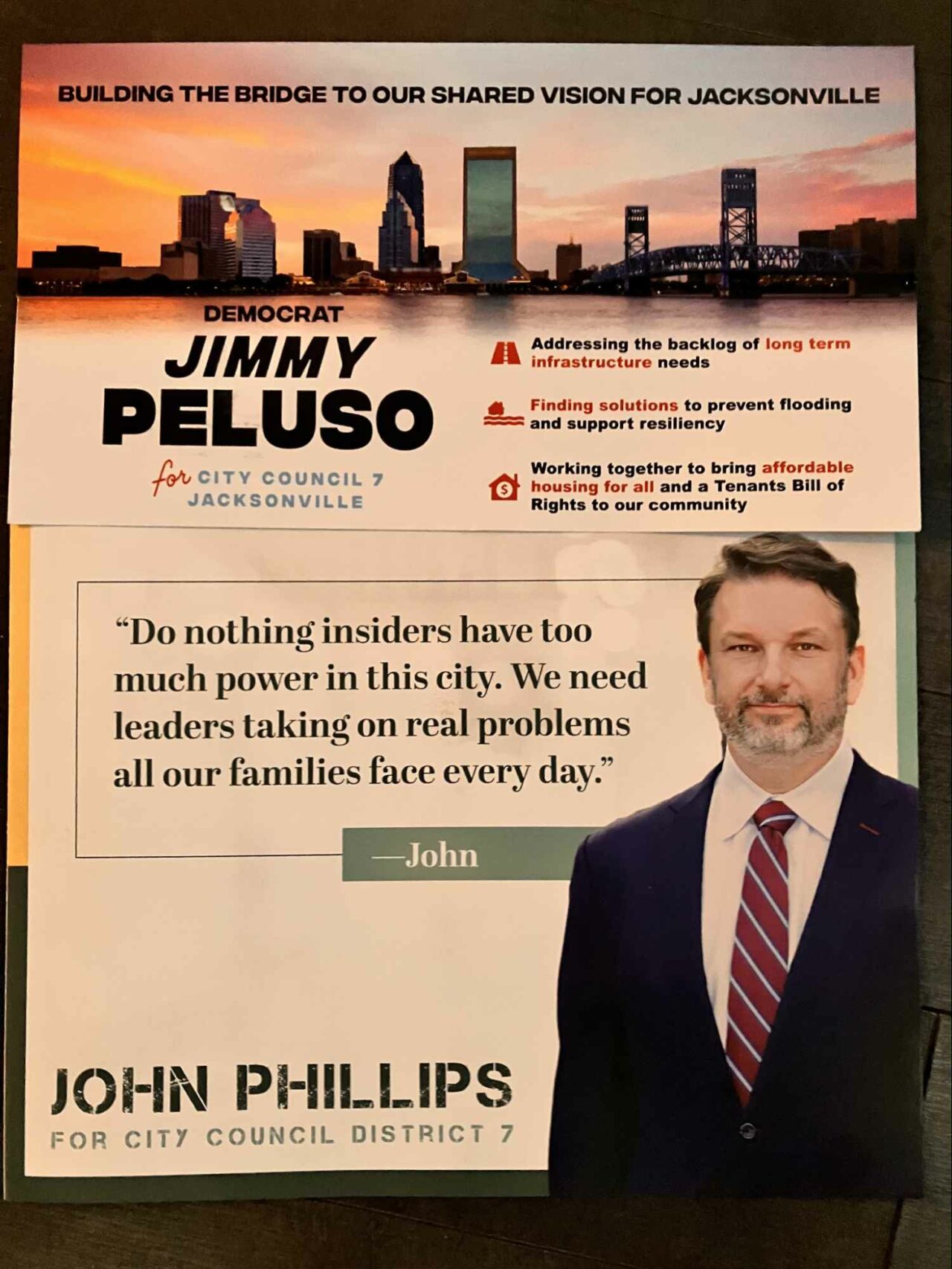 Phillips is also running as a Democrat, but except for the disclaimer, the trial attorney doesn't promote party affiliation in his four-page mail piece. He does discuss "do nothing insiders" as a major city problem, connecting his legal career serving the "overlooked and underrepresented" to a claim that he would "fight every single day" for Jacksonville residents on the City Council.
Phillips has raised more than $192,000, the vast majority of that self-funding, and he had less than $13,000 on hand as of Feb. 17, the last date for which totals were available. Peluso still had roughly $50,000 of the more than $140,000 he raised through the same date, giving him the cash on hand lead.
A third Democrat, Kim Pryor, had roughly $11,000 on hand, while Republican Joseph Hogan had a little more than $13,000.
Social media of the week