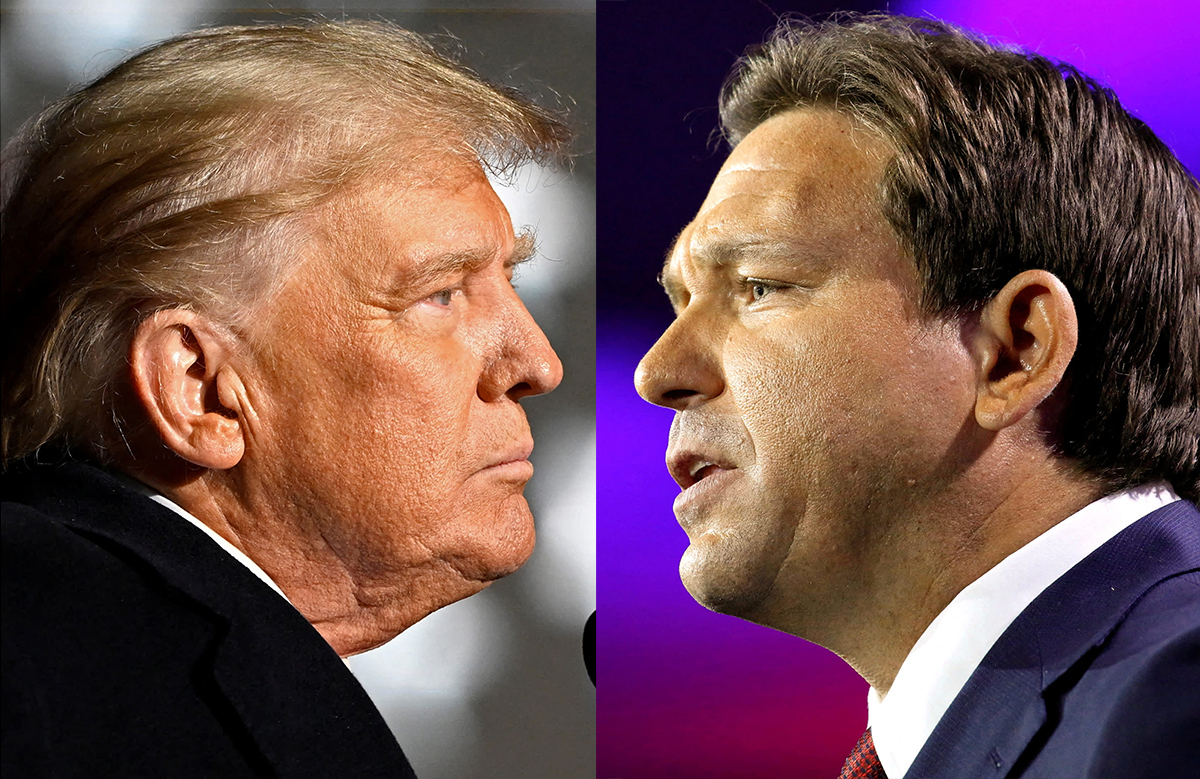 The hits continue against the Florida Governor on Truth Social.
Former President Donald Trump is back on the attack against Gov. Ron DeSantis.
A series of posts to Truth Social continued Trump's social media thrashing of DeSantis, as the former President continues to try to goad the Florida Governor into responding.
One such denunciation addressed a glowing article about DeSantis in a newspaper that went from backing Trump to trashing him.
"In writer Salena Zito's Fake News 'puff piece' about DeSantis, which supposedly appeared in the dying New York Post, which is way down in readership just like FoxNews is way down in Ratings, why doesn't she mention that he wants to cut Social Security & Medicare, loves losers like Jeb Bush, Paul Ryan and Karl Rove, and is getting CLOBBERED in the polls by me. DeSantis is a RINO who is trying to hide his past. I don't read the New York Post anymore. It has become Fake News, just like Fox & WSJ!"
All of these attacks, save the one on Zito, have been trotted out previously. Trump has called DeSantis a "RINO" and a "globalist," while claiming Bush, Ryan and Rove have been "hiding in the background pushing him" ahead of an expected run for President.
Trump then turned his attention to a national poll of the nascent 2024 race spotlighted in a conservative newspaper, which suggested attrition month-over-month for the Florida Governor's presidential hopes.
"'Support for DeSantis cools in latest GOP POLL.' Washington Times. Of course it cools. He wants to cut Social Security and Medicare, loves 'Throw them over the cliff' Paul Ryan, who is destroying FoxNews and the WSJ, Piglet Karl Rove, and 'Jeb.' Also, Ron DeSanctimonious is for Globalist Club For NO Growth, and Open Borders Charles Koch. We want AMERICA FIRST, NOT AMERICA LAST!!!"
Trump recently knocked down reports that he maligned DeSantis as "Meatball Ron" on his Truth Social account. That was his second disavowal of so-called "fake news" suggesting that he was looking to improve on the "Ron DeSanctimonious" moniker he coined for DeSantis at a rally last year.
The former President is owning other scurrilous smears, however.
Trump recycled "Ron DeSanctimonious" earlier this month, when trying to heat up a controversy with a re-truth on a post with text on an image stating, "Here is Ron DeSanctimonious grooming high school girls with alcohol as a teacher." The picture purportedly dates back to the Governor's short-lived career as a teacher at a college preparatory academy, where he reportedly fraternized with students.