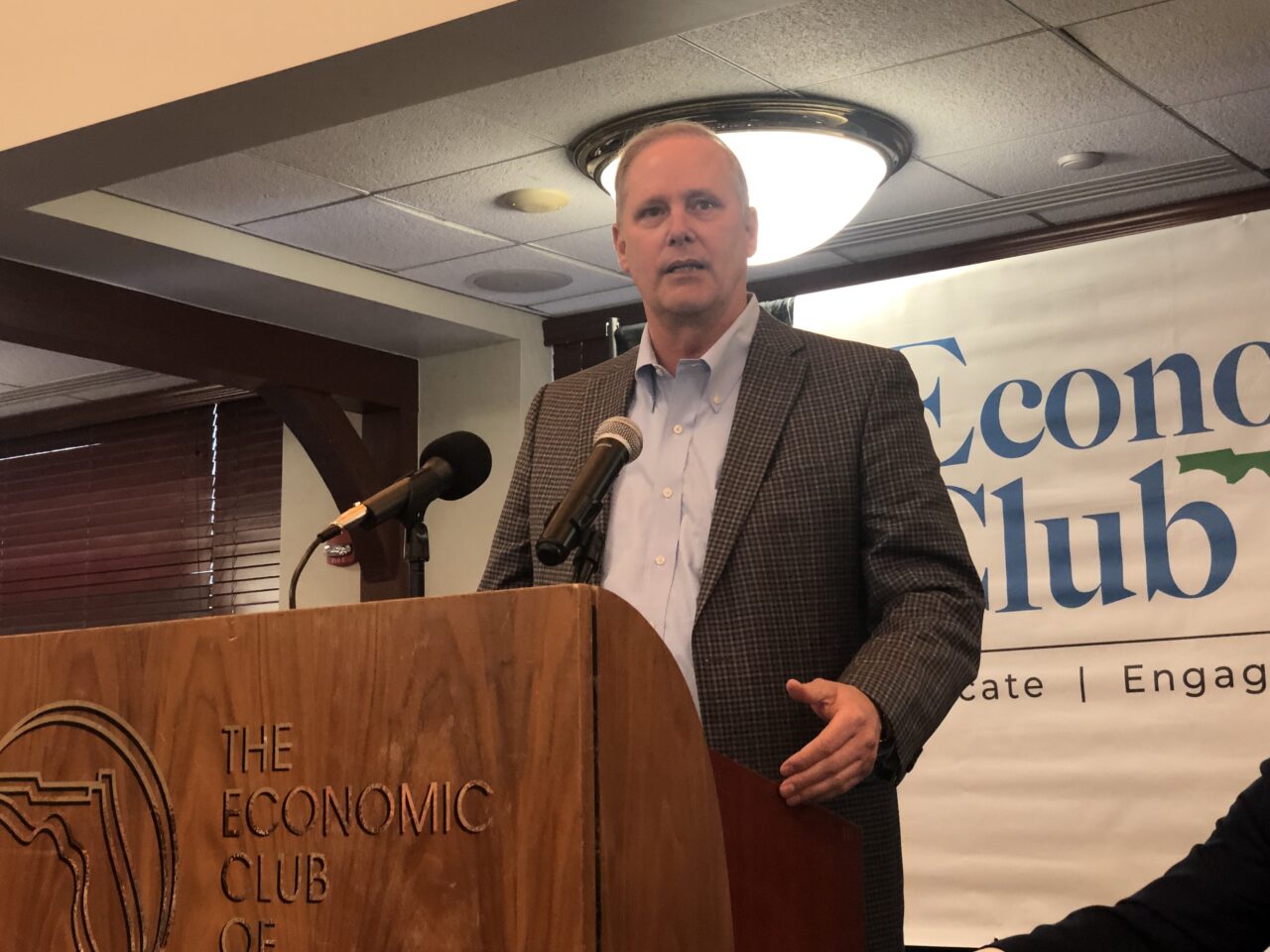 Simpson, the state's Agriculture Commissioner, has a direct connection to agriculture, with a large-scale egg-laying operation based in Trilby.
While thinking about doomsday national security scenarios, shortages of things like oil and gas are top of mind. But Wilton Simpson, Commissioner of the Florida Department of Agriculture and Consumer Services, told members of The Economic Club of Florida they shouldn't discount the importance of farmers.
"Think of it like going to the grocery store for a week with no groceries there, then it becomes a national security issue in a hurry," Simpson told the group. "When you consider what agriculture really does for us and what we need from it, it has to be elevated to that level."
The Ukraine war has shown how disruption in Russian oil has upended the market and sent gas prices skyrocketing, but with American ingenuity, $4 and $5 a gallon gas can be dealt with, he said.
"Overcome two weeks of no groceries in the grocery store. Yeah, you can't do that one. It'd be total chaos," Simpson said.
The fifth-generation Floridian kicked off his speech with a stroll down recent memory lane, highlighting legislative high points from his stint as Senate President from 2020 to 2022. He kicked off those achievements with keeping the Legislature functioning during the COVID-19 crisis with a robust testing process and remote testimony — but without onerous restrictions.
"How did we get here from two years ago and come through the pandemic? How did we become that shining … state … of the United States?" he asked rhetorically. "It's because we let constitutional rights prevail in adverse times."
Other actions he spotlighted include passing a constitutionally mandated balanced budget with a record-setting $22 billion in reserve; streamlining the foster care and adoption process; instituting a "Wayfair tax" for out-of-staters' online purchases; lowering — and possibly eliminating — sales tax on leasing buildings; raising wages for state workers; and appropriating $500 million toward transitioning from septic tanks to sewer systems.
Simpson has a direct connection to agriculture, with a large-scale egg-laying operation based in Trilby. "The very first question I normally get asked is 'Where is Trilby, Florida?' … It's right beside Lacoochee," he quipped. It's about an hour's drive north of Lakeland, where Simpson was born.
His Simpson Farms houses about 1 million chickens, and their eggs are mostly distributed within a 100-mile radius of the farm. When asked to explain the skyrocketing cost of eggs at the grocery store, he was happy to oblige with an answer that anyone interested in economics would understand — supply and demand and the price of commodities.
The avian flu precipitated the price increases, wiping out about 20% of the 320 million laying birds in the U.S. over the past year. When one bird is infected, "you've got to depopulate the entire facility," he explained.
Eggs are a commodity and "the farmer gets paid generally based on that market that's quoted off of the exchange," Simpson said, with the wholesale price ultimately jumping to $5.50 in the southeast. The price peaked and has now dropped to about $2.60 a dozen wholesale, he told the group.
Because of strict biosecurity protocols at his facilities, Simpson's farm hasn't been affected by the avian flu, but infection is always a possibility and spring is a particularly dangerous time in this part of the country as waterfowl migrate back north.
Calling himself a "commonsense conservative," Simpson was a member of the Senate from 2012 to 2022, serving his last two years as Senate President.
Garnering nearly 60% of the vote in the 2022 General Election, Simpson flipped the position, previously held by Democrat Nikki Fried, creating a totally Republican Cabinet.
General David Petraeus will speak about "Geopolitics and the Global Economy" at the Economic Club's next meeting, set for March 27 at the Dunlap Champions Club at Doak Campbell Stadium.